There are tons of URL shortener websites such as AdFly and Shorte.st that allow you to make money online and Shrinkme.io is similar to those URL shorteners. But does it really pay? and if yes, how much.
This Shrinkme.io Review will explain everything in detail.
In fact, we will be looking at what is Shirnkme.io, how to get started, how much you can earn, how to withdraw your earnings, and whether it's a scam or not?
Quick Review
Are you in hurry? Check out Quick Shrinkme.io Review:
Shrinkme.io is a URL shortener website that pays its users to send clicks to the short links. There is no information available about the founder of the network.
Anyone can join the site and get approval to start instantly!
Every new user receives a $1 welcome bonus.
Shrinkme.io provides 5 main tools to make money Quick link, Mass shrinker, Full page script, Developers API, Bookmarklet.
Users can make money by referring new members as well. Shrinkme.io pays 20% of your referral's earnings.
Users can make $2.50 to $22 for every 1000 views on the links.
You can withdraw your earnings using the following payment methods:
PayPal – $5.00
Paytm – $5.00 ( For Indians)
Skrill – $10.00
Payeer – $10.00
UPI – $5.00 (For Indians)
Bank Transfer – $20.00
Litecoin (0.03 LTC Fee) – $20.00
Ripple – $15.00
PhonePe – $5.00 (For Indians)
Bitcoin – (0.0005 BTC) $20.00
Legit or a scam? Shrinkme.io is a Legit site.
Continue reading below to check the review in full detail.
💡 Shrinkme.io is a good site to earn a few dollars but if you wanna make some real money, Learn how I made over $4,000 working on this CPA site + Full review.
Let's get started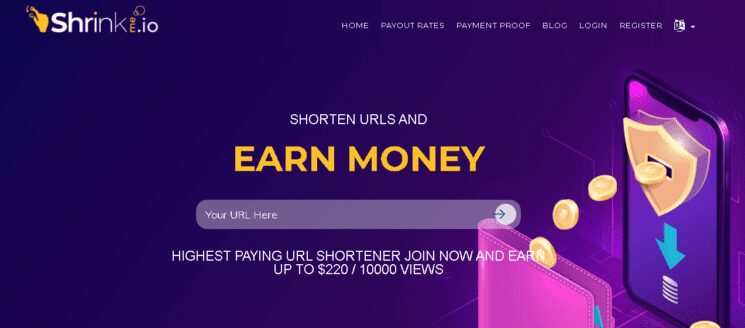 What is Shrinkme.io?
Shrinkme.io is a website that helps users to shorten the URLs of another website. Sometimes providing short URLs is necessary to share and post on various social media.
Some of the sites don't let to post big URLs or URLs from certain other sites that are where websites like shrinkme.io are used.
Another amazing feature of the site is that people who shorten their URLs from this site are actually paid depending on their location.
This site is worldwide and anyone can join the site. There are various means of payment method which helps users from all around the world.
How can users join Shrinkme.io?
At first, Users who are willing to work on the site have to sign up via email and verify their email address. After verification users have to log in with their particular email address and password.
You can also check out Linkvertise Review which is also a URL shortening website that pays.
How does the user work on the site?
After login, Users find various options that can be used as tools to use for shortening the URLs. The tools are:
Quick link
Full page script
Mass shrinker
Developers API
Bookmarklet
Using these tools what users do is copy URLs from other sites, shorten the links URLs on Shrink.io and paste them on their relevant pages, sites, or social media accounts. If they get a sufficient amount of traffic on their short links the users are paid.
The payment amount varies from the location where the users are getting traffic from. Most European and American countries have a large CPM than most of the Asian or especially South Asian Countries.
The users basically use Quick link and Mass shrinker most often to shorten their URLs. Mass Shrinker is used to shorten multiple URLs at once and Quick link is one link for one URL.
Users are strictly prohibited to create multiple accounts and visit their own shorten links. They will get banned if any suspicious activities are noticed.
How can Users earn from the site?
As mentioned earlier Users earn from the traffic they receive on their shortened links. The payments are based on per 1000 traffics and CPM depends on locations. For every 1000 traffics from the USA and other European Countries the users can earn from $7 to $ 10 and similarly from other Asian countries users will earn $3 to $5 for every 1000 people visiting the links.
Check out the latest shrinkme.io Publisher rates below: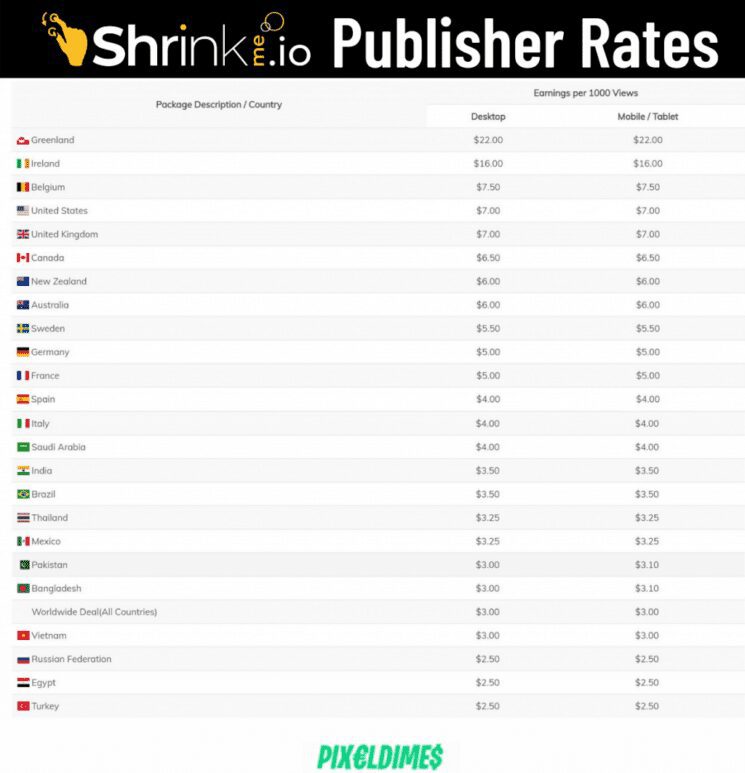 The website keeps a close eye on proxies and VPN usage so users are strictly prohibited to use any. And they are not recommended to create multiple accounts from the same IP address.
Referral Program
Another way of earning on this site is their referral program. According to Shrinkme.io, users can earn 20% earnings of their referred members for life.
Sound good right?
But:
I've been referring members to the site through this review, but I am surprised my earnings are quite low despite the fact that I've referred over 200+ members so far.
I've earned grand total of $0.05 so far from 200 Referrals. But, the referral earnings might be low because my referred members have failed to earn money and quit working on the site.
But let's see what the future holds for the referral earnings and I will come with an update for y'all.
If you wanna maximize your link shortener website earnings, then Learn how to make $50 per day through link shortener AdF.ly. The method written in this guide applies to all link shortening websites.
How can Users redeem their payments?
Users can redeem their payments via various means. Let's look at various means of payout with their minimum payout ratio.
PayPal – $5.00
Bitcoin – (0.0005 BTC) $20.00
Skrill – $10.00
Payeer – $10.00
Bank Transfer – $20.00
Litecoin (0.03 LTC Fee) – $20.00
Ripple – $15.00
The withdrawals are based on requests made by the users. When the users reach the minimum payout of the method of withdrawal they can request for the withdraw.
It can take up to 7 days for users to withdraw requests to process.
Is Shrinkme.io legit?
Shrinkme.io is a legit website and pays its user who uses the site to shorten their URLs without any suspicious activity. We recommend users to use this site especially those who have a large number of traffics on their website.
Shrinkme.io Alternatives
There are tons of link shortening sites out there just like Shrinkme.io which might be better than this site, who knows or you might find its alternatives higher paying than this. Whatever be the reason, let's check out some of the Shrinkme.io Alternatives.
Pros and Cons
Pros
The payout threshold is very low.
There are many means of withdrawal.
The signup bonus is $1.
Users with large traffic can earn very satisfying payments.
Cons
Multiple accounts are forbidden.
Sometimes the users are banned without explanation for suspicious activity.
Conclusion
The site shrinkme.io a legit site that pays its users to shorten the URLs. The amount of payment is dependent on the number of traffics and the location of the traffics. The site must not be used as an active source of income but must be used as more passive pocket money.