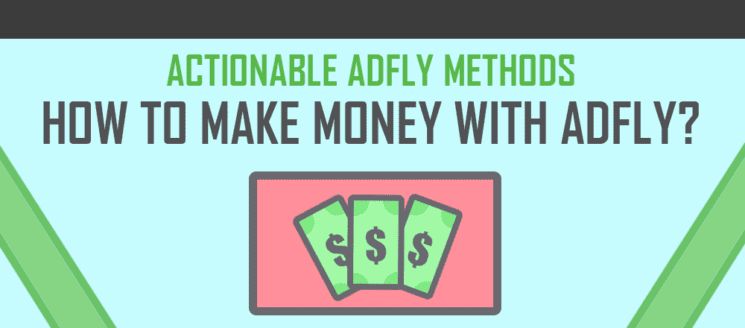 Here's the deal:
I am not going to share the same old AdFly method which says "Shorten your links & spam the shit out of social media".
Instead, I am going to share some proven & 'worth taking action' kind of tactics which will help you to make the most of this Link shortening ad network.
This method works like a charm and will make a good amount of money if you can work hard on it.
Note: If you don't give a damn about the user experience and don't care about making someone see an ad to allow them access to the content you promise, then AdFly is for you.
If not, then you should leave AdFly the right way.
So, Let's get started:-
What is AdFly?
You may have seen an AdFly ad many times before when you were trying to download something.
The ad runs for 5 seconds & lets you skip it.
Yes, that's an AdFly ad!
And here's a reminder of how the AdFly ad looks like: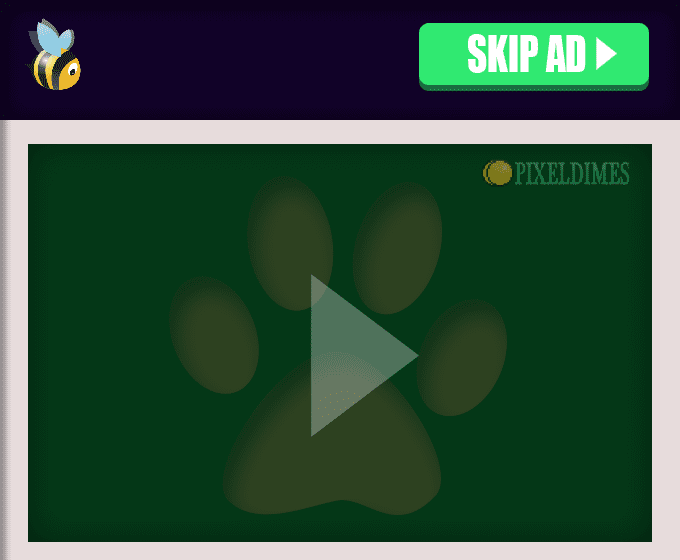 AdFly is a link shortening service and unlike other link shortening services like bit.ly & goo.gl, AdFly lets you earn money from your links shortened using AdFly.
There are some alternatives like Shrinkme.io and Shorte.st which lets you make money through short urls.
Now, you may be wondering:
But how does it work?
Well, the way it works is you grab an interesting link from the internet and shorten it using AdFly.
And when someone clicks on your shortened links, they will see a 5 seconds ad before redirecting to the original link.
So when you create an account on AdFly, you can shrink links & share on social media & forums. When someone visits your AdFly links & Skip them, you will earn some money.
How much AdFly Pays per 1000 Clicks?
Well, It depends upon different factors like the location of the visitors and how they interact with the ads.
But normally, AdFly pays $1 – $5 per thousand visitors who clicked and viewed the ad for 5 seconds.
Earnings depend upon the location of the people who viewed the ads.

So, if you get around 10k visitors to click on your AdFly links every day, you will make somewhere between $10 to $50 every single day.
Sounds good? Then keep on reading.
Check out this awesome AdFly method that shows how to make $7.92 over and over again.
How To Make Money With AdFly in 2019?
Now that you know what AdFly is and how it works.
It's time to move on to the content that you are impatiently waiting for:
"Actionable AdFly Methods"
So without further ado, here are the methods:-
YouTube + AdFly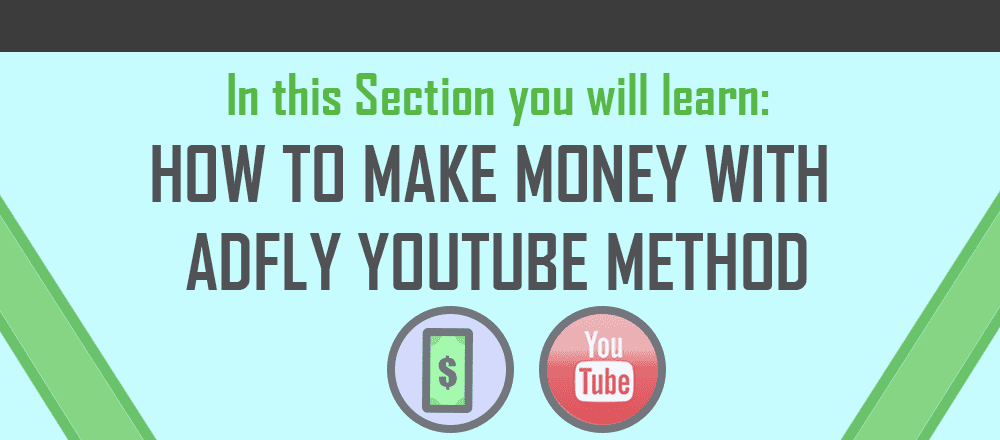 The world's largest video sharing site & the second largest search engine is a goldmine of free traffic.
You can make a ton of money utilizing that insane traffic for selling products, affiliate marketing & more.
But we are talking about AdFly here, so we are going to utilize the insane traffic to click on our AdFly links.
How? Let me explain.
Mobile games are becoming popular day by day. Every now and then a new game pops up on App Store & Play Store but still, they manage to get millions of people playing the games.
This means there's a lot of people playing games every day.
And you can use AdFly to make money in this rapidly growing market.
How?
This is very simple. A lot of mobile gamers visit YouTube to watch the trailer, gameplay, cheats, hacks & mods of their favorite games.
Every now and then a popular game pops up, so there is a lot of room for you to make videos & get an insane view on your videos with ease.
You can make videos about these games and use AdFly links in the description to send them to Game cheats, guides & mods.
Everybody love game cheats & guides which will help them to become a pro player of their favorite game.
In fact, almost every addicted player will be actively searching for game cheats & mods.
And there are already a lot of websites providing game cheats, guides & mods.
You just have to make a good video about the mods, cheats, or guides on how to become a pro player.
Then you can use AdFly short links to refer to those sites where they can find the game hacks or mods. So, you just have to copy the links & shrink them using AdFly & use them on YouTube's description.
But always deliver what you promise to the viewers. So, you will have more likes on your YouTube videos.
More likes will increase the legitimacy of your video, as a result, you will have more clicks on your videos.
And when you deliver what you promise, they won't mind viewing a 5-second ad.
But don't limit your mind to games only. You can use AdFly for any kind of video which refers the viewers to go to an external link.
There's no limit you can use this to make money from AdFly.
Websites with Downloadable Contents + AdFly.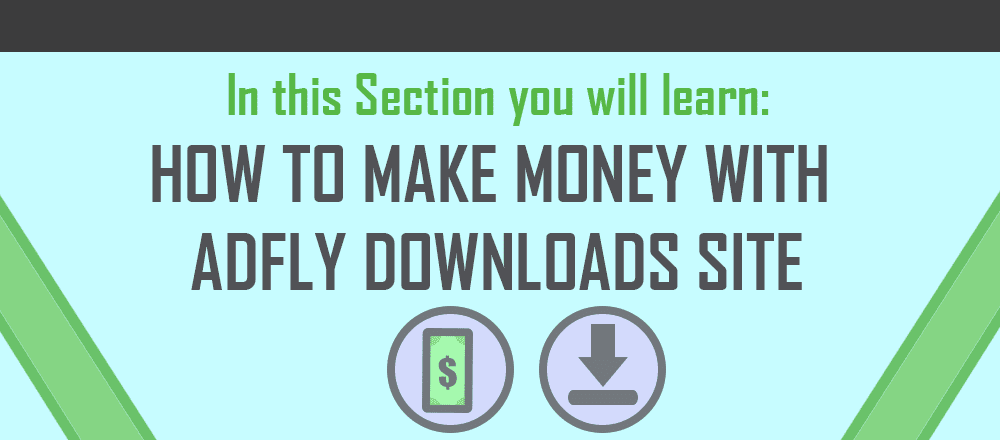 One of the best ways, you can make money using AdFly is by making a website with downloadable content like e-books, arts, themes & so on.
You can monetize download sites with AdFly using two ways which are explained below:
Pop-up Ads
AdFly also Pop up and pop-under ads. When a visitor lands on a page or clicks on the contents of the pages, pop ads start showing up.
On a download site, a user has to click here and there to download the content they want.
So, they will see a lot of pop ads which will result in maximum earnings.
There are a lot of downloads sites out there that are making tons of money through pop ads on download sites.
You can also start your own site and monetize it through AdFly pop ads.
If you want a complete course on how to start and monetize a downloads site, let me know in the comments.
AdFly Links
On a downloads site, you can redirect your visitors to 3 – 4 different pages before allowing them the actual content.
And use AdFly short links to redirect them to different pages.
If you are providing the best stuff for free, then your visitors won't mind clicking on different AdFly links before downloading the content for free.
Suppose you have 1000 visitors daily, if all of them downloaded the content after visiting 3 – 4 AdFly links, then that's easy $10 – $30 income for you.
And don't forget the pop ads will bring in more revenue.
You just have to think in a creative way and make your own twist on this method to increase your earnings even more.
Note: I suggest making your own content for the downloads sites. And I don't recommend you to use illegal or pirated content while making a website with downloadable content which might get you in trouble.
You can create your own products like video game guides, digital arts, website themes & widgets, and so on.
Forums + AdFly.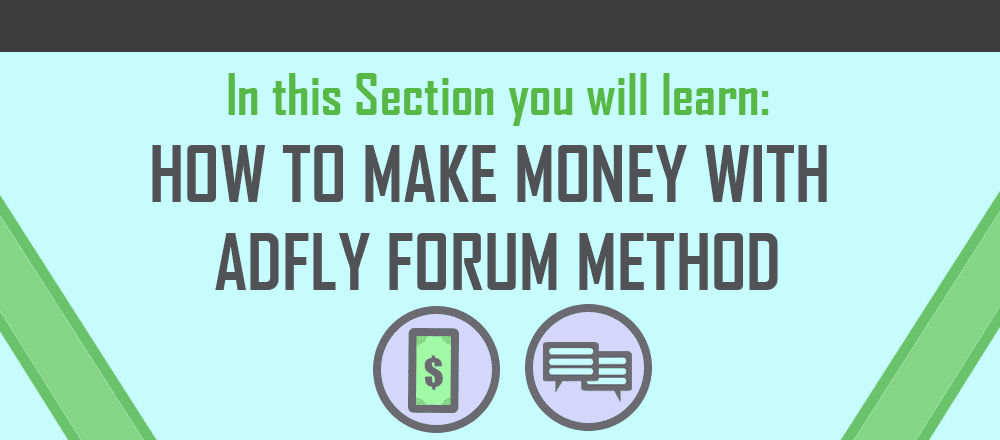 There are literally millions of forums. And millions of people actively using forums to discuss a subject matter of their interest.
Every day thousands of people ask questions & thousands of people answer them.
You can also use forums to get clicks on your AdFly links by answering questions and referring people to a legit source for more information they need.
You need to write a brief and clear answer and at the end of the answer use your AdFly links to refer people for more information and if your answer looks promising, they won't hesitate to click on the links you provided as a reference.
But keep in mind that not all forums allow you to add links to new members. Most of the forums will ban you if you spam it.
The best way to reduce your chance of getting banned is to provide value with quality & informative answers & discussions.
When you have a reputation on the forums then, you can add AdFly links at the end of your answers.
Don't think of spamming the same forums with AdFly every day. There are thousands of forums, so you can take a rest from one forum for a week & move on to the next one.
This way you will be able to promote your AdFly links from time to time & still not get banned.
The best part about this method?
Most of the forum gets tons of traffic from Search engines and your AdFly links will be forever on the forums and over time you will keep making money from link seven if you stop posting.
So, you can have a passive income over the years. Always try to add value to the forum & the mods of the forums will not delete your answers or ban you so that you can keep getting clicks on those links.
You can also learn about this method in detail on my guide to make $50 per day on AdFly.
AdFly + Social Media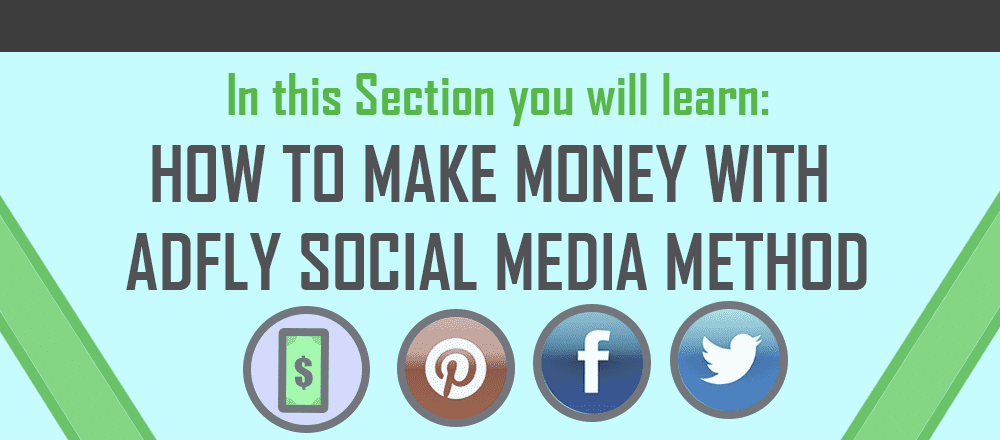 A few years back, you could directly share your AdFly links on Social media.
People were making good money sharing AdFly links directly on Facebook & Twitter.
It was easier to make money as you had only share links everywhere on social media.
Basically spamming the social media with ugly AdFly links.
But now, things have changed.
You cannot share your AdFly links on FaceBook and most of the other social media.
Facebook now detects spam links and removes them within few seconds.
So, It's almost impossible to make money with AdFly links on Facebook and other social media.
Is this the end of The good old AdFly + Facebook Method?
Probably not!
Now here's how to do it:
Start a blog and start writing about trending topics.
If you can write a lot of articles on what's happening in the world quickly, then you can share the articles on Facebook and get tons of traffic.
Then, you can put AdFly pop-under ads on your blog. So when a visitor lands on your site, they will get a pop-under ad and you will make some revenue.
Another way, I figured out is putting AdFly links on a hyperlink. ( Read also: Put Your AdFly Links here )
Bottom line:
If you cannot share links directly on social media, then you can drive traffic to your blog and monetize those traffic with AdFly links.
Conclusion:
AdFly is one of the oldest link shortening networks and thousands of their active members receive their payment on time. So, you can arguably say that this is a legit ad network.
You can use it to make some spare income or even some side income if you work hard on these methods I've mentioned above.
Just like any other newbie on the IM journey, I started with these AdFly methods, and when I made some money I moved on to better projects to work on.
You can work on this network and make some money but don't dream of making thousands of dollars using AdFly.
I suggest you try out AdFly if you want to make some dollars and use it on other projects.
If you want to earn passive income, then I highly recommend joining Wealthy Affiliate. It's free to join with a lot of high-quality training which will help you to make passive online income.
If you have any questions, feel free to ask me in the comment section below.