Hello and welcome to my honest Shorte.st review.
There are many ways to earn money online such as doing surveys and blogging and so on.
However, one of the easiest and freeways is using a URL shortener network that pays.
Among these sites are URL shortener sites that pay its user for shortening of URL through their site and using their tools.
Shorte.st is also such a site that pays its user for shortening of URL. I will help you decide whether you work on Shorte.st and get into details regarding the website.
Today I will present you various important facts regarding Shorte.st such as What Shorte.st is, how does the site work, how much do users earn from the site, how can they redeem their earnings, and what are the pros and cons of Shorte.st!
So without any more ado, let's get started:
What is Shorte? st?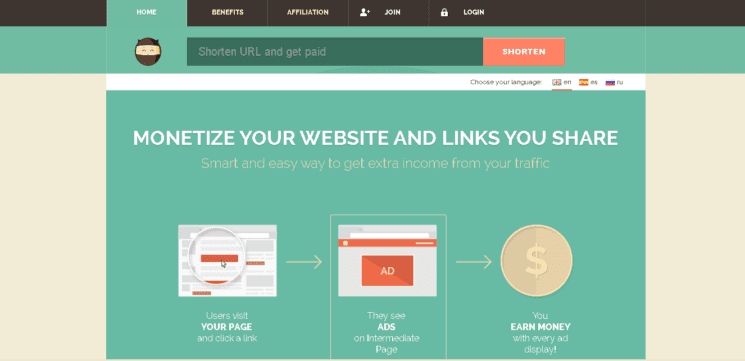 Shorte.st is a very popular link shortening website that actually pays its users. The basic principle of the site is to shorten the URL that users want to share from the tools available on the site.
When the visitor clicks on the shortened URL, the user gets paid. Shorte was created by some of the European members so that they can reward the publishers who actually encourage publishers to shorten the URL and share them.
It was one of their marketing strategy to get recognized in the internet community and industry.
The biggest plus point for Shorte.st site is they are verified for authenticity hence their shorten URL can actually be shared in social media and do not count as spam.
How does Shorte.st work?
Like other URL shortener site, the user working on the site has to shorten the URL of any of their choice through Shorte websites.
The website provides various options to shorten the URL such as quick links and multiple links.
After shortening the URL's the user needs to share the link to their blogs or social media.
The users will only earn when visitors click on the shortened link. After visitor click on the short link, they have to wait a couple of seconds till they are redirected to a page where they view the ads that benefits the actual website which in the case is Shorte.
The visitor then has to click the Skip Ad button to redirect to the actual link which was shared. This is how Shorte.st works and pays its users.
How can Users join Shorte.st?
After going to the Shorte.st website, users can see the join tab and click on it. Clicking on the join tab will redirect users to the registration page.
Users can usually register on the website via their email or Facebook. After login into the site, it sends a confirmation email to the respective email account of the user.
Users have to confirm their email to activate their account. After activating the account users are recommended to quickly configure their payout options.
How do Users get paid in Shorte.st?
The main attraction for Users in Shorte is its high paying CPM ads. There are various widgets for different social media platforms for visitors to click on the shortened link.
Shorte also provides high conversion ads which means Shorte website provides an HTML code for User's blogs and websites.
If users copy that code in their blog or website, they will receive one of the most attractive ads ever which has a very high conversion rate.
If any visitors click on the conversion ads the user will receive an attractive amount of earnings.
There are plenty of options to get redeem your payments from Shorte.st. Some of the popular methods of redeeming from the Shorte.st, sites are Paypal, Payoneer, Skrill, Webmoney, Litecoin.
The minimum withdrawal amount from the website is $5 for Paypal, $20 for Payoneer, and $5 for Webmoney.
Does Shorte.st has a referral program?
Shorte.st has a referral program and it is one of their attractive aspects as well. Shorte has one of the highest paying referral. Every user has their own affiliate link and whenever they bring in new referrals from their affiliate link, the user will earn 20% commission on every earnings of their new referral.
This is one of the highest referral commission disturbed in any URL shortener website.
Pros and Cons of Shorte.st
Pros
High CPM rates mean high revenue.
Also best for South Asian Users.
Performance detailed dashboard
Service is Free and available worldwide.
Very high referral rate of 20%.
Cons
Very low customer support.
They don't reply to customer queries.
They ban users without explanation or freeze their earnings.
Many people have rated Shorte.st as a scam.
Spammers can spam social media as Shorte.st is actually accepted is not considered spam.
Verdict- Shorte.st Review Legit or Scam
Shorte.st is a popular URL shortener website that pays its user who shortens the URL and shares in their website and blogs. However, a verdict of this website is it is in the middle.
Many people believe the site is legit and equally a large number of people believe the site is a scam and not legit.
Shorte.st has a 2.5 rating on TrustPilot.
But according to me, this site is legit and does pay its users. However, their customer support is not good and they can ban anyone at any time.
The good point of the site is it is one of the highest paying URL shorteners and it also has a high referral rate.
I recommend the user to give this site a try but keep an open mind however there is other better URL shortener site such as Linkvertise. Check out the link to know the legitimacy of the site Linkvertise.