GPT sites are the bread and butter of earning money online. There are countless GPT sites that claim to be high-paying and legit.
One of them is Rewards1 and on this Rewards1 Review we will find out the most important aspect of earning money online. and that is
Is Rewards1 Legit or Scam?
Rewards1 is a legit site and there are lots of payment proofs on the internet. The site pays you for completing various tasks such as watching videos, conducting surveys, completing offers, etc. Rewards1 pays you through points but you can convert them into cash rewards or gift cards later on. They pay you through PayPal, Gift Cards, and other means of payment as well.
In this in-depth Rewards1 Review, we will provide you detailed analysis on how to complete your tasks and maximize your earnings. so keep on engaging with the article below.
Key Introduction:
Website – Rewards1
Founder – Jason Chen
Founding Year – 2007
Desktop or Mobile Platform – Both
Payment rate – $0.01
Payout Method – Bank Transfer, Paypal, and Giftcards
What is Rewards1?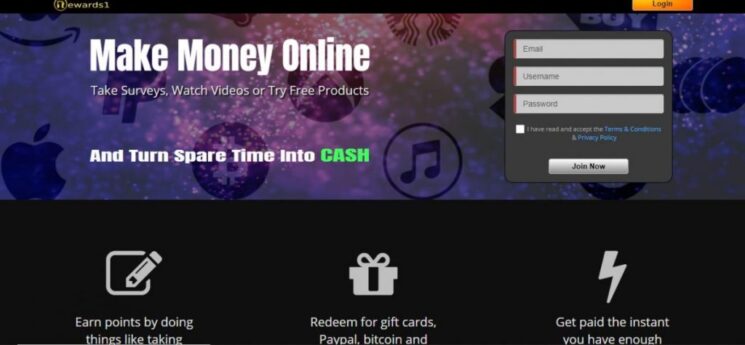 Rewards1 is a popular GPT site where users can earn money by completing simple tasks according to instructions.
They are running their operations since 2007 which means they are providing assistance for more than 13 years and still going strong.
The site has a complete user interface which may confuse you at the first instance but after some time you will get the hang of it.
There are lots of tasks that you can complete in Rewards1 such as Offers, Surveys, Watch videos and ads, and daily polls.
You can also earn money by referring to friends and families and earn a certain percentage from the site.
So now let's look at how you can join the site.
Getting Started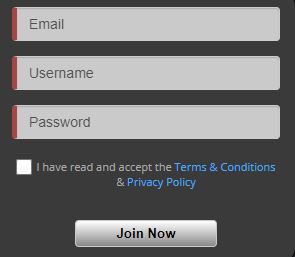 You have to register on the Rewards1 site to join and start earning. First of all, visit Rewards1 and then click the sign-up button on the site.
Then you have to fill out simple information such as Name, Email Address, and Password and then click submit button.
Now the site you a verification link to confirm your email address. When you confirm the email address you can access your dashboard and start earning money immediately.
Regarding Who can join Rewards1, They are a global site and anyone can join them and start working but you have to be over 18 years old to withdraw your earnings.
Also, your location may impact your earning potential as most of the top earners are from the USA.
How To Make Money from Rewards1?
As mentioned earlier Rewards1 is a popular GPT site so there are lots of tasks that you can complete to earn some side income.
So let's get into the basis of how you can make money from the site and the ways to complete it.

#1 Paid Offers
Just like every GPT site Rewards1 also has Paid Offers which you have to complete according to the instructions.
Most of the paid offers are from the partners and from the site clients. There are lots of paid offer walls such as signing up to the websites, downloading games, signing up for contested and many more.
Sometimes the rewards are already accumulated on offers so you can immediately see how much you can earn.
However, most of these paid offers have a set of instructions that you have to follow in order to validate the completion of your tasks.
If you want to earn some side income by completing some easiest tasks check our RewardBee Review.
#2 Paid Surveys
Another popular task on any GPT site is Surveys. Normally surveys are conducted on separate survey sites but some GPT sites have simple surveys related tasks.
In Rewards1 you will be access to different survey sites or routers. Mainly they act as a survey hub or survey aggregators and provide you best survey sites.
The attractive aspect of these survey routers is they filter excellent survey sites and even filter if you qualify for them or not.
Paid Surveys are the high-paying tasks on Rewards1 and if you can complete these surveys frequently you can definitely earn some extra earnings.
How Much Can You Earn from Rewards1?
You can earn more by completing surveys. However, the exact pay rate of paid surveys differs. They are in relation to the time spent while completing surveys.
There are various offers found in the offer wall of Rewards 1. Some offer pays you less while other offers pay you more.
Watching videos is another way of earning. For watching a video of less than 1 minute, you can earn 0.6 points.
There is a daily poll in Rewards 1 where you can earn 1 point for answering a poll and there are daily quests where you can complete a certain quest and earn points.
There are several stages in this quest. Completing each quest offers you points and bonus points as well.
For example, if you complete stage 1, you can earn 37 points and extra 3 points as a bonus. You can also gamble your points to earn more points.
If you are lucky then you can earn good rewards but if you are not you may lose your amount invested as well. Basically, playing games in Reward 1 is like gambling.
If you are an active member, then you will automatically participate in a free contest.
Finishing top 20 on the leaderboard will receive extra bonus from their earning. The bonus percentage ranges from 2% to 10%.
You can refer your friend or use promo codes to earn more rewards.
Minimum Payout and Payment Method
In Rewards 1, you will be paid in points initially. Here, 1 point is equivalent to $0.01.
The payout gateway of this website is PayPal, gift cards like Amazon gift cards, Starbucks cards, game codes, and more.
The minimum payout threshold is $5 but for games codes, the payout threshold is only $1.25 i.e., 125 points.
If you want something exclusively, then you can use a custom reward which is telling Rewards 1 what you want and they will get it for you if it is available.
If you want another GPT site to make some side income check our PaymeDollar Review.
FAQ
What can I get from Rewards1?
You can get various rewards for completing surveys or offers from Rewards1. Some of the rewards are Giftcards from Amazon, Starbucks, Netflix, and iTunes. Not only that you can also get paid via Paypal, Egift cards, and checks.
How can I be sure this is real?
According to Rewards1, they have legitimate testimonial videos and there are also tons of proof of payment on YouTube videos and many more.
Inspection of Safety:
SSL Certificate – Valid (Issued by Alpha SSL CA)
Owner – Jason Chen
Date of Foundation: 2013
Customer Support – Excellent
Contact Link – Contact US
Privacy Policy – Available
Pros and Cons of Rewards1
Pros:
Rewards1 is free and easy to join
The customer support is fast
Availability of custom reward
There are many opportunities to earn
Cons:
It takes patience to qualify for a survey.
Rewards1 Review: Final Verdict
Rewards1 is a legit GPT site that pays its user for completing various tasks according to the instructions on them.
You have a decent chance of earning some side income but there is no way you will be rich as it is not a get rich scheme.
There are lots of variety of tasks such as Paid Surveys, Paid offers and also watch videos as well.
Also over 30 users from Trustpilot have rated Rewards1 3.8 out of 5 stars. Let's take a look at user reviews from the Trustpilot site.
User Reviews
Now here are some positive reviews of Rewards1
Review 1
This user is very happy that he got paid within 3 days and he also mentions that the customer support is excellent.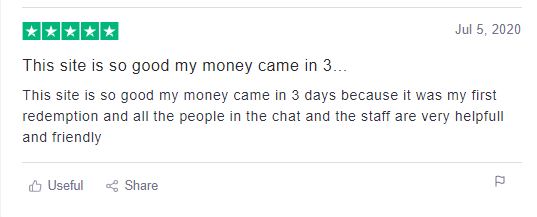 Review 2
According to this user, They have been doing the tasks in Rewards1 for 3 months and they are very happy that the site pays and they pay faster than other sites as well.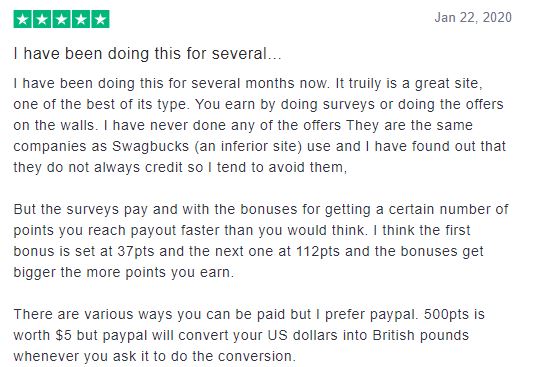 Now let's take a look at some negative user reviews
Review 3
This user is not happy that Rewards1 did not pay her after completing her tasks and banned her from inactivity when she was active for over 3 months. She recommends anyone not join this site.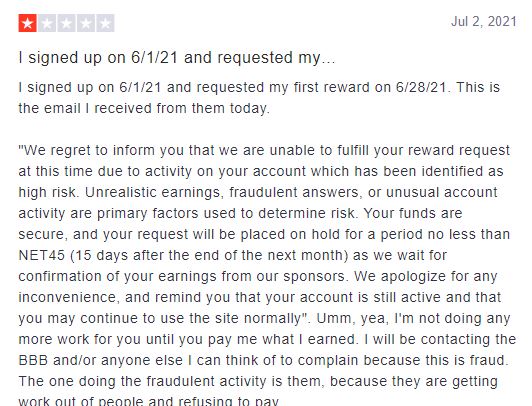 Review 4
This user is also not happy that rewards1 banned her for no reason but has not provided any detailed length of information on how she was banned in the first place.

Hence the bottom line is:
Rewards1 is a legit site and it pays its users and there are many people who have claimed they have been paid.
They are also not getting the rich program so you will earn some side income which can help you for snacks or fruits or vegetables.
However, you should not expect any major life-changing earnings and also keep in open mind that you can be banned if the site declares your activity as fraudlent.
So I recommend you to join Reward1 but be very careful and keep an open mind.