What is Smartspotter App?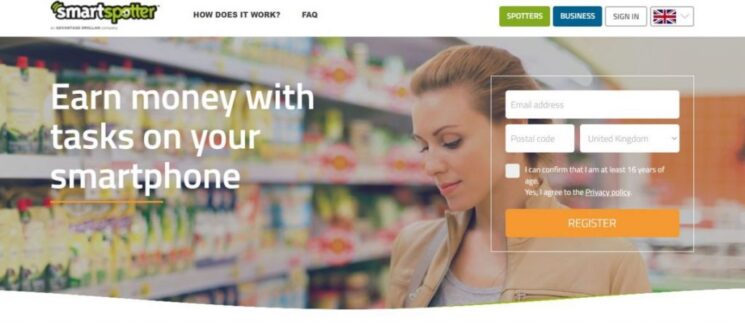 The Smartspotter App is an online application that pays its users accordingly to its members. The most common way that they can earn rewards online through is mystery shopping. This app is similar to Observa App which pays for mystery shopping as well.
Mystery Shopping is very common in most countries all around the world. Many customers want to try mystery shopping since it is exciting and also used in vlogs on YouTube.
Smartspotter is an application that provides cashback options as well as many other rewards for mystery shoppers.
Also, check out the 10 best cash-back apps that pay for shopping.
Let's look at the details of the application and how you can earn from the site.
How to Join Smartspotter Application?
In order to earn from the app, you have to download the free application from Google Playstore or Apple store.
After filling in your details, you can click the sign of "Become a Spotter". Once you request of being a Spotter, you have to wait till you are accepted by the application.
When you are accepted to become a Spotter, you can now access your dashboard and complete your assignments.
How the Smartspotter app works?
The Smartspotter Application is one of the ways to enjoy testing out various new stores and also earning rewards while doing it.
This is available to work from home but is available globally, which is also available in different countries which include: Australia, the U.K, Croatia, Belgium, and many other countries.
However, sometimes the App does not become available in some parts of the world such as the USA.
This application actually works with both Android and iOS phone devices. When you sign up, you make yourself available for mystery shopping jobs in your own area.
The work in the application is called spots, and they are very easy to complete tasks. The site guides users through the whole process with proper instructions which are super easy to understand.
And even if you have never done any kind of mystery shopping before, it is extremely easy to complete the job and earn money.
How Much Does Site Pay?
The Smartspotter Application also compensates different spotters at a lucrative rate. Users can earn about $60 in three hours time period.
Your location signifies more of your income.
The site can promote you to a senior spotter if you are a super good mystery shopper. Also as a senior, you'll earn more money, receive more chances, and even get to visit other locations all around the world.
You also have to follow the guidelines as closely as possible. If the app does not accept your spot, you'll frequently know why, and you will have a chance to rectify your mistakes.
How to Withdraw Your Earnings?
It's easy to collect your pay. The users have to wait until they reach a particular amount of money and then request a withdrawal.
There is no minimum threshold so the site automatically sent cash to the user once their balance reaches their minimum amount. 
You must not worry about completing your spot job timing, but if you plan to earn more, it's very important to finish the job quickly.
The spots aren't available for the long term so completing jobs in quick time is essential. Sometimes mystery shoppers actually require an additional item to complete the task.
Once you finally make any request, and you have to complete the job successfully, the company will also pay for the product.
Pros and Cons of Smartspotter App?
Pros
You can earn money from many parts of the world.
The jobs are all conducted in your own language, so there is no language barrier.
The team also responds quickly to any queries that you have.
The tasks are pretty simple and easy to understand.
When jobs are finally available in your area, this is also a very good way to earn extra cash quickly.
You can even use it on both of your iOS or Android device
Cons
Tasks are not available often.
You'll also need a digital camera, or a phone with a camera, so the job may not be accessible to everyone.
There may be a waiting list when you sign up for the application.
The Application is not currently available in the United States.
Location hampers the availability of the jobs.
Conclusion: Smartspotter Review
After the detailed Smartspotter Review, we can conclude that the application is legit.
The application and their staff create good communicate well with all the shoppers.
If you are someone who likes to travel to local or overseas destinations during your vacation, this appl could also help you earn a little extra money while on vacation and help to fund your real trip.
This Application will probably send you to variability of locations, which also means you'll repetitively be learning and observing new things in various other sectors.
However, it is incredibly hard to earn from the app since you have to follow close attention to detail and the chances of not having this app operate in the place you are can be very high.
Hence if any of our users love shopping we encourage you to try this app and enjoy shopping and earning.
Please check our review of the Easyshift App and find out if you can really earn money by doing some reviews and control tasks.