GPT sites are an important part of earning money online. There are many tasks on GPT sites that can be high-paying where you can make a decent source of income.
PaymeDollar is one of those GPT sites which have tons of tasks and they claim to be a high-paying site on the internet.
But we must ask the question,
If PaymeDollar is legit or another scam?
Today I have brought you PaymeDollar Review where you will learn to join and earn from the site and if they legitimately pay or not.
What is PaymeDollar?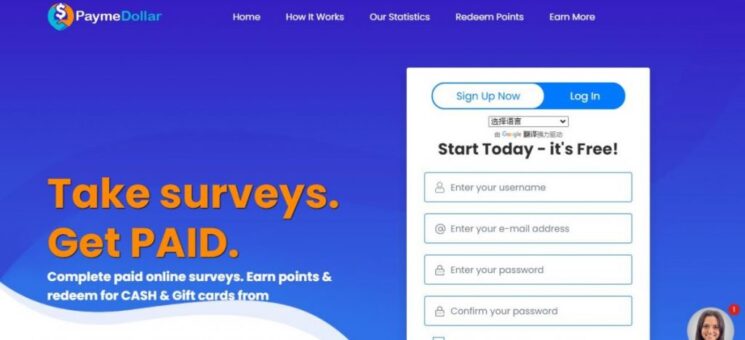 PaymeDollar is a website where you can earn money through completing surveys, taking paid offers, and watching videos.
Since it was founded, PaymeDollar has been bought by a new company which brought many changes to the site.
The company that bought this website is legit and has other sites like Dollar Clix. PaymeDollar claims that it has more than 66,000 members.
Key Introduction:
Application – N/A
Founder – N/A
Founding Year – N/A
Desktop or Mobile Platform – Both
Payment rate – $1 to $5
Payout Method – Gift cards or PayPal or Bitcoins
Getting Started
Joining PaymeDollar is free and easy. When you visit PayMeDollar, you will see the Get Start today form on the home page.
You can fill up the information asked like email, user name, and password and accept the terms and conditions to create the account.
How To Make Money on PaymeDollar?
After registering your account, you can sign in and start earning points that can be redeemed later by completing surveys and offers and watching videos.
Completing surveys is the main of earning money in PaymeDollar. You have to give your honest opinions to complete the survey.
They only offer the survey that you will be qualified for this, it takes a lot of patience to wait for the survey. Each survey has its time limit and its pay rate.
Offers are like small tasks that you need to complete in PaymeDollars and most of the offers require signing up for websites, install and play games, entering into contests, and many more.
You will earn points that will be credited to your account once you complete the offer but some offers require investments thus, choose your offer wisely.
There are membership bonuses that increase your earnings and bonus after completing the survey after you upgrade your membership level.
The highest bonus you will earn is 20 % but they do not explain how you will upgrade your level.
You can earn extra by watching videos by going to the offer wall section. They pay certain points to watch videos.
You can just let the video run on the screen while you do other works but the payment is very low compared to other opportunities.
One of the most popular GPT sites out there is Remotasks and we have in detailed Remotasks Review here.
How Much Do You Earn?
The pay rate differs according to each survey and offer but you will be paid in points initially.
You will receive 0.6 points for watching every 3 to 4 videos and you can receive up to a 20% bonus if you upgrade your membership level.
There is not much way where you can earn more rewards.
GPTplanet Review is one of the most amazing GPT sites on the internet check the review here.
Minimum Payout and Payment Method
The payout gateway for this website is through Gift cards or PayPal or Bitcoins. You can exchange your points for any of the given gateways.
The minimum payout threshold is $1 and $5. The security is very strict in PaymeDollars so if they find any traffic or VPN in your IP then your account will be restricted.
PaymeDollar is available globally.
FAQs:
According to PaymeDollar, some of the frequently asked are as follows
How does it work?
PaymeDollar offers a large variety of ways to make money working online. We add new paid surveys and offers every day as well as providing access to some of the best Offerwalls available for more earning opportunities.
 Top Rewards You Can Redeem For!
We offer hundreds of brand name Gift Cards, Direct bank payments, PayPal, and Visa Gift Cards! Here are some popular reward choices: PayPal, eBay, Tango Card, Amazon card, gift card, visa card, and bank transfer.
More ways to earn
High Paid Offers & Tasks
Earn more to test apps, participate in panels, complete quizzes, and offers
Regular Contest
Be on the top earner's list and win a share from our prize pool.
Member Achievements
Earn more money by unlocking the achievements we set for you.
 Inspection of Safety:
SSL Certificate – Valid (Issued by Cloudflare Inc.)
Owner – N/A
Date of Foundation: N/A
Customer Support – Decent
Contact Link – N/A
Privacy Policy – N/A
Pros and Cons of PaymeDollar
Pros:
PaymeDollar is easy and free to join
Rewards related to Gift cards or PayPal or Bitcoins
The minimum payout threshold is low in PaymeDollar
Cons:
PaymeDollar does not provide many opportunities to earn
You must require a high level of patience to find surveys
Unclear information about membership bonus and how to upgrade it
PaymeDollar Review: Legit or Scam
PaymeDollar is not a scam but it is not recommended to join. You will earn a decent amount and you can get paid through Gift cards or PayPal or Bitcoin but there are not many opportunities.
The patience level must be high which means it will be difficult to find a survey you qualify for.
Since it has been taken by the new owner, a lot of the areas have been improved and will continue improving in future but you can find a better website currently to join
More than 20 users from Trustpilot have rated PaymeDollar App site 4.8 out of 5 stars.
Let's take a closer look at these user Reviews from Trustpilot
User Reviews
Here are some positive user reviews
Review 1
According to this user, PaymeDollar App is a good and best way to make money online.

Review 2
This user kept it very simple and mentioned PaymeDollar is an amazing online app to make money online.

Review 3
This user claims PaymeDollar App is easy, has fast payment, and is very reliable.

Now let's take a look at one negative review from the site
Review 4
This user is not happy that PaymeDollar does not verify his number so he is not able to earn from the app.

Thus, I cannot recommend you to join PaymeDollar as there are much better alternatives out there.