Hello and welcome to YouGov Review.
In this modern world, everyone likes to earn money online. One of the easiest ways of earning morning online is through survey sites.
Survey sites are very entertaining, interesting, and high-paying opportunities that are available on the internet.
For your purpose, we have listed 10 of the best survey sites that pay over 5000 in 2023. So feel free to check them by clicking the link.
Today I am bringing you one of the popular survey sites that are in operation for over 20 years. The site is called YouGov.co.uk.
I will be bringing you every detail regarding YouGov.com in this review and will include key points such as:
What is YouGov?
How to get started on YouGov?
How to Work on YouGov?
How to earn and withdraw your earnings?
Final Verdict and Reviews
Let's get started
What is YouGov?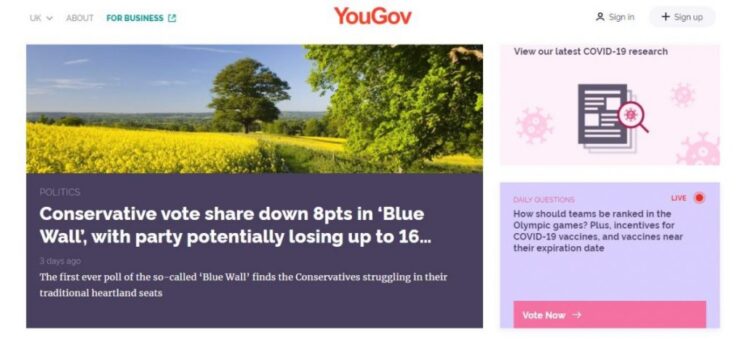 YouGov is a popular survey site which is in operation for over 20 years.  It came into operation in 2000.
YouGov was started in the United Kingdom and now is in operations in other countries such as the USA, Denmark, and many more.
The site is very popular for its privacy and security detail and acts as a market research hub for the companies and surveyors who must be experts on their demographics.
They pay the users for the opinion and survey they provide on various polling matters, councils, and other society-related issues as well.
Getting Started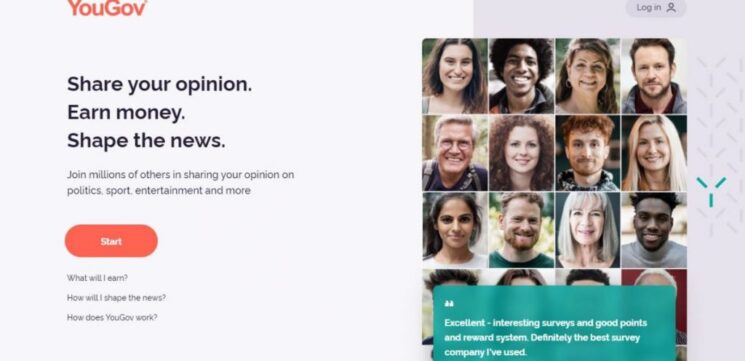 You can only join YouGov.co.uk if you are among the citizen of 16 countries who are the partners and panels on the site.
These countries are UK, USA, Denmark, Norway, Sweden, China, Japan, UAE, Saudi Arabia, France, Finland, Philippines, Germany, and the Netherlands.
If you live in the Philippines, you may be interested in another high-paying survey site in your country.
So please check the list of 35 High Paying Survey sites in the Philippines that we have compiled for you.
You have to be over 16 years in the UK and similarly over 14 years old in the USA. In some other countries, you must be over 18 years old.
Regarding signing off you have to visit the site and then click on the register if you can access the site to work as a survey.
It is easy to join since you will only need to provide your email address when signing up. Once you verify your email you can start taking surveys almost immediately.
How to Work on YouGov?
After signing up for the site, you are ready to work but first, you have to provide a short intro survey to get started.
This survey is actually based on your interests in how can you contribute to the site YouGov. You will be paid once you complete your survey.
The surveys are based on your demographics and locations so you have to be alert all the time.
You can also click the option to be alerted regarding surveys via email which YouGov constantly shares.
According to many workers, the surveys are dried up for past few years so earning opportunity has been limited recently.
Most surveys may take up to 20 minutes to a half-hour of your time as surveys are in question form.
Most surveys have around 20 to 30 questions for each survey so you won't take much time to complete the job.
After completion of the survey, the site will check how relevant and close to the problem your answer is. So make sure to answer the survey if only you have the knowledge about it.
You can also check one of the most entertaining survey sites called Getvase. On this site, the surveys are based on your actual interests such as in politics, sports, music, etc.
Check the Getvase review here and find out how you can earn more income.
YouGov Pulse
YouGov Pulse is an invite-only application from YouGov which pays you passive income in return for using your mobile device.
They track your data and provide surveys based in real-time with what you do. This is really convenient as you will be paid 1000 points just by signing up for the YouGov pulse.
How Much Can You Earn from YouGov?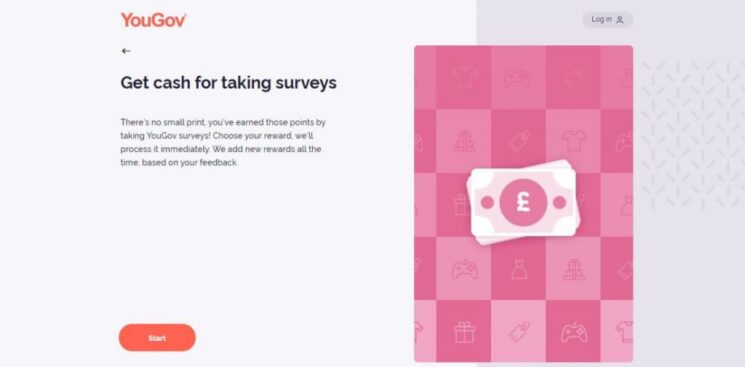 On the YouGov site, you will be paid first in points which can be later converted into gift cards.
You will receive 500 points from just signing up and then additional 1000 points when you complete your first intro survey.
So you will earn 1500 points within just 15 minutes of working. But things won't be as easy from now on.
You will have to be alert to receive surveys or wait for an email from the site for your next survey which can take a bit of time to arrive. It may take up to 12 hours for your next survey to arrive.
The site also considerably pays lays for the next survey as you will be paid only 500 to 750 points after the first surveys.
So we recommend you to be patient and keep scrolling for surveys to keep earning more from the site.
Minimum Payout and Payment Method
The site has two ways of paying you which are Cash and Gift cards. You will need to earn at least $50 for a bank transfer which accumulates to 55000 points.
Similarly, for the gift card, you must have at least $15 for you to withdraw.
Some of the eligible gift cards for the site are from Amazon, Gamestop, Macy's, Lowe's, Old Navy, and many more.
Pros and Cons of YouGov
Pros
The signing-up process is very easy and simple.
You can earn up to 1500 points just by registering.
YouGov is a prestigious company which amazing Transparency.
With YouGov pulse, you can earn passively.
Cons
The availability of surveys is based on locations and demographics.
The payment withdrawal amount is very high compared to other sites.
You may have to wait up to 12 hours for another survey.
YouGov Review: Legit or Scam
YouGov is a popular UK survey site which is paying its surveyors for over 20 years. The site is legit and very popular.
Moreover, YouGov has received a great rating of 4.0 out of 5 stars on Trustpilot with over 1700+ reviews which clearly indicate the popularity and reliability of the site.
Take a look at the YouGov Trustpilot profile below:

As you can see, YouGov has generated lots of positive reviews from the workers but some workers are also not satisfied with the lack of surveys.
Now let's take a look at some User Reviews from Trustpilot.
User Reviews
Review#1
This worker is not happy with the YouGov site as his earings were not redeemed by the site. But the site YouGov does not reply or provide any clarification to the issue.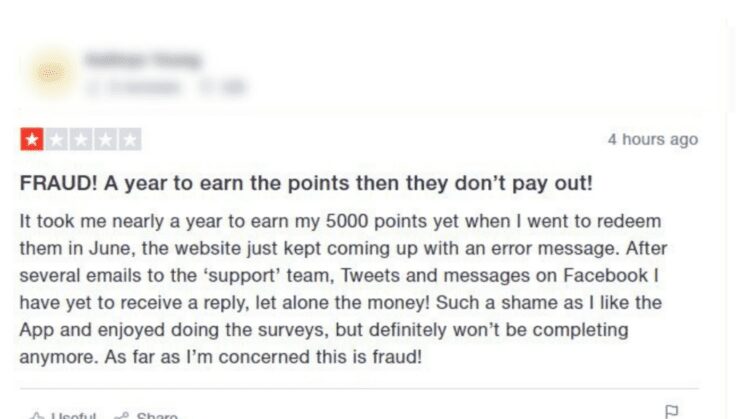 So the final verdict is:
YouGov is a popular and legit website that pays for simple surveys which are related to your demographics.
However, you need to be patient and provide correct and knowledgeable surveys to keep getting survey opportunities.
Hence, we definitely recommend our users to join the site and start earning some decent passive income.