Hello and welcome to my honest Rakuten Insight Review.
Many people on the internet like to share their opinion and answer surveys regarding their best and interesting subjects.
For what if I tell that you can actually earn from providing surveys and opinion on the internet. Today I am bringing you a popular survey site Rakuten Insight.
Rakuten Insight is a Gpt platform where you can earn money online. You will have to take surveys and complete them to earn money.
There will be many interesting surveys for you and they pay you for your effort.
But you may be wondering if this site really pays and if it is not a scam. Well, you have come to the right place for knowing if the site is actually legit or not.
Today I am going to provide you with detail regarding Rakuten Insight which includes what really is Rakuten Insight, how it affects users, how can someone join, how they earn, how they redeem their earnings, payment methods, and most importantly it is worth your time.
So, let us get started.
What is Rakuten Insight?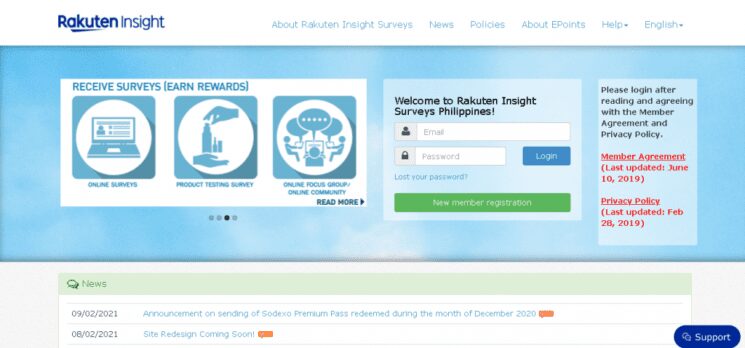 Rakuten Insight is an online survey site that pays its user for conducting and answering some surveys, feedback or posts their opinion for the business who are looking for them.
This site was previously called AIP online survey and its head office is in the Philippines. In order to work and earn from this site, you have to be at least 16 years old.
You can work on the site from all around the world and joining the site is absolutely free.
How to Get Started?
You have to register on Rakuten Insights. But before heading to the registration page you are required to read the member agreement. You just need to visit the sign-up page to enter your basic information.
You need to fill in your name, date of birth, address, and a couple of basic questions. Once you complete the process of creating an account you will get a confirmation email to verify your email address.
The conformational email will be sent to you within 24 hours. You should click the link sent in the confirmation email this will redirect to the profiling page.
On this page, you are asked to answer a questionnaire that will build your profile. Do not skip this as the answer you give will determine the kind of survey you will take. So, fill out all the information.
 How Does it Work?
After completing the registration process, you can start taking surveys. You can get various surveys via email. You will receive the survey based on the information you have filled in your profile.
The completer and more updated your profile is, the more likely you will receive surveys. You do not have to take all the surveys Rakuten Insight sends.
You can choose your survey and complete it. But for more variety of surveys, you can go to the 'My Page' section. You can find the newest survey there.
But some surveys in the dashboard are not available to you as you might not be qualified for them. Then you can click answer to start taking the survey you are interested in.
After completing the survey, you will receive certain points. But if you do not complete it then you will not any compensation for participating in the survey.
You can also take part in a referral program. But sadly, they do not currently provide any referral commission for inviting your friends.
Each survey has a fixed quota. When a survey reaches the maximum number of respondents, the status will change to "Closed", and you will no longer be able to participate.
Also, note that a survey may close earlier than the date displayed in the email.
How Does the Company Pay?
Rakuten Insight pays you through E points for completing a survey. You can redeem your points for cash or gift cards. The minimum payout threshold is 500 E points.
You cannot redeem E Points if you have less than 500 E Points.100 E Points is equivalent to 1.00 USD. So, you require to have $5 to redeem your money.
You can also redeem your points for gift cards for various online retailers. This includes SM stores, McDonald's, Watsons, and many more. Redemption requests are generally processed within one week of redemption.
You can also get paid through a Venmo account.
Pros and Cons of Rakuten Insight
Pros
It is internationally available
Good source of side income
Free and easy to join
You can redeem through gift cards
Cons:
You do not get compensation for participating but not completing
The payout threshold is high i.e., 500 points which are equivalent to $5
Do not pay for referring your friends
Conclusion: Rakuten Insight Review
Rakuten Insight is not a scam. It is a good site to earn some extra money. You have to take surveys to earn money. You will receive surveys according to your profile.
So, keep your profile updated after completion of each survey to attract a lot of good and high paid surveys. If you want to make extra money then you can join this website.
Thus, Rakuten Insight is legit and recommended for a side income source.
If you want to earn even more money online and can edit documents check out our detailed lists of 17 proofreading jobs for beginners.