Welcome to my Remotasks review.
In this review, I will cover everything about RemoTasks in detail.
In fact, this article will provide answers to all your burning questions related to Remotasks. (All in one place.)
So, take a cup of coffee and enjoy reading this review.
Introduction: What is Remotasks?
Remotasks is a micro job site where you can earn money by doing simple tasks like transcribing audio files, image tagging, moderating contents, and so on.
Remotasks is founded by Scale AI which is a San Francisco based company that helps accelerate AI applications by providing access to human-powered data.
It's a great way to make some side income completing simple tasks that pay somewhere between $1.5 to $2.5 per hour. (sometimes even more!)
Anyone with fluency in the English language can join this micro job site and make money by working from home.
Click here to Register & Get $10 Bonus
Get Started
In this section, I am going to show you how to get started with Remotasks.
First, visit this link and sign up using your Facebook account or Google account.
(And don't forget to agree to Terms of Service and EU DPA by checking it. )
Once you reach $10 on your account within two weeks, you will get an additional $10 from Remotasks.
So, make sure to do all the tasks available on the platform so you can reach $10 quickly.
Now you are ready to move on to the next step.
How Does It Work?
After you've signed up you have to take short lessons on any available category you want.
The lessons can be accessed at Remotasks University, where you will learn how to complete the task with fluency.
The courses available on the site are:
3D Cuboid Annotation
Semantic Segmentation
Polygon Annotation
Box Annotation
Video Box Annotation
Categorization
You can join one or more courses and take a test which will check your knowledge and whether you are ready for quality work or not.
Afterward, Jobs will become available to you based on the course you've successfully completed.
Remotasks allows you to take each exam 3 times. So even if you couldn't pass on the first attempt, you can still try 2 more times.
But don't worry if you have paid attention to the lesson, you will pass the test easily.
And that takes us to the next section:
How To Make Money With Remotasks?
Remotasks provide jobs like audio transcribing, Image tagging and so on which will pay $1 to $1.50 per hour.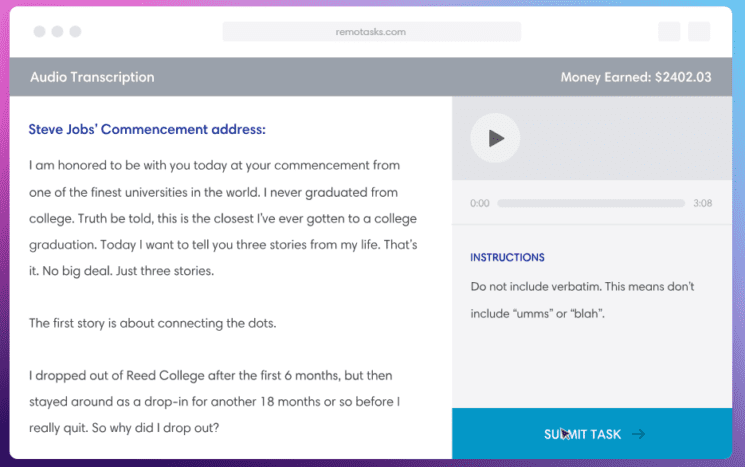 If you have passed the Remotasks test with a good result, then you will become eligible for higher-paying jobs.
Moreover, The quality of your work will also determine how many high paying jobs you will get.
Bottom line?
Do more quality work with less-errors and you will get more high paying jobs.
Moreover, some tasks require more time & effort which results in higher earnings.
For instance, Light Detection and Ranging (LIDAR) annotation tasks require more focus and time to complete it.
LIDAR is one of the highest paying jobs on Remotasks along with Segmentation, Cuboid Tasks, and reviews.
Another way you can make money is by referring your friends to join Remotasks. You and your friend, both will earn $10 for every successful referral.
Register & Claim your $10 Bonus
What Tasks Are Available on Remotasks?
There are different types of tasks available on the platform such as Transcription, Image Recognization, and Categorization.
But you have to take a course and pass the test for each category to unlock the tasks.
The tasks available on Remotasks are:
Image Annotation: Drawing shapes around different objects in an image to help determine what's the object.
Categorization: Categorizing Images on specific keywords that they belong to.
Image transcription: Transcribing important content from the image.
Data collection: Doing research on the internet and collecting information.
Audio transcription: Transcribing voice files to text for people to read.
Remotasks Payout: Learn How To Withdraw your Earnings.
There is only one payment option available which is PayPal.
To withdraw your earnings, Go to Dashboard > Account settings and enter your PayPal email and country name.
Payment is made weekly on Friday. And the minimum payout threshold is $5.
(If you don't know, let me inform you that PayPal charges 2% of the transaction.)
Pros
Free and Easy to join
People from all around the world can work on this site.
Minimum Payout threshold is just $5.
Payment is done weekly.
Cons
You have to learn and pass an exam to start working.
No alternative payment options to people with no PayPal account.
The hourly rate for most of the tasks is only $1.
Not enough work with higher pay rates.
Remotasks Cheats
If you are looking for Remotasks cheats, then let me inform you that there's no shortcuts or cheats to earn money without doing any tasks.
Instead, you will get banned from the platform if you get involved in fraudulent behavior.
Moreover, here are a few other ways you might get banned:
Using bot & software to cheat the system.
Asking other people to work on your account.
Sharing the contents of Remotasks like images and videos on other websites.
Abusive behavior on the Remotasks community.
Remotasks Review 2020
So, Is it legit or a scam?
Let me explain honestly…After signing up and doing research about this platform, I've found that Remotask is a genuine company.
This company pays it's users on time weekly as long as the minimum payment threshold is met.
The tasks pay out $1 to $2.5 per hour if completed without any errors.
If you have some spare time, then you can join this site and make around $100 to $200 weekly.
Some you guys may find the tests hard to pass and there's no other way around, so you have to do your homework before being able to work on it.
But that's not a big deal if you are focused. Right?
Conclusion
Remotasks is a good way to make money working from your home and it legitimately pays you on time.
However, If you compare the payout rate with the real world job then it's obviously very low hourly wage.
Investing your time on other stuff can possibly make more per hour.
But You can work on this site in your spare time on a daily basis and you will be able to make an some extra incoem for sure. And don't expect too much from this site.
I would like to recommend you guys to join a survey site like ySense and SurveyJunkie where you can earn up to $50 per survey.
I hope this Remotasks review provided all the information needed.
Are you planning to join this site? Let me know in the comment section below.
FAQ
Is Remotasks a Legit company?
Yes, Remotasks is a legit company. Backed by United States based AI company called Scale AI, Remotasks provides work from home based jobs and pays it's members on time.