Hello and Welcome to the Current Rewards App Review.
Many sites pay you online for doing some basic works such as playing games, providing reviews, clicking ads, etc. Some of them are like Swagbucks who pays you for answering surveys or even playing games.
The latest generation of people is very indulged in such online earning applications or website which provides them easy cash to answer their surveys. Although such cash is not much but earning 100$ a month by just playing games or clicking ads is still an attractive option.
If you are looking for such applications, you have come to the right place. Today I will be providing you a review regarding the Current Rewards App which basically pays the user for listening to music and doing other small works.
Now you may be thinking, how are you going to work on this on any basis. Worry not because I will be providing you every detail regarding the application Current Rewards Application.
My analysis will include what is the application basically, how to join them, how to earn from them, how to redeem the earnings, do you get ban from an application, and many more.
So let us get started.
What is the Current Rewards App?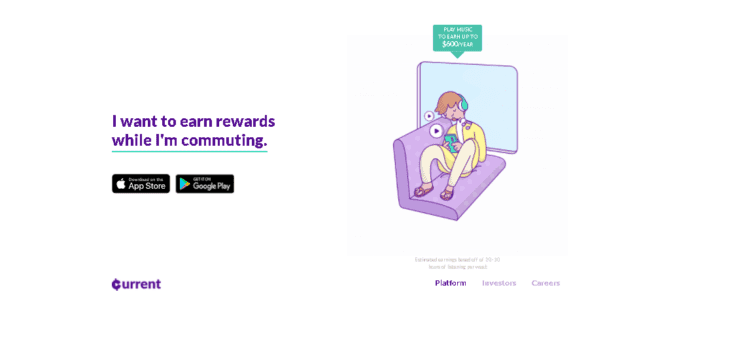 Current Rewards is the application that pays its users for listening to music online or offline. The app is available for both IOS and Android devices.
The application is available worldwide and anyone can earn from it.
You can download the app Current Rewards for IOS and also can download the app as Current Cash Rewards for Android.
How to Get Started on Current Reward App?
At first, you have to download the app Current Reward for IOS and Current Cash Rewards for android depending on your mobile device. After downloading the app you have to fill out your personal information, email, and phone number.
Users also have to register their phone numbers and write the verification code that appeared on the mobile device.
The app rewards for filling in all details. After downloading there are varieties of songs to choose from various genres. However, you can only operate one account with only one device.
You can also create your Current Rewards account with Facebook and Gmail accounts.
Finally, after registering, you can select the category and start listening to your favorite music. You can also look for and join the rewards program. There is a various program that provides reward based on the music you listen.
How to Earn from the site?
The most basic way of earning from the site is earning the points allocated by listening to the songs and music. You can also earn points by login in daily and earning bonus points.
Apart from listening to music, various surveys can be completed and earn points. But listening to radio and music is only the easy and most fun way to earn money. You can earn money depending upon your location and the time of streaming.
Another way of earning the points is by verifying the email address and even activating the screen lock feature can earn more points to the users. Users can also earn by answering various questions regarding the application or other things.
Rating the music and songs will also provide credits for the user eventually turning it into cash. You can also play mini-games to earn points.
There is a feature in the application called daily goal which is basically an encouragement to the users to use the application repeatedly and efficiently. Once you reach 25 points within a day, the application will provide you will an extra 5 points bonus.
These are basically the easiest way how you can earn points in Current Rewards. Now let us take a look at how you can convert those rewards into cash or gift cards.

Payment Method and Minimum Payout
The minimum payout for this app is you have to accumulate 4000 points to request a payout, where 1000 points are equivalent to $1.
4000 points will reward you with a BB card which can be earned by just listening to music which is the fastest way of earning money.
The payment method to redeem earnings in PayPal Cash and gift cards such as Amazon, Uber, Walmart, Targett, and Starbucks. To withdraw from gift cards such as Uber, Walmart, Targett, and Starbucks you have to accumulate 8000 points.
You will need to generate 30,000 points to get PayPal money of $20 and 25000 points will be enough for you to receive $25 Amazon gift cards.
Can you get ban?
Yes, there is every possibility to get a ban. Users having more than one account on the device is eventually going to be get banned.
Another definite way of getting ban is joining the application via VPN or proxy. The fact is this site can catch whether the users are using VPN or not immediately. So I highly discourage our users to any kind of Proxy or VPN to listen to music.
You can also get a ban on the application if you don't have an authentic number to register. They forbid you to use a VIOP number or use an online emulator to mimic the phone number.
Pros and Cons of Current Rewards Application
Pros
The site is legit and pays its users.
Unlike other applications, earning money to listen to music is quite fun.
Various ways of redeeming the earnings such as PayPal and Gift card.
Cons
The application actually overheats the phone and also causes battery drain.
The drawback of the application is you cannot search for songs to earn money.
The users won't earn as high as they wish for.
Current Rewards App Review: Legit and Scam
Current Rewards is one of the most interesting applications that pays its users for just listening to music. There are also many other ways of earning points and converting them into cash.
But the drawback of the application is it is constantly running on the phone which overheats the phone and drains its battery life.
However, I strongly recommend our users to use this application and earn money but only use it as a passive source of income. You will not earn as much as you hoped for. So just download the app, listen to music and earn money.
And before you leave make sure to check our review of the Dabbl App that pays its user for doing some basic tasks such as watching videos, playing games, etc. Check out if the app is legit or a scam.