Today, I will be reviewing a well-recognized GPT site called Earnably.
If you are not aware, GPT or Get Paid to sites allows users to earn money doing simple tasks such as filling out surveys, watching videos, downloading apps, and so on.
I will break down the detailed analysis of the GPT site called Earnably so that is easier for you to decide whether to join the site or not.
We will be learning how to join the site, how to work, how the sites pay its users, how to redeem the payment, and whether or not the site is legit or a scam.
So let's get started:

What is Earnably?
Earnably is a GPT site that pays its users to do simple tasks like watching videos, listening to music, taking surveys, posting and interacting on social media, and so on.
Earnably acts as a hub between researchers who need response and feedback regarding their apps, website, and consumers provide the feedback and response that are vital and essential for the consumers.
Earnably is a great alternative to a similar GPT site called Idle-Empire. You can check out my full review by clicking the link.
The researchers that provide surveys want to know general public reactions and tastes to improve their products and services.
Don't forget to check out our Remotasks review which is a site similar to Earnably and pays users for doing image annotation tasks.
Also Read: Green Panthera Review 2023: Legit or Scam?
How does Earnably work?
Earnably work like other GPT sites where users have to log in with their email address. After login in the site provides various tasks such as solving surveys. Other than taking surveys, there are various tasks such as playing games, using apps, and watching videos.
The site provides users money according to their completed tasks. The earnings depend on the complexity of the task and locations.
Also Read: SurveyWorld Review 2023: Legit or Scam?
How do Users Earn from Earnably?
Users are provided with various tasks to choose from to complete. The various tasks are Completing surveys, offer walls, watch videos, play games, and complete unsolved captcha. The rate of earnings is already previously completed and the users earn immediately after completing the tasks.
The range of the earnings depends on from $0.01 to $0.5 depending upon the task and location. Users can earn from $10 to $50 per day.
Users can use multiple devices at once and can open accounts on at most 3 devices. They can watch videos using three devices at once to quicken their earnings and earn more daily. They can also run Earnably idle on one device to consistently complete the tasks.
There is also another way of earning from Earnably which is called the Referral method. For every Referral from the user account, the user will earn 10% of the earnings by the referral. Users can share their referral id to their social media account and blogs for others to see.
Also Read: iSurveyWorld Review 2023: Legit or Scam?
How to Redeem Earnings from Earnably?
After completing each task, Earnably offers points to the user which can be later converted into cash. The cash can e converted into PayPal cash or other various gift cards and amazon vouchers. Earnably gift cards are valid on various vendors such as Domino Pizzas, Dunkin Donuts, Stubhub, Barnes, and Noble.
Another way to redeem the earnings from the Earnably is via Bitcoin and Litecoin Wallet. As we can see there are various ways of redeeming the earnings from the site which is the most significant and attractive point of the site.
You can also check another website on which you will earn money by listening to music or radio. Check our RadioEarn Review
Pros and Cons of Earnably
Pros
The site is legit and always pays its users
Very easy to join and start earning.
Various tasks are available dependent on the language, interest, and demographics of the user.
The tasks are easy and it is easy to earn money.
The site allows multiple accounts and multiple devices to earn money for the users.
There are various ways of redeeming the earnings and the site has provided various options such as PayPal, Bitcoin, Litecoin, and gift cards.
There are no complaints from the consumers or users.
Cons
There are limitations for the users of some countries.
The offers are limited and not available all the time.
The payouts are not directly in cash but in points.
Users do not earn a large amount of money comparable to the work done on the site.
Users may get ban without explanation if sites think they are breaking some rules.
The site is not recommended to use as an Active source of income.
Also Read: Is PrizeGrab Legit? Check out my Honest PrizeGrab Review (2023)
Final Verdict: Earnably Review- Legit or Scam
Earnably is a legit reward site that pays its user for completing tasks on the site. The company has received excellent ratings of 4.6 out of 5 on Trustpilot and most of the users are satisfied working with it.
In fact, while doing the research for this review, I've found that many users are happy with the UI of the site which is modern and easy to use.
Most of the GPT sites out there use old and outdated design which is hard to navigate but Earnably definitely gets a plus point for giving its members a good user experience.
On top of that, the site has plenty of tasks and surveys to do and you don't have to wait for a surveys invitation.
However, one of the complaints of users is that they had to fill out their details to check whether they qualify for the surveys or not. And the waiting period is a bit longer which is kind of frustrating for the users.
But overall, Earnably is a legit reward site and they are paying their members for real.
You can also read about Casting words Review. The site is similar to Earnably where you earn by doing simple image and audio transcription tasks.
What People Are Saying About Earnably?
Based on Trustpilot reviews of Earnably, here are some of the feedback and ratings of users.
Review #1
The user claims he has received a payment of $5 from Earnably on his Paypal account in just two days and he is very happy working on Earnably.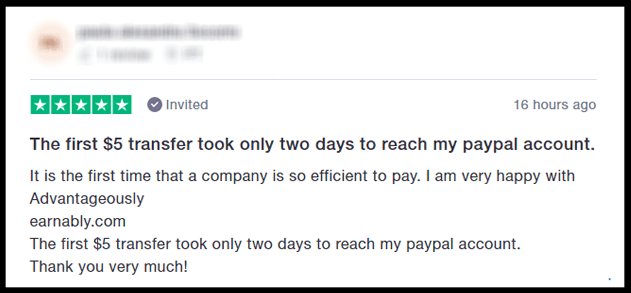 Review #2
According to another user, he describes Earnably as a legit site that actually pays. But he complains Earnably has fewer surveys to offers to its members and he is a bit disappointed with getting disqualified from the surveys.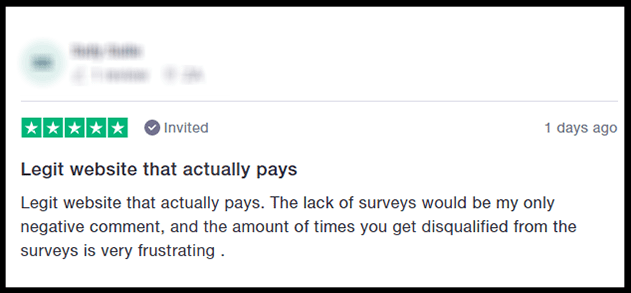 Review #3
According to this user, he was unable to cash out the requested amount of $10 from Earnably and he is a bit disappointed with the customer service of Earnably. However, Earnably quickly responded to the review on Trustpilot and addressed what is going on. And the company also asked the user to reactive their account so they can check and process the payment.
I think Earnably is doing a great job by listening to what their customer has to say and in fact replying to the reviews of its customers.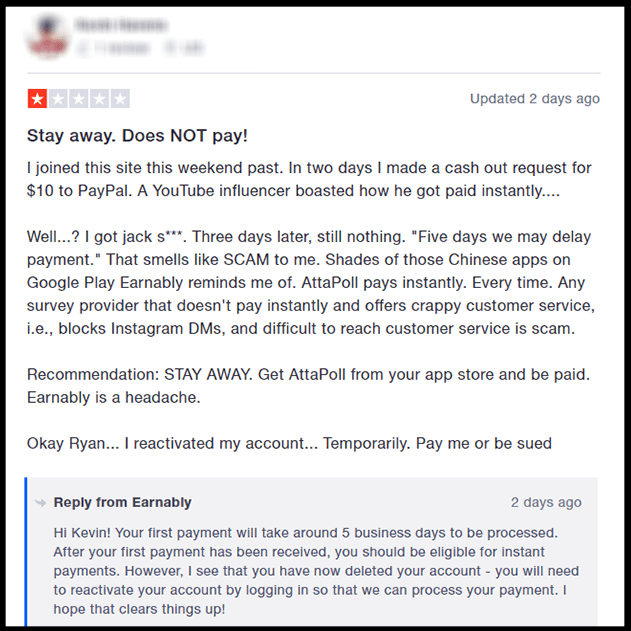 Review #4
Another user claimed he cashed out quickly and says there are plenty of surveys to complete but the user is a bit disappointed with getting disqualified for the surveys.
#Review 5
This user is a bit surprised to receive an Amazon gift card from Earnably as he thought Earnably was a fake site. And the user gives a rating of 5 out of 5 stars.