Hello and welcome to my honest GPTPlanet Review.
As we all know many people are engaged in online earning jobs since they are easy to earn and can work on a flexible schedule.
There are sites such as Freelancers, Upwork, etc in which employer and owner meet via virtual reality and engage in some sort of working transactions.
Other types of sites are GPT and PTC sites which do not require any particular skill but just simple tasks such as watching videos, clicking ads, answering surveys, etc.
GPTPlanet is the same type of GPT website where workers can earn money by doing some simple microtasks.
But you may be wondering if GPTplanet really is a legit site or just another scam?
Well, your curiosity is legit and you have come to the right place for your curiosity.
Today I am going to provide you with detail regarding GPTPlanet which includes
what really is GPTPlanet, how to join the site, how they earn, how they redeem their earnings, payment methods, and most importantly if it is really something that can earn you extra cash.
So let us get started.
What is GPTPlanet?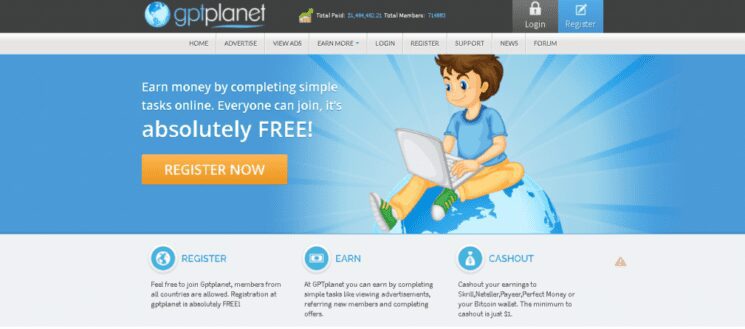 GPT stands for Getting Paid To. Thus, GPTPlanet is a website that pays its users or members to complete various assigned tasks. It not only offers to get paid tasks but also pays to click activities.
This site is active since 2010. It is an international site and anyone can able to easily join this site. The primary activity of this site is getting paid to watch ads.
GPTplanet has stood for a long time. It has been there for over 10 long years and they have nearly acquired 1 million registrations.
Considering all the GPT sites, one GPT site called EzPoints has impressed workers by paying up to 1000 points per week.
Find how much is 1000 points worth in our EzPoints Review here.
Key Introduction
Website – GPTPlanet
Founder – MediaFlow DOO
Founding Year – 2010
Desktop or Mobile Platform – Both
Payment rate – $1 and $2
Payout Method – Payeer, Skrill, Neteller, SolidTrustPay, Perfect Mondy, Bitcoin, LiteCoin, AirTM, Payoneer, and Dash.
How to Get Started
Firstly, you have to join the site. To join the site, you have to visit the official website of GPTPlanet. Then you have to fill the registration form available on the website.
While filling the form you are asked to fill up your full name, username, email address, date of birth, and password. You are also asked to pick your payment method.
The payment methods are Payeer, Skrill, Neteller, SolidTrustPay, Perfect Mondy, Bitcoin, LiteCoin, AirTM, Payoneer, and Dash.
Then you have to agree to their terms and conditions to submit the form. So, agree to the terms and conditions submit it. After a while, you will receive the confirmation email to confirm your email address.
It may take some minutes or some hours to receive the email. If you do not receive it then try filling your registration form and submitting it again.
Finally, to complete your registration process you have to open the link you have been sent in the confirmation email. After completion of registration, you get to choose the membership package.
Membership levels in GPTPlanet range from the Standard membership to a Yearly Gold Plus membership. the standard membership is free and then you have to pay for each level of membership.

How to Earn from the site?
#1Watch Ads
GPTPlanet is get paid to tasks but also pays to click activities. So, to earn what you have to do is click an ad, watch it for few seconds.
Once you have watched the ad for a given time interval.
The payment is based on how long the ad is. the payment ranges between $0.001 to $0.01 for starters.
While watching ads you are also offered points. when you watch an ad you receive a point as well.
You can redeem this point for cash. for every 10000 points, you can redeem $1.You can also get paid to complete offers.
You are presented with different offers in the "Offer Wall" section of the website.
You have to keep completing the offers to earn the money. There will be various offers on the offer wall.
Some offers are simple but some offer is complex and require your personal information like your complete credit card data.
#2Referrals Feature
The other feature of GPTPlanet is their referrals. You can also earn by referring GPTplanet to other users.
If any individual joins the site as a member through your link, then you will get the payment.
Depending on your membership level, you earn a different number of commissions on your referrals' clicks ranging from 10% as a standard member to 100% as a premium member.
#3 Surveys
Lastly, you can also earn by GPTplanet surveys. You can also able to earn more money by filling out surveys like all the GPT websites.
You can fill out surveys that show up in your account and get paid for them.
You will have to be careful as many surveys ask you about your personal information. But you must be qualified and complete the survey before you get paid.
Payment Method and Minimum Payout
There are various payment methods that the company uses to pay their staff.
Some of them are Payeer, Skrill, Neteller, SolidTrustPay, Perfect Mondy, Bitcoin, LiteCoin, AirTM, Payoneer, and Dash.
At first, you must have $1 in your account to withdraw cash but after the first time, the minimum payout increases to $2.
Inspection of Safety
SSL Certificate – Valid and Issued by Cloudfare Inc ECC
Customer Support – N/A
Contact Link – Available
Privacy Policy – Not Available
Pros and Cons of GPTPlanet
Pros:
You can remain a free member
Earn money easily just by watching ads
No limit at the time duration.
Earn from various activities
The forum is very active
It is multi-tasking so you can open the ad and do other activities.
 Cons:
All payments you make are non-refundable.
Requires daily login and clicks to earn referrals' click commission
Low payment for ads
Your account could be shut down for inactivity or cheating.
May take a very long time to withdraw the earnings.
GPTPlanet Review: Legit or Scam
GPTPlanet is legit. You can depend on this site but not completely as the site does not pay as you hope.
Some surveys and activities require personal information that may breach your privacy or vital information.
You can earn more from this site by developing a strong downline as the site has paid many people more than 50 times.
They also have a very high referral rate. Over 15 users from Trustpilot have also given the site 3.5 out of 5 ratings.
Now let's take a look at some User Reviews from the Trustpilot site.
User Reviews
Now let's take a look at some positive user reviews.
Review 1
According to this user, the site is a good PTC site and pays really well.

Review 2
According to this user, the site is legit and he is very happy to gain his first payments.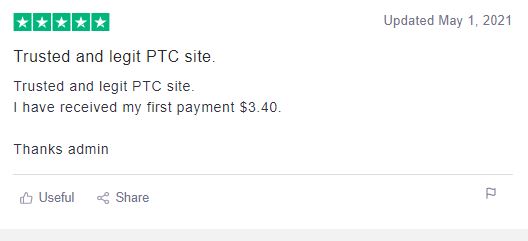 Now let's take a look at some negative reviews
Review 3
According to this user he never received his earnings and was later banned by the site which made him very upset.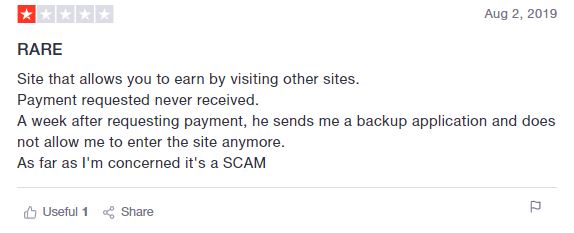 Review 4
According to this user, it took him 6 months to earn even a single dollar as the payments are very low.

Hence the bottom line
I strongly recommend our users to try this site and earn some extra cash but please do not leave your job for the site or make this website your only primary source of income.
GPTPlanet is a legit GPT site but you have to work really hard and payments are also really low you may have to accumulate with other sites to earn even more.