Are you looking for some quick & easy money making ideas to fulfill your immediate financial needs?

If yes, then this list is going to help you to find online jobs that will pay you weekly or daily.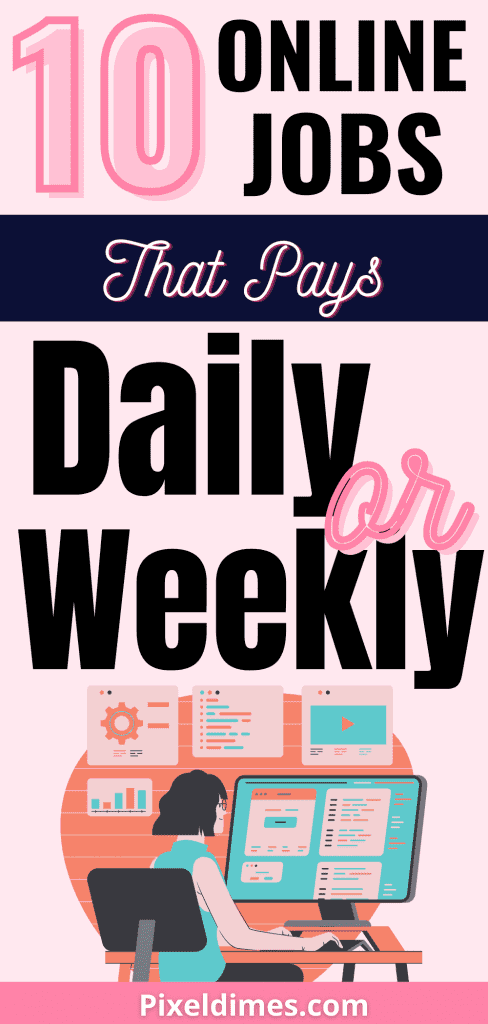 I have researched these companies and build up this list with only websites that are free to join, legitimate & paying their members on time.
Best part?
You can complete these jobs in less time with less effort.
If you work on these jobs regularly then you will have a good extra source of income.
Friendly Note: I will be updating this post frequently as I will continue my research and update it along with my discovery. So, I suggest bookmarking this blog post for refreshment as well as new Updates.
Here are some of the basic requirements that you should meet to do these online jobs:
A computer and a working internet connection.
Basic knowledge of computers.
A Paypal account to receive payments. (Most of the companies pay through Paypal.)
So, without further ado, I am going to share the list of websites that provides online jobs with daily or weekly payments.
Online Jobs That Pays Daily, Weekly, or More often.
What's more peaceful and fun than knowing that you will receive payments daily or weekly after completing the work?
You don't have to wait until the end of the month to receive your hard-earned money.
And working for companies that pay daily or weekly come in handy when you need quick bucks to fulfill your daily needs
Here is the list of websites that pays you daily or weekly:
Smartphone Apps:
Ibotta is a free app that allows you to earn cashback for shopping online or at your favorite grocery stores.
You can earn $5 instantly after signing up and withdraw your earnings once you reach $10.
Payments are made via Paypal and Venmo.
Coin Pop
Coin Pop is a mobile app where you can earn money by downloading other mobile games and apps.
Payments are made via gift cards and PayPal. The minimum payout threshold is just $0.50.
If you want to learn more about this app, you can check out my Coin Pop Review.
AppBounty
AppBounty is a mobile app similar to Coin Pop. You will earn points for downloading mobile apps and games. Then you can redeem those points for gift cards.
This is a great app to earn some gift cards in your spare time.
If you want to learn more about this app, here's my AppBounty review.
Lyft is another great way to make money working at your own flexible hours.
Though it needs you to go outside and work, it is definitely worth it to make some quick bucks.
Sign up to become a Lyft driver and share a ride with the one who needs it and earn up to $35/ hour.
You can receive your payments weekly via direct deposit.
Mini Jobs Sites:
MindsPay
MindsPay company pays up to $50 per paid offer completion and $0.50 each for reading emails.
If you want to earn quick money by completing surveys and sharing your opinions, then MindsPay is the company you wanna work on.
This company pays millions of dollars every month to its users and has been trusted by hundreds of thousands of people.
Payments are made via Paypal on the 1st & 15th of every month.
RemoTasks
RemoTasks is a micro job site where you can earn money by categorizing images, labeling T-shirts, content moderation, and so on.
You can earn up to $2 or more per hour by doing simple tasks. Some of the tasks which require a little more hard works pay even more.
Payments are made through PayPal.
Check out this RemoTasks Review to learn more about this site.
Clickworker is a micro worker site that pays its users for completing small tasks like internet research, watching videos, doing sign-ups, and so on.
You will need a PayPal account to receive payments that are made every week.
Amazon mTurk is similar to Clickworker where you get paid for completing small tasks.
The company is run by the e-commerce giant Amazon, so you don't have to worry about its legitimacy.
You will get paid weekly via Amazon Payments, Gift cards, and Paypal.
Survey Sites
Wanna earn money doing surveys, watching videos, and even play games? If yes, then Swagbucks is the best site for you.
You will get rewarded for searching the web, playing games, watching videos, and so on.
You will always get cashback while shopping online from this company too.
What's more?
A $5 signup bonus will be provided to you when you join the site for free.
This one is one of my favorite sites to make money doing surveys and stuff.
You can receive your Swagbucks earnings as cash on your PayPal, vouchers, or Gift cards from this site.
Inbox dollars have already paid millions of money to its members.
You will get paid for completing small tasks like signing up to a website, watching videos, checking emails, and so on.
This site is also similar to Swagbucks which will help you to make some extra money.
Conclusion
I've shared the best online jobs that pay daily or weekly. Now, It's your turn to join the site I've mentioned in this article.
You can work on these sites even on a short break during work or in your free time and you can still earn a good sum of money from these companies.
If you need more information, feel free to leave your queries in the comment box below, I will be happy to assist you.