Opinions and feedbacks are necessary for every company and organization. This is why surveys are essential to get those feedbacks and third-person opinions.
Surveys are also one of the easy and entertaining ways of earning money online.
There are lots of survey sites on the internet. We have also listed the 10 most high-paying survey sites out there.
Today I am bringing you an interesting survey site known as Panel Opinion. Let's check it out
What is Panel Opinion?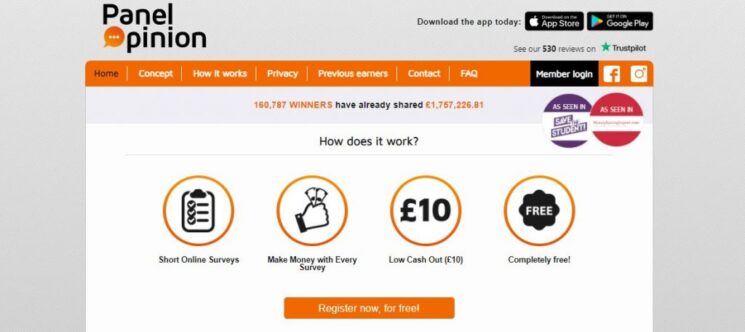 Panel Opinion is a popular UK-based survey site whose general motto is to pay users for providing surveys. The site is owned by MIS Group which is a market research company.
These market research company generally brings companies and surveyors together to provide survey services for required clients.
This site is really easy to navigate and understand how you will earn and how you can gradually increase your general online income.
So let's understand the registry process on the site.
Getting Started
First of all, you will need a UK phone number or if you are a citizen of the UK then you can easily join the site and access the dashboard.
However, there are also partners of Panel Opinion in the US and some other European countries.
Already from here, we can eliminate the availability of the site if you are from Asian countries.
Then you will have to fill in some of your personal information such as Name, Email Address, Address, Phone number, and Password as well.
If you can enter these then the site will send you a link to verify your email address or your phone number.
Once you verify your phone or email then you can access your dashboard.
If you want to earn by providing opinion then you can check our Product Report Card Review.
How to Work on Panel Opinion?
There is a straightforward way of working in Panel opinion. As the name suggests all you have to do is provide an opinion or feedback to start earning.
Let's take a look at some of the tasks in Panel Opinions.
Surveys
Surveys are the bread and butter of panel opinion sites. They are the only task that is available which will help you to earn some money.
This means the site does not have any GPT or PTC tasks to earn some extra income.
After accessing your dashboard you will find the earn money page in which you will find Survey.
YOu will not earn from these straight away as you have to qualify first. For qualifying, the site will provide you with a mandatory survey of your profile.
In that survey, you will have to fill in all the information so that you will get qualify for every survey possible on the site.
You will be compensated by a small reward after completing the mandatory survey which is unique from other survey sites.
When you complete your profiling survey, you will start to receive some more paid surveys occasionally but your profiling won't stop so keep building your profile to have a chance to get more surveys.
Never skip profiling surveys as you may never get another opportunity on paid surveys again.
Unlike other sites, Panel opinion will ask you demographic questions for each of the surveys you select to answer.
This is for you to prove you know the subject so you can provide authentic survey opinions and feedbacks.
In case of failing the demographics questionnaire for surveys, you may get paid and for some, you won't get paid.
One of the most amazing and entertaining ways of earning money from surveys is from the Big Spot site.
Check our Big Spot Review here.
Referrals
Another way of earning from Panel Opinion is to make as many referrals as possible. Just like in every other site if you can manage to bring in workers from your link you will get paid certain percentages of commission.
However, in the Panel opinion survey site, that commission is your entry in their weekly contests or raffle where you have a chance to earn some extra income.
This is not the best way of encouraging someone to bring in more users as you will only have a chance to earn some extra income unlike in some other competitors' survey sites.
However, if you can win the raffle you will earn $10 which is a decent amount per week as well.
Minimum Payout and Means of Payment
Every survey has its fixed price accumulation which will send to your account once you complete the survey.
The minimum payout threshold on the site is just $10 which is considerably higher as there are only one means of earning which is a survey.
If you can reach the $10 threshold then you can claim your earnings via Paypal, Cheque, and direct bank transfer.
The wide variety of options for withdrawing payment makes the site looks really attractive and is one of the plus points for Panel Opinion.
Pros and Cons of Panel Opinion
Pros
The site has amazing customer support.
Vast option in withdrawing your earnings.
Cons
Very limited earning opportunity.
The high minimum threshold of withdrawing your money.
The referral program only has a chance to earn some extra.
Panel Opinion Review: Legit or Scam
Panel Opinion is a very interesting site that pays its user. It has some amazing features but some glaring drawbacks as well.
Over 500 users from the Trustpilot site have rated the site 4.4 out of 5 stars which means the site is really impressive and many users are very satisfied with it.
Now let's take a look at some user reviews from the Trustpilot site.
User Reviews
Here are some of the positive reviews from the site.
Review 1
The user has kept it really simple by saying the site is very legit and it pays fast.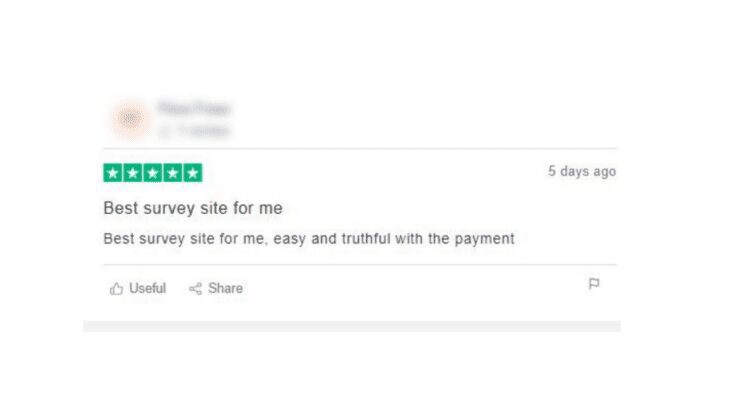 Review 2
According to this user, the site has excellent surveys and it pays instantly.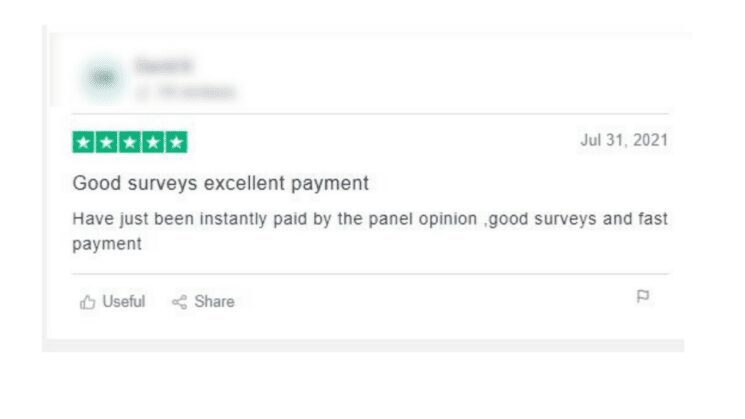 Review 3
According to this user, all the surveys are very relatable so qualifying for the survey is easy. He also likes the fact that even if users are disqualified they will still get paid.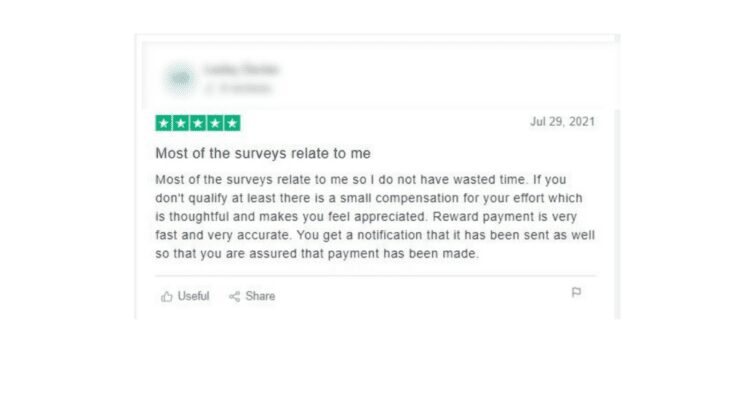 Now here are some Negative reviews of the site.
Review 4
This user is not happy as in his area the surveys are not available for 2 days. But the site says they do not control the availability of the surveys which is really suspicious.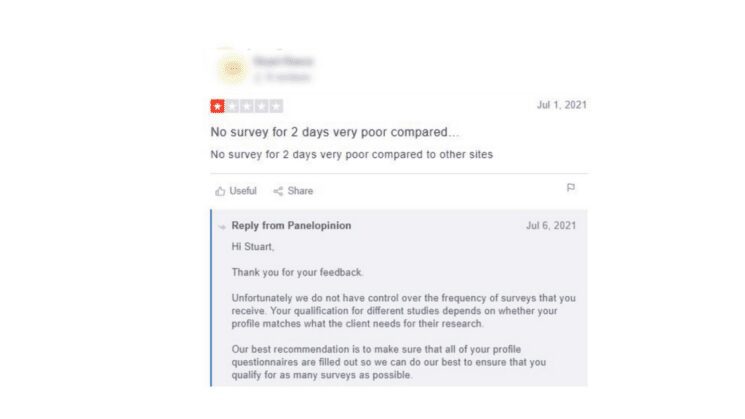 Review 5
According to this user, the site forced him to download many apps and login to many sites for very low rewards. This is very scammy behavior and any user will be unhappy.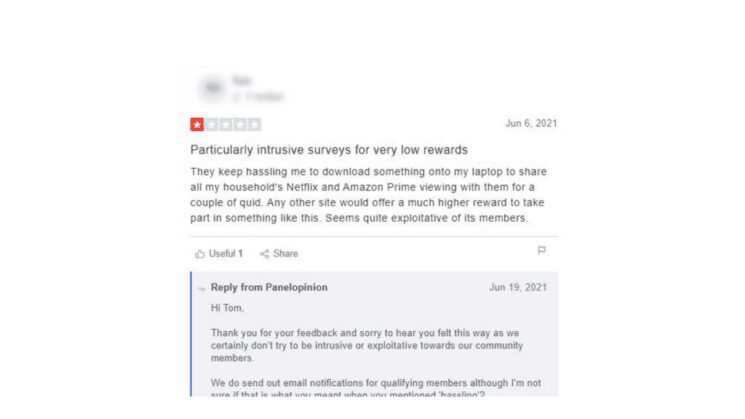 Review 6
This user is not happy because he was disqualified too many times despite knowing the subject of the survey. It has happened with him multiple times which wasted his time.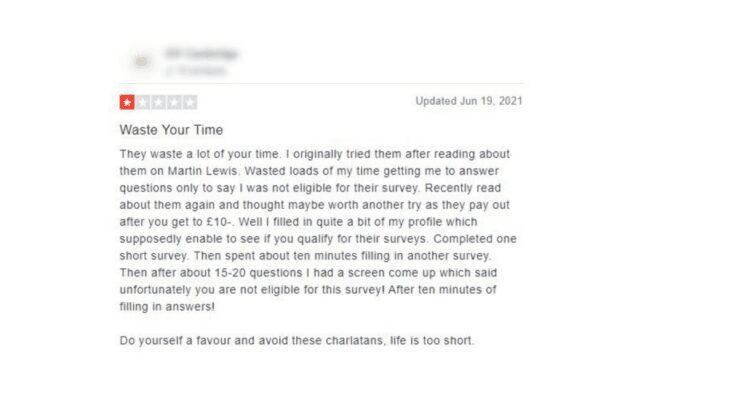 Hence the bottom line is
Panel Opinions have lots of positive aspects and some negative drawbacks. But overall the site is legit and pays very fast confirmed by many users.
So we recommend our audience to join the site, answer surveys and start earning as well.