Survey sites are the epitome of earning money online as there are lots of survey sites and apps.
Also, every one of them claims to be legit and sincere however not all of them pay legitimately.
Today I am bringing you Panel Champ Review in which we will find out if the Panel Champ site is amazing and is one of the high-paying sites out there.
But first of all, let's find out.
Is Panel Champ legit or a scam?
Panel Champ is legit and it pays its users. You will be paid for sharing your opinions. The site pays you through PayPal or gift cards.
However later in this article, I will explain to you how to earn and how many opportunities does Panel Champ provides. They claim to pay you for giving opinions but is it worth joining? For more details regarding Panel Champ, check out the article below:
What is Panel Champ?
Panel Champ is a website that claims that you can earn money by sharing your opinions.
They are a no-nonsense app and offer cash rewards directly for your opinion.
Panel Champ used to be known as Quest Mindshare and if anyone tries to join Quest Mindshare, they will be redirected to Panel Cham.
They are partnered with legit survey sites.
Key Introduction:
Application – Panel Champ
Founder – N/A
Founding Year – N/A
Desktop or Mobile Platform – Both
Payment rate – $12
Payout Method – PayPal or Amazon gift cards.
How to Join Panel Champ?
Joining Panel Champ is free and easy. When you visit Panel Champ the country you can join from.
You can only join if you are residing in Canada, United States, Mexico, United Kingdom, Norway, Sweden, Finland, France, Germany, Spain, Italy, China, Japan, India, Philippines, Australia, New Zealand, and Indonesia.
After selecting the country, you can fill up a registration form. Fill up your gender, email, password, date of birth, and zip code.
Check out our Surveytime Review and find out if it is the best survey site out there.
How To Make Money from Panel Champ?
Panel Champ is a usual survey site. After registration of your account, you can directly start by filling out all the profile surveys.
Profile surveys increase the chance of being qualified for more surveys. Answering profile surveys may take you more than 30 minutes as there are 119 questions.
There is nothing to do on the website after filling the profile surveys but simply wait for the email from Panel Champ.
All the surveys you will be qualified for will be sent via email so you do not require to log in to the website.
You can also choose your survey frequency yourself. You can choose either 1, 3, 6, or default surveys per month.
They are very user-friendly but you must require a high level of patience to earn real money in Panel Champ.
If you want another survey site to check and earn then check our PaidForResearch Review here.
How much do you earn from Panel Champ?
Panel Champ claims you can earn some cash for giving your opinions. But the actual pay rate is unknown.
You will only know your pay rate once you complete your survey. There are no other earning opportunities in Panel Champ besides the survey.
Minimum Payout and Payment Method
You will be paid in cash directly in your Panel Champ account. The payout gateway of this website is PayPal or Amazon gift cards.
The minimum payout threshold is a bit high that is $12.5.
You will be paid within 1 to 4 business days but you must pay a 2% handling fee for transferring money to your account.
You must also approve your withdrawal of money in PayPal account within 30 days to complete the transaction.
FAQs:
According to Panel Champ, some of the frequently asked questions are as follows:
How to View/Redeem Rewards?
According to Panel Champ, log in by selecting your country of residence then Select "YOUR PROFILE" → Select "REDEEM REWARDS"
Why join the Panel Champ Panel?
According to Panel Champ, you have opinions, their clients want to know them. They will pay you for them. Plus, the Panel Champ community is fun.
How often do I need to participate?
According to Panel Champ, as much or as little as you like. It's entirely up to you. They stress that you get involved in topics that interest you. There is no minimum requirement to receive your incentive.
How do they know it's you when they say it's you?
According to Panel Champ, they know. They utilize the latest and greatest in software to weed out the bad apples.
How do you redeem your rewards?
According to Panel Champ, PayPal. As soon as a study wraps up, you are immediately compensated at the study agreed rate as noted in your e-mail invitation.
Where do you go to change your e-mail address or other information?
According to Panel Champ, when you join Panel Champ, they will e-mail you an ID that you will use to reference any point of communication.
Quest is working on a portal that will allow panelists to self-update any details and track their progress, studies completed, rewards, etc., but for now, please send an e-mail to [email protected] and include your ID with your query.
Need help with their panel, login, or registration?
According to Panel Champ, if you are a member of one of their panels, please look at the panelist FAQ supported by their partner, Cint.
If you cannot find your answer, please submit your request via the "submit a request" function on the Cint support FAQ page. https://cint.zendesk.com/home
 Inspection of Safety:
Pros and Cons of Panel Champ
Pros:
Panel Champ is easy and free to join
You will be paid through PayPal
 Cons:
Panel Champ offers limited earning opportunity
You will be charged for withdrawing money
Too many profile questions
 Conclusion: Panel Champ Review
Panel Champ is not a scam but it is not recommended to join as well. This website provides limited earning opportunities.
The pay rate is not disclosed and the profile questions are too many. Panel Champ is not available in all countries.
The customer support of this website is good but the minimum payout threshold is a bit higher.
Also over 10 users from Trustpilot have rated Panel Champ 2 out of 5 stars which are really poor.
Let's take a look at some User Reviews.
User Reviews
The site does not have any positive reviews so take a look at some negative reviews.
Review 1
According to this user, the surveys are long and most of the time Panel champ disqualifies you for errors and mistakes so you won't get paid.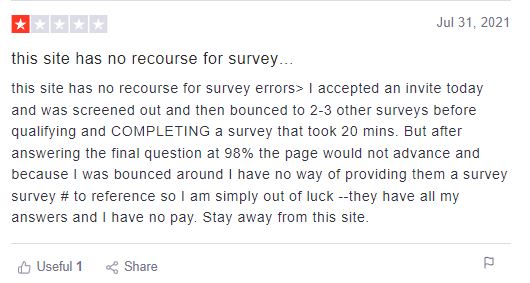 Thus, you are not recommended to join Panel Champ as you can join other legit survey sites with decent pay rates and more earning opportunities.