What is Nielsen Broadband Panel?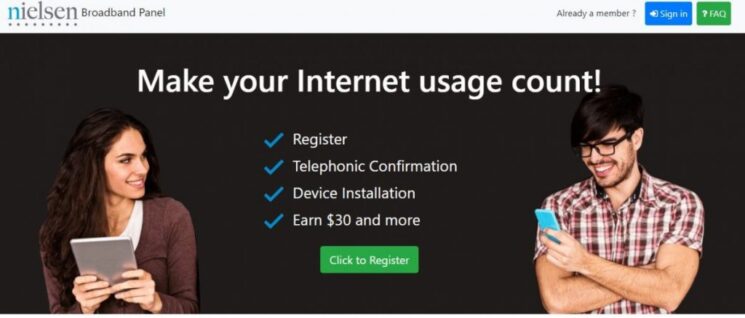 Hello and welcome to Nielsen Broadband Panel Review. Let's discuss the site and ways to earn.
Nielsen Broadband Panel is a website that evaluates the status of broadband service performance across Australia, which sincerely means it will only be available to the people living in Australia.
This website is also owned by the same company that brought Nielsen Computer & Mobile Panel and also Nielsen Homescan.
Both sites are 100% legit and it does pay you for participating in different earning opportunities it offers.
How to Join the Site?
Nielsen Broadband Panel is only available in Australia. So, if you don't live in Australia, then this site is definitely not for you.
Now, if you are eligible to join this application, you have to go through a small survey and then a short screener phone call to make sure you match that particular panel.
How to Work on Nielsen Broadband Panel?
Now, let's go ahead and examine the earning opportunities it offers so you can understand how it works.
Using their Whitebox
One of the great things about the Nielsen Broadband Panel is that you don't really have to do anything special to earn rewards. It actually offers a passive form of earning.
All you have to do is just use your internet connection like you normally use it.
Though, there are very few steps you have to complete first before you can start your earnings.
Once you've registered, you will first have to be accepted. If you get accepted, they will send you a device you first need to install to start the earning process from the application.
They actually call this device "Whitebox". But what does this device actually do? The Whitebox is a very dedicated device for measuring your internet performance on your mobile phone.
And no, it doesn't affect your internet connection's performance and your privacy at any level.
It will only collect the results of network testing from your mobile device. You will then earn rewards every week if the Whitebox is running.
So, you will then passively earn rewards since the device will be the only one doing all the work. You just have to go about doing what you would usually do with your internet connection on your mobile phone.
Using their app
Another way you can earn rewards is to install their app.
You can also use this application to test your internet connection. The only thing you need to do basically is you have to use the application from time to time and run the connection tests.
After earning the rewards you need to keep continue using the application. So just, install it on your mobile phone and use it from time to time.
How do Nielsen Broadband App Pay?
Nielsen Broadband Panel actually uses a point system for their rewards. For the first month of using the device that they recommended, you will receive a certain number of points every week if the device gets connected.
After that, for the next following months, you will earn points monthly. You can then finally use the points which you've earned to redeem various gift cards.
The minimum number of points required to redeem a gift card is 100 points and that will be worth 10 AUD, which means 10 points will be equivalent to 1 AUD.
Actually, you won't be able to earn cash from this site.
How much money can you make?
The amount of money you can earn from the Nielsen Broadband Panel will actually be fixed. So, you could say it offers equal opportunity for each and every member.
You will then immediately earn 10 AUD just for simply installing and connecting their Whitebox device into your mobile phone. You will also earn additional rewards after installing their application.
Then, as already mentioned earlier in the paragraph, during the first month of use, you will earn a certain number of points every week when your Whitebox is connected.
In fact, you will actually earn 30 AUD in your first month.
As for the second month and onwards, you will then receive rewards per month. You will get 2.5 AUD each and every month.
It is definitely not a huge reward, but you don't really have to do anything special to earn, which is a great thing.
But, they actually offer a way for you to earn more since you will always spontaneously be entered in their monthly prize draw as long as you keep using their Whitebox that they provided.
The prize for their monthly prize draw is 1,000 AUD, which is a really great prize and also higher than other Get-Paid-To sites.
Overall, I would actually say that the earning potential of this website is not that bad.
And since you don't really need to put in any effort (except at the beginning when you are setting everything up) to earn different rewards/prizes, then I would say it's an amazing opportunity of which you should take advantage of only if you are eligible to join.
Pros and Cons of Nielson Broadband Panel
Pros:
It offers a passive way of earning
Their device will not really interfere in any way with your internet connection or any of your privacy
It has a great joining bonus (30 AUD in your very first month)
It has good reward options
Cons:
It offers limited earning opportunities
It has no cash rewards to be offered
Conclusion: Nielsen Broadband Panel Review
After the detailed Nielsen Broadband Panel Review, we can conclude that the website is legit however the earning opportunities are limited and the amount of earning is also very low.
Hence if you want to earn some passive income you can check Nielson Broadband Panel and start earning.
If you like macro tasks and like to earn decent passive income check our review of Prediqt App and find out if the site is legit or scam.