Hello and Welcome to my genuine Opinion City Review.
Answering Surveys is one of the interesting and fun ways to pass the time for some people. You can even meet new friends in such Survey Forum when your interests are aligned.
However, very few people know you can actually earn some passive money by answering surveys on the Internet. various sites offer cash or gift coupons in return for your reviews or opinion.
But just like other earn money online websites it is necessary to know if the site is legit or scam. Do not worry, today I have brought you a very popular survey site called Opinion City.
Opinion City works as a hub between organizations and workers who conduct surveys and in return get paid. The site is also like a survey panel where you can find various survey sites to answer surveys and get paid.
I will provide you all the details regarding Opinion city which includes how you can work, earn and redeem your earnings and of course whether the site is legit or a scam.
So let us start Opinion City Review.
What is Opinion City?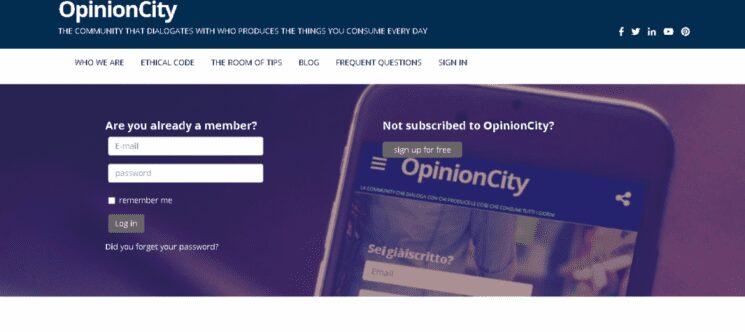 Opinion City is a survey collector site that redirects you to various websites that pay if you can provide opinions or answer surveys that are subject to your interest.
They collect and provide the best survey opportunity on the internet. The site has collections of various sites that have surveys and will redirect you to them when you search for them respectively.
How to Get Started?
First of all, after going to the site, you have to sign up and register on the website. You have to enter your email address. Now you enter your details such as Name, age, address, etc. on a form
Now that you have successfully registered, you will be immediately taken to a survey panel dashboard where there are few sites with Join Now Button.
They also have the required number of vacancies available for the survey sites. However, to join them, you don't need an Opinion City and you can sign up for them independently.
How does Opinion City Work?
Some many brands and companies need feedback, response, or an opinion for their products, apps, or gadgets. This is why they create a survey panel to gaze at the consensus of the public regarding their products before going public.
This is where sites like Opinion City come where they act as a middleman between such companies and a surveyor. These companies pay Opinion city for its panel and Opinion city pays the surveyor for their honest surveys keeping a part as profit.
All you have to do is choose from the lists of survey panels and answer honest surveys from any of these websites to get paid.
How to Earn from Opinion City?
After activating the site and registering in it you are all set to earn from the website. You will see various survey panels to join and provide surveys to earn from the site.
However, not all websites are surveys. Some are ads and promotional sites that are only beneficial for the Opinion City site so be careful before joining them.
If you find the survey site you can start answering these surveys. They take a maximum of 20 minutes to complete. The site says you can earn up to $75 per survey which is highly unlikely and to date, nobody has earned that much from just a survey.
How Much can you Earn from Opinion City?
You are going to earn from $1 o $5 per survey so site claiming you will earn $75 from a survey is not fair and make them unreliable. However, you will earn decent money per month for the side hustle business.
Despite being low money giving sites the surveys are fun and their subject are very vast. You can find the survey regarding food, games, movies, TV shows, etc which might ignite your interest to answer these surveys.
Minimum Payout and Payment Method
On the site, there is no clear mention of the actual minimum threshold which can be there is no minimum payout but lack of information is very unprofessional on their part.
However, you can make up to $5 per week which you can redeem through various payout options such as PayPal, Payoneer, Bitcoin, and bank deposits.
Such variety in payout options is really good which attracts workers from all over the world.
What are the Red Flags of the Site?
Overexaggeration of the earnings. The site claim you will earn a lot more than what you actually earn.
Lack of clarity regarding site and owner themselves.
Opinion city acts as there is only certain spot remaining in those survey sites so that you can earn quickly which is not true.
They claim they have scanned all the sites for their scam however some of the sites you go through Opinion city are just scams or promotional sites.
Pros and Cons of Opinion City
Pros
Opinion City is not a scam and they pay however they pay considerably lower than what they claim.
There are various survey panels to choose from and answer a fun set of questions that helps you to compare the sites respectively.
The site provides options to choose from various survey panels for earning and reliability which is very considerate.
Cons
Opinion City claims they do not promote scam sites but some of their sites are really not worth joining.
They have false claims of earning up to $500 by answering surveys which may seem untrustworthy and unreliable.
The customer support is non-existent. If you want a reply from a site, they respond extremely rate or probably never.
Conclusion: Opinion City Review
After thoroughly conducting an Opinion City Review, I have concluded that the site is not a scam. However, you do not earn remotely as much as they claim you earn.
There are plenty of red flags on the site. However, there are plenty of payment proofs on the internet as well that proves that the site is legit.
But we know that there are much better sites than Opinion City to earn money by answering some easy survey questions. Please check out our lists of the 10 best survey sites to make money online in 2023.