GPT sites or also known as "Get Paid to Sites" are one of the easy ways of earning money line.
All you have to do is complete some basic tasks according to the instructions and you will be paid.
There are tons of GPT websites and apps on the internet so it may be hard to choose from the legit one with the scam.
Today I am bringing you another popular GPT site Gift Hunter Club.
What is Gift Hunter Club?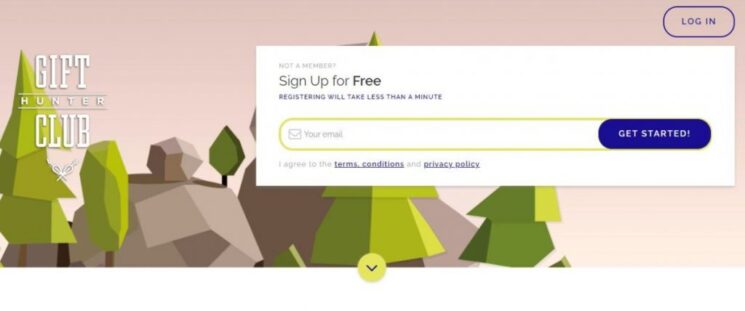 Gift Hunter Club is another popular GPT site where you can earn some online side income by completing easy tasks according to instructions.
If you have signed up for other GPT sites then the concept is more likely the same.
The site is owned by the media company known as Innovative Hall Media based on the company of USA.
Many of the users have claimed Gift Club to be a legit site, whereas some have some sort of complaints about the site.
But first of all, we will talk about how you can join the site and get started to earn money.
Getting Started
To get started, you have to visit the site Gift Hunter Club and register. You can register from all around the world.
However, the high-paying surveys are located mostly in Spain, the USA, the UK, and Canada.
Now you can register on the site by clicking on the register button and providing your personal opinions.
You have to provide your email address and then agree to the terms and services, After that, you can log in to the site via your email and password.
Now you can access your dashboard and find the tons of tasks to complete and start earning.
Tasks Available on Gift Hunter Club
As Gift Hunter Club is the GPT site, you can complete lots of tasks and start earning some money.
Now let us take a look at some available tasks on the site.
Offer walls
Offer walls are the bread and butter of GPT sites. There is a large number of offerwalls that you have to complete while following instructions.
Some of the offers are signing up to various websites, watching videos, downloading apps, or providing product reviews or using some platforms like https://www.wallpics.com/.
You can also answer paid surveys as they are also in the form of offer walls as well.
If you are looking for another GPT site to earn some cash, cashback, tasks, etc check our review of Treasure Trooper.
Paid Surveys
Paid Surveys are one of the best ways of earning some money because they are mostly high-paying and easy to complete.
It may take up to 10 minutes to complete these surveys and each survey may reward from $1 to $2 per survey.
They have lots of surveys that you can answer daily but you have to qualify on each survey before being eligible for answering these surveys.
It may be frustrating sometimes as you may not qualify for any surveys but it may also depend on your demographics so provide all the details on your demographics and you may gain some high-paying surveys to earn.
Bonuses
If the user completes at least 4 articles per day that they are eligible for the daily bonus.
Also if you are among the highest earners for the week then you can be eligible for the weekly bonus.
Your daily bonus can be 10% of the earnings of that day and the weekly bonus is you will get 10 cents as a bonus for each week.
How Much Can You Earn From Gift Hunter Club?
The earnings of the Gift Hunter club depend on how much are you willing to put an effort on the site to earn.
There are lots of tasks on the site but most of them are low pay rewards apart from paid surveys.
Your earnings are also dependent on the location that you stay and also the demographics that you have for surveys.
As the site is definitely not a get-rich-quick scheme, you will have to be patient and keep grinding on this site.
You can earn from $5 per day to sometimes earn $10 if you can get some high-paying survey to work on.
Minimum Payout and Payment Method
The minimum Payout to withdraw your earnings from the site is $5 but the site will charge 30 cents so you have to pay $5.3 to withdraw.
However, if you can reach $10 to withdraw your earnings then you won't have to pay any extra charge on the site.
There are a couple of ways to withdraw your earnings from the site. You can get your earnings from Paypal, and also via Amazon gift cards.
However, in some locations, Amazon Gift cards may not work so it would be wise to make a valid PayPal account.
Pros and Cons of Gift Hunter Club
Pros
The site is available globally.
Lots of tasks to earn rewards.
The payout threshold is only $5
Excellent customer support.
They also have a mobile app to earn fastly.
Cons
Surveys are limited are they are based on location.
For minimum payout, you will have to pay a charge fee.
Very low rewards potential
Gift Hunter Club Review: Legit or Scam
Gift Hunter Club is a GPT site and it is one of the legit sites. However, just like any GPT site, it will require lots of patience and hard work to earn some decent earnings.
As we have mentioned above it is easy to join and start earning. If you are able to find some high-paying surveys then you can make some decent side income.
But the earning potential is very limited and when you make $5 then you have to pay at least 30 cents as a charge fee.
In some countries, you have the option to withdraw from Amazon gift cards as well.
So in my honest opinion, you can join the Gift Hunter Club and start earning some extra income but do not think of this site as a getting rich quick scheme.
It is a legit site so you will definitely gain your earnings.