Hello and welcome to Uniqpaid Review
GPT sites are a significant way to earn money online nowadays. All you have to do is complete some easy tasks like watching videos, answering surveys or completing offers and you can earn good money.
There are countless GPT sites on the internet and each one claims they are fair and legit. But you have to be careful in choosing the right GPT sites to not get scammed with your time and money.
Today I am bringing you one of the older and popular GPT sites called Uniqpaid where you earn by completing some easy tasks and surveys.
But is the site legit or just another scam?
We will exactly find out that along with how you can join, earn and also redeem your payments.
Sounds Interesting, doesn't it?
So without further ado, let us get started.
What is Uniqpaid?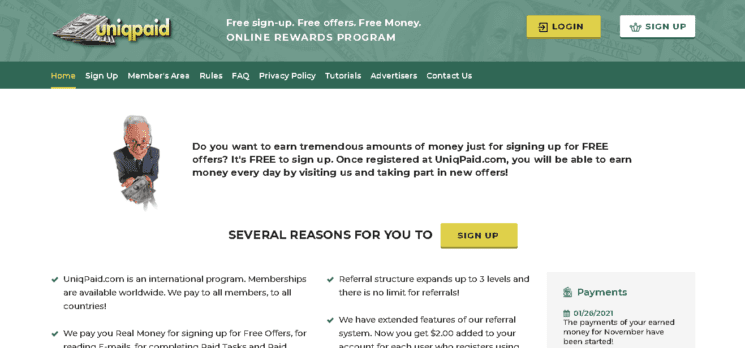 Uniqpaid is an online platform that hires people and pays them for doing some easy and simple tasks. It is said to be a GPT site where you complete offers and finish tasks to get paid.
Uniqpaid was first established in 2001 and has been in operations for 19 years which shows the companies longevity.
The site is free for anyone and once you sign up you are all ready to work and start earning. You have to sign up and register to get started to work and earn.
How to Get Started?
You just have to sign up to the website and register in order to get started on the website. First, you have to enter your name country name.
After that, you will have to fill a form containing name, address, email address, province, zip address, and password. Once you fill in the form you have to verify your phone number and email address.
Now that you verified your phone and email, you are now all set to start working and earning from the site.
How to Work on Uniqpaid?
After signing up for the site, now you can visit your dashboard and see various tasks available to you. You can also search for the tasks available.
There are some of the ways you can work on the site. They are Surveys, Ads, and Offers.
You can start by answering surveys. The site will provide you with various sets of questionnaires depending on your interests and you will have to provide simple answers to each of them.
The survey the site provides you depend on more relevant information your profile has.
Other than Surveys, you can also watch ads on other websites to earn money. The site has a client in various other websites which they provide access to you.
You have to visit those websites and watch ads that pop up. The ads could be up to 20 sec long and you have to watch it completely to count as a visitor. After watching the ads, your earning will immediately be credited to your account.
You can also complete various offers to work and earn on the site. There are various paid offers like liking a comment, watching videos, retweeting a tweet, etc to complete the offer and you can earn the accumulated cash.
However, you must complete an offer by following the exact rules provided by the website.
How does Company Pay?
After working on the site, it is time to get paid and you must be wondering how the site pays. Every task on the site has separate accumulated points that you will earn for completing each task.
Those points can later be converted into cash. The site does not have a threshold and pays at the end of every month. You can earn a maximum of $2 per task from the site so it is quite hard to earn a significant amount.
But they have a very nice referral program where you earn 10% of your referral earnings for a lifetime. You will be paid at the end of every month even if you have earned just a dollar.
One of the best GPT sites on the internet with only one negative review out there. Check out the RewardsXP review here.
Minimum Payout and Payment Method
Uniqpaid does not have any minimum payout threshold. The site pays out at the end of every month regardless of your amount of earnings.
You can be paid through PayPal or cheque. From Paypal, you will be paid immediately but if you want to receive via cheque you may have to wait for 2 weeks to receive your payments.
Pros and Cons of Uniqpaid
Pros
It is a legit site and pays its workers.
The site does not have a minimum payout which makes it very easy to work.
It is easy to use and the tasks are really simple.
You can receive your payments via PayPal which is very considerate.
Their referral base program is one of the best on the internet.
Cons
There are very limited options for withdrawing your earnings.
They have an extremely low amount of earnings per task so you have to complete a lot of tasks to earn significantly.
You can get ban or disabled if the site suspect of earning illegally.
Conclusion: Uniqpaid Review
After a very constructive Uniqpaid Review, I can easily say the site is legit and definitely pay its users. You can do various easy and simple tasks and keep earning.
The site does not have any payout threshold so you can receive your payment at the end of each month regardless of your earnings which is very nice for the workers.
However, you must know the amount you earned is very low and you have to complete a lot of tasks to earn a significant amount of money.
Hence I can conclude that you can join the site and earn but please do not leave your day-to-day job or make Uniqpaid your active source of income. You can make them a passive source of income and earn side cash every month.
Hence here I conclude my in-depth Uniqpaid Review. Before you leave, you can check our review of another GPT site Jobboy and find out if the site is legit or scam.