What is Acumen Panel?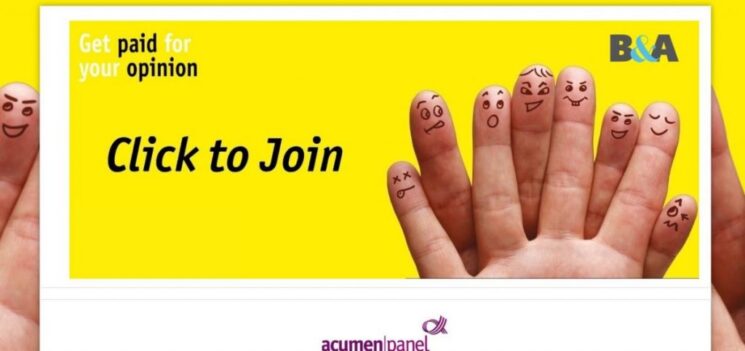 Acumen Panel is an online platform where you can earn money for sharing your opinions by answering various surveys. You can not only share your opinions but also participate in various research activities.
How to Join Acumen Panel?
First, you have to register an account on Acumen Panel. Visit Acumen Panel Ireland – Get Paid For Your Opinion. Click the sign-up option. This is only for residents of Ireland
Fill up the details in the form. You are required to fill up your first name, last name, password, age, location, and email address. Then you have to agree to receive email advertising from Acumen Panel and Terms of Service.
After submitting the registration form, you will receive an email from Acumen Panel with a conformational link Acumen Panel to confirm your email address. After Clicking it, you will activate your new account.
 How Does it Work?
After completing the registration process, you can start taking surveys and sharing your opinions, and also participate in various research activities.
You will receive an email that will invite you to take the survey. You will receive a link in the email so, click the link that will redirect you to a set of questions.
They are not the actual survey but it is a test that determines whether you will qualify for the survey or not. So, you have to answer the question and pass the test.
If you fail the test, try other survey offers but if you pass the test, you will be qualified to take the survey.  Choosing surveys is optional. You can choose the survey that interests you.
On this site, You can also be part of research activities. You will be invited via email to take part in exciting research like product testing or focus group activities from time to time.
You can decide from which survey, product test, or focus group you can be part of research activities.
Another interesting survey site from South Africa is Enlighten Panel. Find out if the site is legit or scam in our Enlighten Panel Review.
How do you earn?
You are paid for taking surveys and sharing your opinions and also participate in various research activities. in Acumen Panel. You will be paid in points initially.
While taking surveys you have to qualify to earn points. If you failed to qualify, you can still earn 10 share points for participating.
If you are qualified then you will earn 20 share points per minute. So for a 5-minute survey, you will earn 100 share points.
For research activities, you will earn higher than paid surveys. Research activities like product testing and focus groups pay you 20 euro to 200 euro. So it is really higher than paid surveys. to be called in research activities, your paid surveys should be good.
How Does the Company Pay?
You will be paid in points initially in paid surveys and in euros in research activities. 1 euro is equivalent to 100 share points. You will have to reach at least 1000 share points to redeem your earnings.
To redeem, you should first open your account in AllGifts.ie. go to the member dashboard and click redeem my points. Then select the amount you want to redeem. You will receive a voucher.
This voucher contains a voucher code that can be used to purchase any product, service, or gift card. You can purchase from Amazon, Dunnes, Bang Restaurant, Bubble Brothers, Independent Cinema Ticket, I Tunes, Stock Design Store, and many more.
 Pros and Cons of Acumen Panel?
  Pros
It is easy to join
Acumen Panel is free to join
Decent payout threshold that is 1000 points.
The pay rate is decent which is 20 points per minute.
You can redeem your voucher in more than 50 stores across Ireland
 Cons:
You may not be qualified for surveys you are interested in Acumen Panel as they may be based on your demographic information like your age, gender, and your location.
It is not available worldwide and only in Ireland
They do not pay you through PayPal or any form of cash
It has limited earning opportunities
Conclusion: Acumen Panel Review
Acumen Panel is not a scam but is an online website to earn some extra money. You are qualified for a survey on basis of your personal information like age, gender, and the questionnaire provided before taking surveys.
Then you will receive surveys and research activities. Thus, Acumen Panel is legit but it can be used as a secondary site to earn as it does not provide cash and has limited earning options. This website is only for residents of Ireland.
Thank you for checking out Acumen Panel Review, if you want to earn money by interest please check our Lending Club Review.