There are tons of survey sites on the internet and each of them claims they pay high and is legit. Today I am bringing you a new survey site Lifepoints Panel.
In this LifePoints Panel Review, I will provide you an in-depth review of the site and how you can earn some extra income.
But first I will start with:
Is LifePoints Panel Legit or Scam?
LifePoints Panel is a legal site and pays its users. They are free to join the site and anyone can join from anywhere. There is no membership fee or any extra fee you have to pay on LifePoints. They are a market research company that likes to collect data in the form of surveys or questionnaires. You will get paid via Paypal, Giftcards or even donate to a charity of your liking. However, you have to earn at least a minimum of $15 to withdraw your earnings.
Despite being a legit site there are some aspects that you have to consider and you can also make maximum revenue if you follow our article.
Hence please keep engaging with the article below.
What is LifePoints Panel?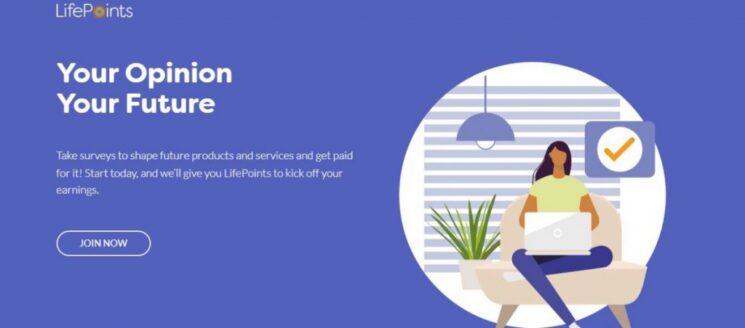 LifePoints Panel is a popular market research site that provides services for collecting data, information, or feedback.
They hire new users to conduct a survey and reward them according to their surveys or opinions. They were established by merging fairly popular survey sites MySurvey and LightSpeed.
They first merged in 2019 which means they are only 2 years into operations but LightSpeed has been around since 1940.
Despite claiming to be a fairly new site, LifePoints have already provided rewards to over 5 million users according to them.
There are tons of mixed reviews regarding the LifePoints Panel but we start with how you are going to join the site and what are the criteria for joining them.
Key Introduction
Website – Lifepoints Panel
Owner – N/A
Date of Foundation – 2019
Payout rate – $15
Payment Method – Paypal, Gift Cards, and Charity Donation
Getting Started
LifePoints Panel is a global website that can be accessed from all over the world. However, the only criteria needed is you have to be over 18 years old to join them.
Now go to the website LifepointsPanel.com and then click on Join Now button on top of the site.
After that, you have to fill in some personal information such as your Name. Email Address, Age, and Gender. You will also get the opportunity to provide some information so that site can filter your demographics for surveys.
However since LifePoints Panel is the new site, there may be some glitches that you may encounter on the site.
Also sometimes it may take some time to sign up and get started earning so I recommend you to be patient from the site.
If you are looking for another survey site then check our Survey2Cash Review and find out
How To Make Money from LifePoints Panel?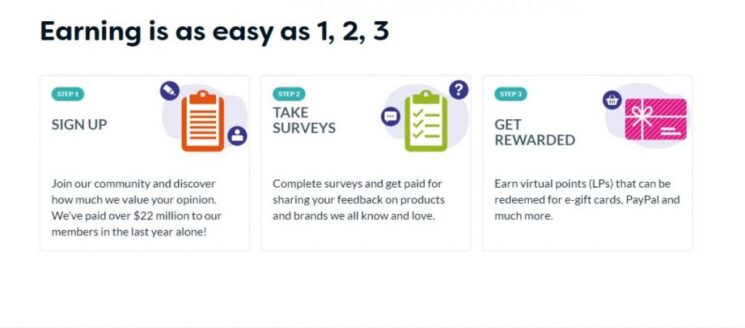 LifePoints Panel is a popular survey site with lots of earning opportunities. You will have to complete some tasks or follow the instructions to get paid.
Now, let's take a look at some tasks or earning opportunities from LifePoints Panel. They provide points in the form of rewards that you can convert later into rewards.
#1 Paid Surveys
LifePoints Panel is a popular survey site or market research site. So Surveys are the most common and high-paying tasks on the site.
They do not like any distractions and it is very easy to navigate which can be confusing on some other survey sites.
When you can access the dashboard you will come across the surveys button where you can answer surveys and earn.
However, first, you have to answer some questions and base your demographics to gain some survey invites.
If your questions are satisfactory, LifePoints Panel start sending surveys via email or from your dashboard as well. These surveys already have life points which you can see before completing the surveys.
The points can be ranged from 30 to 100 points and these points are based on the length and complexness of the surveys.
The surveys on LifePoints Panel are also decent length as it can take up to 5 – 10 minutes to complete the surveys.
If you want to make over $5000 from surveys then check our 10 Best Survey sites That Pay $5000.
# Paid Blog Posts
Paid Blog Posts are not direct as you may think. You will not get paid for blogging or providing updates on the posts.
This can benefit you in two ways. First of all, you can participate in contests of writing updates and posts which may earn you some free benefits or gifts.
Also on the other hand, if you post something related to work and highlight your efficiency, you can get offered other earning opportunities from LifePoints Panel.
#Product Testing
Product Testing is another way of earning from the LifePoints Panel. But you will not receive any cash or giftcards from these product Testing.
Instead, if the site is satisfied with your review of the product, you can receive the free products yourself.
The value of the product may vary from $20 to $50.
How Much Can you Earn from LifePoints Panel Review?
LifePoints Panel is a popular survey site so you can earn some extra income by completing surveys. As I have mentioned earlier they reward you with points called LifePoints.
So for each survey, the Lifepoints are normally varied. You can get from 50 points to 100 points while completing surveys.
Normally each survey is worth from $5 to $10 so you will earn decently good if you can manage to get lots of surveys in the first place.
If you can get decent survey invites then you can easily make from $50 to $100 per month which can be a decent side income.
Check out our in-depth Yuno Surveys Review to find out about one of the excellent survey sites to earn money online.
Minimum Payout and Payment Method
There are lots of payment methods on the Lifepoints Panel. They are PayPal, various gift cards and you can even donate to a charity of your choice.
The minimum threshold to withdraw the payment can differ from the means of payment.
For eg you have to earn at least $15 to withdraw your earnings from Paypal however you can withdraw gift cards worth $5 as well.
Also as mentioned earlier you have the option of donating your earnings to the charity and the amount is completely dependent on you.
Inspection of Safety
SSL Certificate – Valid (Issued by Amazon)
Owner – Lightspeed Research Limited
Date of Foundation: 2019
Customer Support – Excellent
Contact Link – Help Centre
Privacy Policy – Available
Pros and Cons of LifePoints Panel
Pros
Various Earning Opportunities
Lots of Tasks Available
LifePoints Panel is Legit and has been in operations for some time.
QuickSurveys are the means to earn some quick bucks.
Cons
Earnings are based on opportunities and locations.
There are lots of glitches on the LifePoints Panel.
Sometimes you will be banned without any explanation.
LifePoints Panel Review: Final Verdict
LifePoints Panel is a legit site and one which remains in operation for several years as a merger.
They have an excellent navigating dashboard and their surveys are also really high-paying.
There are lots of positive remarks of LifePoints Panel and also some negative aspects as well.
Over 12000 users from the Trustpilot site have rated LifePoints Panel 4.3 out of 5 stars.
Now let's take a look at some User Reviews from Trustpilot.
User Reviews
Review 1
This user is really happy that rewards and legit so he congratulates LifePoints Panel.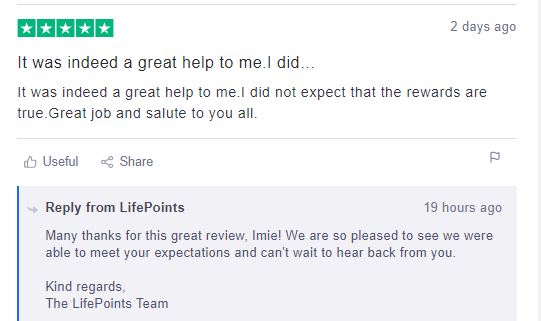 Review 2
This user has already received their second payment from the LifePoints panel so they are very happy with it.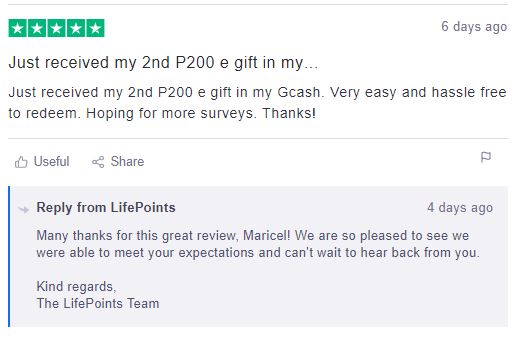 Review 3
This user claims Lifepoints is the most amazing site ever. He has claimed he has been working for 5 months and the site is legit and customer support is excellent.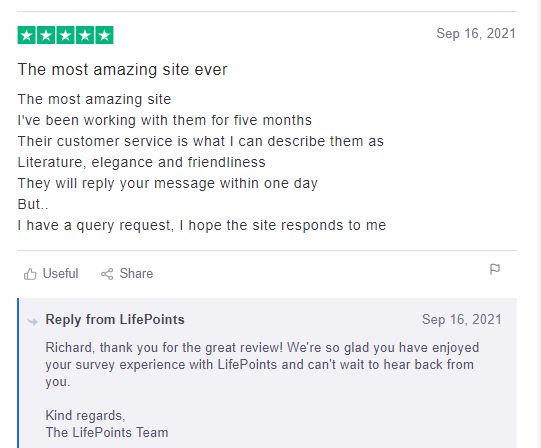 Now let's take a look at some negative reviews.
Review 4
This user is adamant that LifePoints is a con as he has not received his payment and claims customer support is really poor.
Review 5
This user is not happy that after completing so much work their gift card was deemed invalid and there was no customer support.

All in all,
Life Points Panel is a legit site with lots of positives such as high paying site, easy to join, and lots of options for withdrawing payments.
However, you may get a ban without warning and your earnings potential is also based on locations or availability of surveys.
So I do recommend everyone to join LifePoints Panel and then start earning but keep in mind you may not earn as much as you hoped for.