Earning via a Survey site is one of the easiest and entertaining ways to earn money online in 2023.
There are many survey sites all around the world that promises to pay you if you provide adequate data and opinion on the subjects that are in fashion and trends.
Due to the increment in paid survey opportunities, the workers are always alert for what to choose and not choose to start earning some money online.
Today I am bringing one of the popular and newly made survey sites called Product Report Card.
In this review, I will be provided in the detailed information for you to decide if joining the Product Report Card is worth it or not.
So let us get started.
What is a Product Report Card?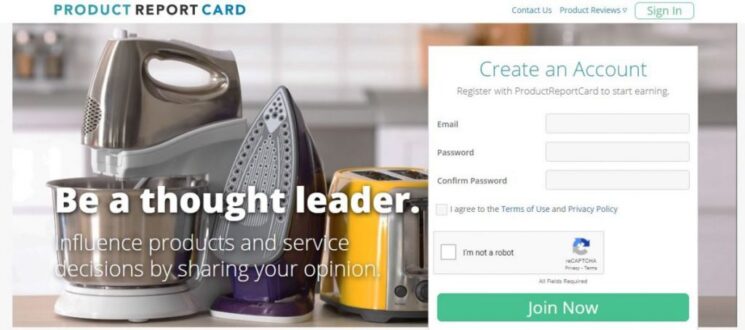 Product Report Card is a popular survey site in which the site asks for opinions and feedback and in return rewards you with cash or gift cards.
It is really unclear when the company first started to operate but it was established in the USA.
The basic way of earning money from this site is by providing an opinion and feedback on the site's paid surveys.
However, at first, you might feel a bit confused as there is not much clarity on the site on how to work and earn.
Also, it does not have an About us page as well. However, the site still has over 500 users and workers working so there must be something on the site.
Getting Started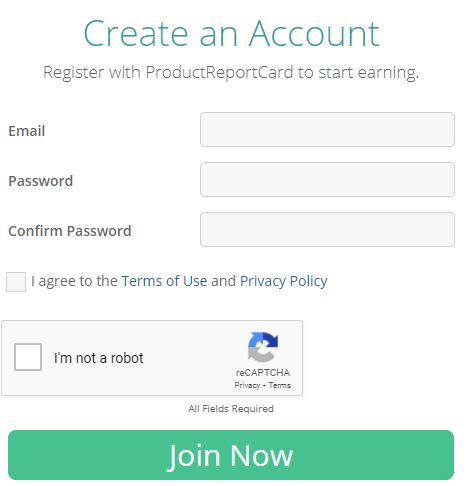 One of the biggest drawbacks of the site is its signing up process. You have to visit the site and then register according to your demographics.
But you will only be able to complete the survey once you receive the invites.
While signing up, you have to provide all your detailed information and what subjects you are interested in.
These subjects will determine what surveys you will receive and how often you will receive them so you must be careful while providing demographics.
If you are passionate about surveys and like to provide an opinion on your dearest subject please check our review of Metro Opinion
How to Work on Product Report Card?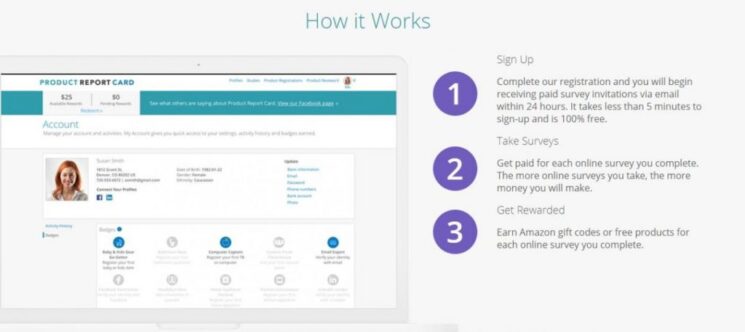 There is plenty of work available on the Product Report Card Survey site for you to work and earn money.
Let's see what work is available on the site.
Paid Surveys
Paid Surveys are the bread and butter of the Product Report Card site. You will only start working on surveys once you get the invite from the site.
However, signing up for the surveys is a bit tiresome, to say the least.  You have to fill lots of forms and it gets very annoying and monotonous very quickly.
These will help to get more surveys and increase the ability to earn some decent earnings.
But these forms are very long with each having a dozen questions and they do not pay for just filling in demographics.
But paid surveys are the best way of earning money on this site so you must be ready for a long boring form of details to earn some money.
If you like Paid surveys then we have the 10 high-paying surveys for you to join and earn.
Research of Product
Product Research is another method of earning money online from the Product Report Card site.
You can find several products in their system. From that list, you can search for products around your locality.
Then you can provide the location of the product along with the price and specialty of the product as well.
However, the site does not provide any clarification on how much you will get paid and how to get started to research these products.
If you want to earn some earnings from an excellent survey site check our Panel Opinion Review here.
Reviewing Product
Reviewing Product is also another major way of earning from the site. After completing the profile you will be able to review the product.
You can find the list of products to review and then if you can review the product then provide a detailed description regarding the product on the site.
But just like product research, you won't know how much you can earn from each product review so it might create some confusion for you.
How Much Can You Earn from Product Report Card?
The number of earnings depends on how many tasks you can get and how well can you perform on the site.
However, the clarity of payments is applicable on Paid Surveys. The site has vast and detailed paid surveys which can make you $5 to $10 per survey as well which is rare in some cases.
But there is no clarity on Product Research and Product Reviews that how much can you earn so you might be pleasantly surprised if you earn more or disappointed if it pays you less.
According to our research, many users have stated they received $0.50 per review and per product research on the site but you may obtain more if you can provide detailed research as well.
Minimum Payout and Payment Method
The minimum payout threshold on the site is $25. So you have to earn at least $25 to invoke your withdrawal options.
The site has two methods of withdrawing your earnings. The first method is Bank Check. You will still need to earn $25 to withdraw your earnings.
You will receive the check at your registered address while signing up for the site.
Another way of withdrawing your earnings is via Amazon gift cards. The minimum payout threshold is also $25 as well.
Pros and Cons of Product Report Card
Pros
You will be paid in terms of cash and not points-based.
The customer support of the site is excellent.
You will not be disqualified easily as it has a low disqualification rate.
Cons
The signing-up process is extremely long and tedious.
You have to earn $25 to withdraw which is a very high amount.
Very low earning opportunity.
The site has an incredible lack of clarity.
Final Verdict: Product Report Card Review- Is it Legit or Scam
All in all, Product Report Card is a legitimate site but it has a large number of unsatisfied and frustrated workers on the site.
Also, over 300 users of Trustpilot have rated the site 4.4 stars out of 5 stars. This proves the site has some credibility but there are plenty of unsatisfied customers as well.
User Reviews
Let's take a look at some popular User Reviews of Product Report Card from Trustpilot.
Review #1
One worker is clearly satisfied and claims the site is legit and reliable to participate in surveys. They also claim the payout process is fast and very easy.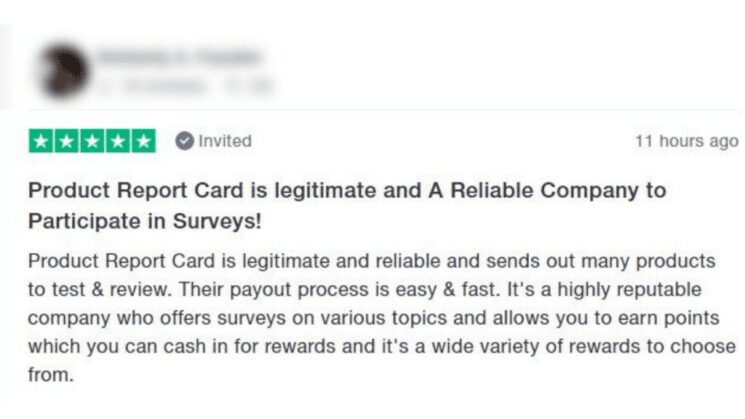 Review #2
Another satisfied user kept it a short and effective review.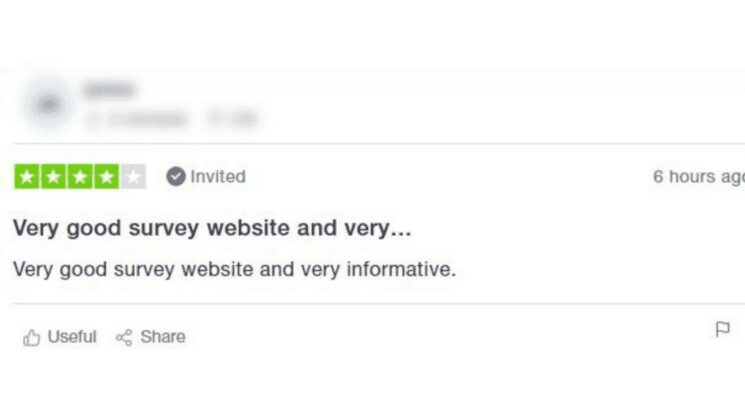 Review#3
Another satisfied worker on the Product Report Card site is really happy with paid survey and paid review work and also their policies of payment via gift cards.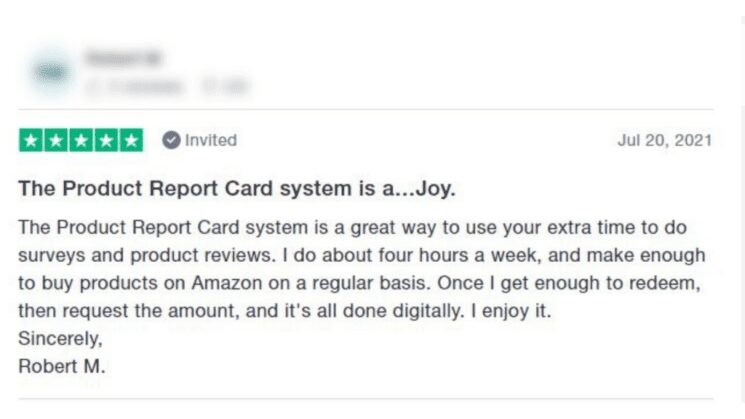 Review #4
However, one user was not satisfied with the site as he was scammed while redeeming his amazon card. But the site quickly issued the solution and even provided a new code for Amazon cards to their email. This clearly shows the excellent customer support Production Report Card has.
Review#5
Another worker believes the site is excellent and is legit and he got his reward in no time.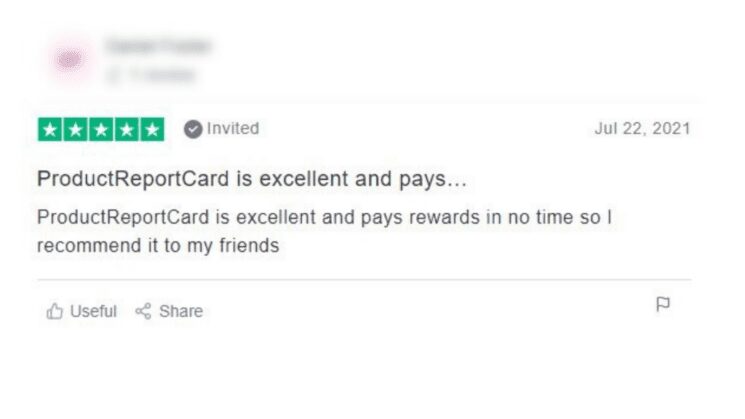 So the bottom line is 
Product Report Card is an excellent website and is very legit. It pays its workers and pays them on time.
Hence we recommend everyone to join the site and start earning by doing some entertaining surveys.