As we all know survey sites are in real trends to earn money online. They are the most entertaining tasks on any site and they pay well as well.
There are tons and tons of survey sites on the internet. Some are global and some only operate in certain locations.
Today I am bringing you a new survey site that is only in use in South Africa.
Hence if you are African, then you may have heard about Enlighten Panel. Today I am going to explain how you can earn from this site.
Let's get started.
What is Enlighten Panel?
Enlighten Panel is a popular site that pays for answering surveys and providing genuine feedback.
There is no information on when the site started operating but it was first established in South Africa.
Hence only African people can join the site and start earning. Enlighten Panel is a very simple and straight site as you will be provided surveys and if you answer them you will be paid.
There are not any other tasks available it is just survey and survey only.
Getting Started
You can only join Enlgihtren Panel if you are from South Africa and if you are above 16 years old.
When you visit their site, you will see the register button and once you click it you will see the sign-up form.
You will have to fill in your email address and password only and you will have to confirm your Email address by clicking the link of the site.
How Can You Work on Enlighten Panel?
As I have explained above the work on this site survey is only. You will have to answer Paid Survey and earn money.
But you will have to be invited by the site first in order to participate so you need to be alert always.
On the site, there are two kinds of surveys. They are Profiler surveys and Actual Surveys. Profiler surveys are those surveys that provide detailed information.
Whereas in actual surveys you will be paid by participating and is available based on your demographics.
You will see Surveys on your dashboard under Earnings Tab. Profiler Surveys provides your information to the site which will make you qualify for other surveys.
But before applying for actual services you have to be qualified and answer some questions related to the survey.
You will only be able to compete in paid surveys if you get qualified from these questions and then start earning.
There is one interesting survey site just like Enlighten Panel where people will get paid for sharing opinions and answering surveys.
Check our review of Acumen Panel and find out if the site is legit or a scam.
How Much Can You Earn from Enlighten Panel?
As there arent other tasks available other than surveys the earning potential of the site is limited.
Hence your earning is entirely dependent on the availability of the survey tasks and if you can qualify for these survey sites.
The site will alert you via email if there are any surveys available and you can only complete them if you are from the African continent.
Also, Enlighten Panel does not provide rewards in the form of cash but only in the form of gift cards which is even more of a drawback.
Talking about the devices the site does not have any mobile application but it supports a mobile browser version so you may earn some money quickly.
Minimum Payment and Payout Method
The Payout Method is fairly limited for the site as it does not reward on any cash but only on gift cards.
The giftcards of Takealot, Cell, Telkom Moblie, Yuppiechief and many more as well.
After each survey you will be rewarded with points and these points can be converted into gift cards.
However minimum payment threshold to withdraw any gift card is 50 points and you need to withdraw it before the 15th of every month otherwise it will be processed on the 15th of next month.
The site also processes your gift cards and you will receive your gift cards within 10 days of your withdrawal process.
Rewards Central is another site that pays for answering surveys and is one of the highest-paying survey sites.
Check Reward Central review here.
Pros and Cons of Enlighten Panel
Pros
The site runs decently on mobile as well.
It has only $3 worth of minimum payment threshold.
Cons
Enlighten Panel does not reward in the form of cash and only giftcards.
The customer support is not good.
Only available in South Africa.
Surveys are based on qualification so earning is limited.
Enlighten Panel Review: Legit or Scam
After some research, we found out Enlighten Panel is a legit survey site for South Africans but there are considerate drawbacks of the site.
It does not pay via cash which is the biggest limit on any earning money online site. There are lots of other drawbacks as well.
Over 100 users from Trustpilot have rated Enlighten Panel 2.5 out of 5 stars.
Now let's take a look at some User Reviews from the Trustpilot site.
User Reviews
Here are some negative reviews as there is not even one positive review of the site which is amazing in itself.
Review 1
According to this user, the site used to be good but is scammy now. The site used to pay within 10 working days but he did not receive payment despite being 23 working days.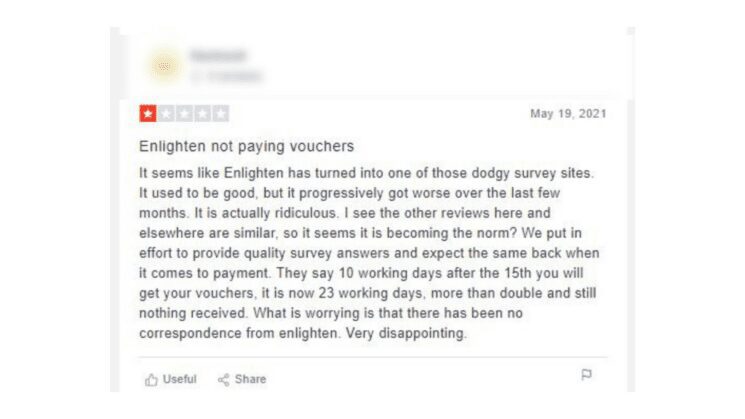 Review 2
According to this user, as well Enlighten Panel used to pay the earnings on time but they are not even paying for more than 1 month as well. He urges to avoid the site as this site is becoming a scam.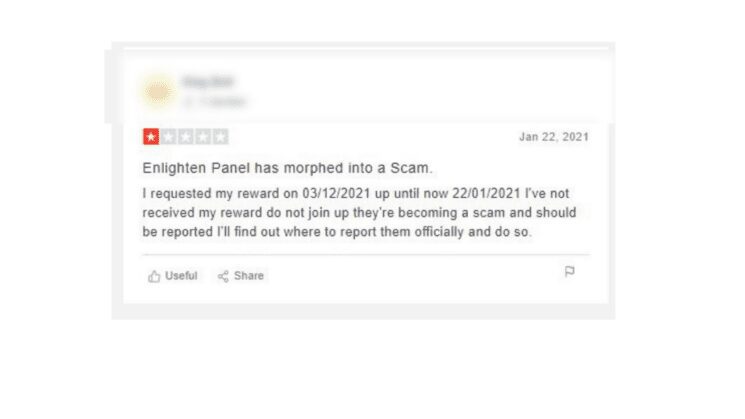 Review 3
According to this user, he did not get his payments for December 2023, and the site did not even respond to the complaints as well.
Hence the bottom line is
The site used to be decent and used to pay on time but has become a bit scammy and also does not provide any customer support as well.
This proves that the users have not even provided one positive review of the site as it has become a very dodgy site.
Hence we recommend our readers to be cautious while joining the site or choose other reliable survey sites before joining this one.