What is Cash Zine App?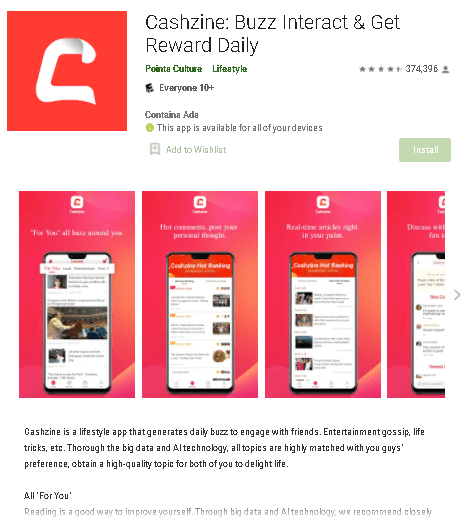 Cash Zine App is an online platform where you can earn money. It is a Gpt website. GPT stands for getting paid to. You are paid in Cash Zine for reading the news.
It is a mobile application so it is not available on the desktop directly. You will earn points for reading the news. The earned points then can be converted into cash.
The app updates new stories that you can view and read each day. The main aim of this app is to encourage people to read news stories, stories about health and wellness, stories about social and multi-channel news, and hot topics. Cash Zine App is related to points culture.
How to Join Cash Zine App?
 First, download the Cash Zine App on your mobile device. It supports both Android and iOS platforms so you can download this app from Play Store.
But this app is not available in App Store even though it supports the iOS platform. So, you can download this app for the iOS platform through a third-party app.  You can sign up through your email id or Facebook.
The app also verifies your email address and mobile number. They will send an SMS code to activate your account. It normally takes 10 to 20 minutes to receive the SMS. Then your account will be activated and you will be able to earn money and rewards.
Note: This app is supported in nine countries only. They are:
Vietnam
United States
United Kingdom
Thailand
Singapore
Philippines
New Zealand
Malaysia
Indonesia
How Does it Work?
After completing registration, you will be rewarded with 8000 coins as a sign-up bonus. You will have to read news articles to earn. You can also share these articles in your blogs, social media, or forums to earn.
But you will only earn if others read your article. The number of gold coins that you earn depends on the amount of time you spend on the app, not on the number of articles that you read.
The app also has a system to detect if people are reading the article or not. If you are just scrolling up and down but not reading then your points will be detected.
There are also daily offers where you can earn additional gold coins. The offer consists of trying out new apps or answering a quiz. You can also get a reward through a daily login bonus.
How do you earn?
Like I already said that you can earn for reading news articles. You will be paid in coins which you can convert into cash. Firstly, you will be rewarded with 8000 coins as a sign-up bonus.
You will earn 50 points for reading the article. But if you are not reading but just time-wasting then the coins will be deducted. The app uses a similar system to BuzzBreak.
The daily login rewards vary. On day one you will earn 50 gold coins and on day 7 you will earn 200 gold coins.  Thus, in a week you will earn up to 950 gold coins.
Answering the quizzes and completing the offers also wins you gold coins and rewards.
You can also earn by referring your friends. You will earn 5000 coins when a person downloads and registers with the app using your referral code.
But it does not stop here. In 2 days if the person you referred earns 2000 coins, you will earn another 8000 coins. Thus in 10 days, if the person you referred has earned 5000 coins you will receive 12000 coins.
 How Does the Company Pay?
The minimum payout threshold is $5 to $10 for Cash Zine App. You are paid through PayPal only. But you will be paid in points initially.
The coin conversion rate varies according to the country (you will get to know once you have downloaded the app).
Note: Cash Zine App is available in some regions only. There are nine countries currently where this app works.
Pros and Cons of Cash Zine App
Pros:
Pays you through PayPal
It is free to download
Cash Zine App is easy to join
You can refer your friends to earn more
Increases your learning habit
Cons:
It is available only in 9 countries
The minimum payout threshold is high
Not available for desktop
Does not pay you through bitcoins
Conclusion: Cash Zine App Review
This app is only available in either Play Store. Cash Zine App is not a scam and paid its users. This was a GPT platform that pays you for reading articles. This is a good way to grow your learning habit.
You have to actually read to earn and if you are just time-wasting then your coins will be deducted. You can also take daily surveys and referral programs to earn additional gold coins. But you will require a lot of patience to earn the cash.