What is SurveySay?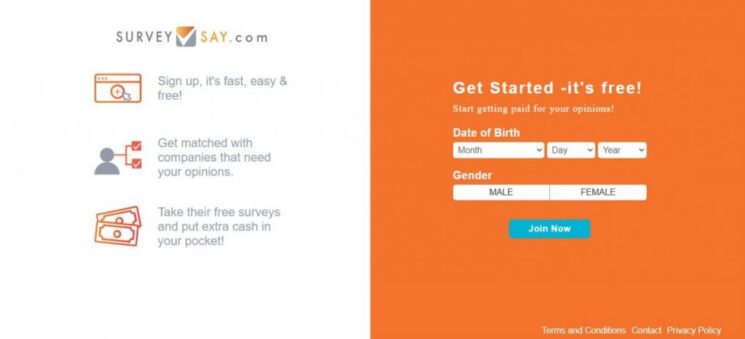 SurveySay is an online platform where you can earn money by completing various surveys. It directs its users to different market research companies that are looking for new users that qualify for certain surveys.
These surveys are based on specific profile demographics. After you get matched with the companies, give them your opinion and take surveys to earn cash or rewards.
In this Surveysay Review we will guide you how to join the site and earn from it.
How to Join Survey Say?
First, you have to register an account on Survey Says. Visit Survey say site: Get Paid To Take Surveys Online!.
To join you must first mention your date of birth.  Then you have to select your gender; either male or female. Then you have to choose whether you are of Hispanic origin or not.
Hispanic origin means a person whose origin is from Cuba, Mexico, Puerto Rico, South or Central America, or other Spanish culture.
After you click join now, you will receive surveys that you are qualified for from different companies. If you do not receive any surveys then keep trying later.
After you receive the survey, you will have to sign up for the respected company to take the offer. Each survey you will receive vary from your demographic factors like age, gender, and location.
 How Does it Work?
Once the registration is complete, you are eligible to start answering the survey questions. Each survey you will receive vary from your demographic factors like age, gender, and location.
Different websites have different options. Survey Say is a third-party website that redirects you to the survey website according to the information you filled out.
You basically have to take surveys and get paid for it. You will be paid as per the complexity and length of the surveys.
Some surveys pay you based on quality and time milestones as well. Thus, it entirely depends on the website that you take a survey on.
You might receive direct cash or points. Again, it depends on the website you are working on. Some of them also allow you through watching ads and completing offers.
Some of them might also provide you a referral bonus for referring your friends and relatives.
Check our review of Univox Community and find out why the survey site is so interesting and whether you should join or not.
How do you earn?
You are paid for taking surveys in Survey Say. You do not directly earn from this website but the third website. There is no fixed pay rate as the pay rate differs from each website.
You will earn as per the pay rate of the website you will be working on. The pay rate depends on the complexity and length of the survey. You might receive direct cash or points as per the structure of the website.
Some survey websites may also allow you to earn through short videos or ads.
Referring Survey Say to your friends and family is also a way of earning. You will receive a certain number of points or direct money for every friend or relative who joins this website through your referral link or code.
How Does the Company Pay?
You can redeem your earnings for gift cards from Amazon or bank transfer or PayPal or other sources as per the website you work. The minimum payout threshold also varies from website to website.
You can choose to redeem from the various cash-out options according to your convenience. The payment duration also depends on the website you take a survey on.
Pros and Cons of Survey Say
Pros
It is easy to join
Survey Say is free to join
You do not require to enter an email address initially
You can pursue various survey websites from Survey Say.
It is available globally
Cons:
Not sure of pay rate and payment source
You may not qualify for surveys you like.
Surveys are based on demographic factors like your age, gender, and your location.
Survey Say is not obliged to help you with any issues you face on the third website.
Conclusion: SurveySay Review
Hence with this SurveySay review, we can say that the site is not a scam. It is a third-party website to earn some extra money. You are qualified for surveys as per your demographic factors like age, gender, and location.
Then you will receive surveys from another website if you are qualified. Thus, Survey Say is legit but I do not recommend earning a side income. You can join another website that pays you directly without redirecting you to another website.
In the trusted Glassdoor site, SurveySay has 3.5 out of 5 stars which means the verdict on the network is 50-50.
You are also unaware of your pay rate and payment sources until you join another website and will also have to register on each website that you will be qualified for thus it may not be so safe and your account may likely be exposed.
Thank you for checking Surveysay Review. Before leaving please check Pay Per Installer Review and find out if the app is legit or a scam.