What is Lending Club?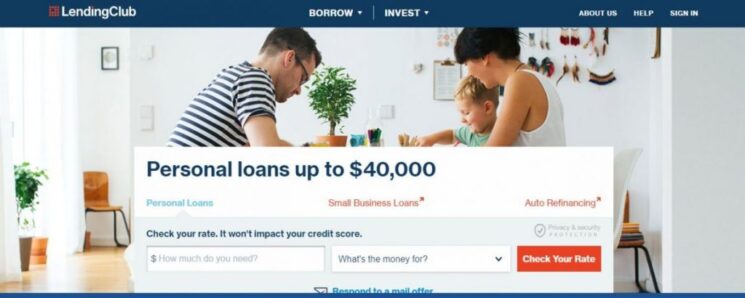 Lending Club is the website that claims you can earn money online. It is a Peer Peer (PTP) Platform that pays you for investing and giving loans.
How to Join?
Visit LendingClub | Online Personal Loans at Great Rates to get started. Select the sign-in option to register then you will have to provide your email address and you will receive an email with a conformational link from Lending Club to confirm your email address. After you complete this, the registration process will be completed.
How Does Lending Club Work?
Lending Club is an online platform that enables people to earn money by investing and giving loans. After completion of registration, visit Invest tab. You can see two options that are individuals and institutional.
In individual invest option, you can earn 0.75 Annual Percentage Yield (APY) on your first $20,000 then 0.50% APY from $20,000.01 to $50,000.00 and 0.25% APY on the balances greater than $50,000.00
Institutional Investments is intended for:
Asset Manager
Banks
Broker-Dealers
Hedge Funds
Financial Advisors
Insurance Companies
Registered Investment Advisors
Pension funds, Foundations, or endowments
A person can also apply for loans. If they meet certain criteria then their loan will be added to Lending Club's online platform. Investors can browse the platform and build a portfolio of loans.
Once the loan is funded, it will be deleted from the platform. The borrower will receive the loan within two business days.
You can also invest on notes but you must reside in the District of Columbia: Alabama, Arkansas, California, Colorado, Connecticut, Delaware, Georgia, Hawaii, Idaho, Illinois, Indiana, Iowa, Kansas, Kentucky, Louisiana, Maine, Maryland, Massachusetts, Michigan, Minnesota, Missouri, Mississippi, Montana, Nebraska, Nevada, New Hampshire, New Jersey, Oklahoma, Oregon, Rhode Island, South Dakota, Tennessee, Utah, Vermont, Virginia, Washington, West Virginia, Wisconsin, or Wyoming.
Notes are not available in other states. But there are certain criteria as well to invest on notes. They are:
You must make a minimum of $70000 per year.
The minimum net worth should be $250000
You cannot invest more than 10% of your net worth in Lending Club notes
Minimum $25 must be invested in a single note.
How do you take a loan?
Visit home page
Select check rates
Enter who is applying that is single or two of us. If you are applying to two of us then the email of your partner is also required.
Enter your date of birth
Enter your total income and additional income
Then your name is required
Enter your address
 You can create your account by providing an email and password
You will be sent a loan module with monthly payment, APR, interest, and time limit. Accept or reject it
Verify your identity and accept terms and conditions
Lastly, connect your bank account and upload documents.
How Do you earn?
Lending Club is an online platform that enables people to earn money for investing and giving loans. The return depends upon the amount of investment. The above-mentioned rates are charged and you will receive the sum with interest.
How are you paid?
You will receive your sum and interest in your bank account directly. But Lending Club will charge 1% of your receipts.
Pros and Cons of Lending Club
Pros:
Lending Club is free to join
You can lend or invest your money
Cons:
Very complex to understand
Must fulfill certain criteria to both invest and borrow
 Conclusion: Lending Club Review
Lending Club is not a scam. You can earn money for investing and giving loans. You will receive interests and the total sum you invested after a certain time
This website is legit but we only recommend if you can analyze the potential risk involved and fulfill all the criteria.
Thank you for checking Lending Club Review, please check our review of Cash Quizz Review to earn from answering quizzes.