What is Weegy.com?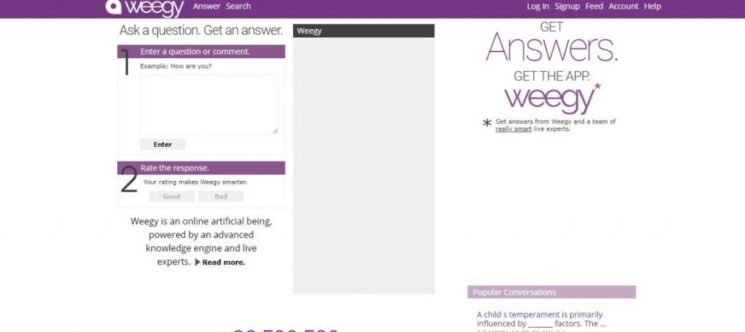 Weegy.com is the website that claims to pay you online. According to the website," Weegy is a community-based expert system that belongs to all of us helps to solve problems or questions." Does this website say that Got a question? Go to weegy.com.
Have a problem? Go to weegy.com and claims that this website will usually have the answer. This website was established on 3rd April 2008 by Proxy, LLC from Scottsdale, Arizona.
You can ask Weegy about your homework-related stuff, questions about life, or other important or general questions. In this Weegy.com Review, we will assist you to join and earn from the website.
How to Join?
Visit Weegy to get started. Then click the sign-up option to create an account. You are asked to enter your details like username, password, and email address.
After submitting the registration form, you will receive an email with a conformational link from Weegy to confirm your email address.
Click the link you received to confirm your email address and activate your new account. After the form has been approved, you will be required to take a small True and False test before you can start answering questions on the site.
You can also download the Weegy app on your mobile device. For iOS users, it is available in App Store and for Android users, it is available in Play Store.
How Does Weegy Work?
Weegy is an online platform that enables people to earn money by answering various questions. First of all, you have to pass the true and false test.
Then you will be redirected to the dashboard after passing the test. There you can see your stat. It shows how many questions you have answered, how many points you have received, and how many flags or warnings you have received in your account.
It is really complicated to work. You must work according to format for answering the questions on the site. Be sure that if you give the wrong answer or do not use the proper format or take too long to search for an answer then your account will be flagged.
This website is very strict regarding its working, responding answers, and following format. There is an online tab where the new question appears.
You have only 15 seconds to accept or reject the question so you will have to keep the online tab open all the time or you may miss many questions to answer.
Your answer will be collected in Weegy's knowledge base. For that visit "Add Responses to Knowledgebase". It helps to answer similar questions in the future.
You will earn points for answering a question. So, the longer you work, the more questions you will get to answer. It will also determine your level and privileges on the site. As you earn points you will move higher level. You will start with level 1.
How Do you earn?
You only earn by answering various questions. You can earn points worth roughly 20 cents or $0.05 for answering a question. But the pay rate depends on various factors.
The correctness of the answer, the format of an answer, quality, and many more. So, these factors determine your earnings per question.
For the wrong answer, you may not even earn a single penny. You can also earn by answering live conversations. Its pay rate will be comparatively higher.
But you will only earn 75% of the total earning. Rest 25% will be kept by the website for its development and maintenance.
There are also various contests in Weegy. There will be three winners in each category. The first place earns $30, the second place earns $20 and the third-place earns $10 for each category.
The contests are based on points, comments, ratings, and invitations, and referrals.
You can also earn by referring Weegy to your friends and relatives. You will earn 10 points as a referral bonus after the first purchases made by people who joined through your referral link or code.
How are you paid?
Weegy pays through PayPal only. The minimum payout threshold is $20. You can request your payment at any time. So, you must have a valid PayPal account to get your earning.
You will be paid in points initially. We currently do not know the conversion rate of points.
Pros and Cons of Weegy
Pros:
It is free to join
Weegy is easy to join
Weegy pays through PayPal
It is available in all countries across the world
Cons:
You will not receive your full payment but only 75%.
The minimum payout threshold is high
The pay rate is low
Conclusion: Weegy.com Review
In this detail, Weegy.com Review we can safely say that the site is not a scam. You can earn money by answering various questions. The site will pay you in cash only through PayPal. This website is legit but is difficult to work for.
For any mistakes, you will receive red flags or warnings so you have to be careful. Your account will  suspend and you will not receive any of your earnings If you receive too many flags.
Thank you for checking the Weegy.com review. Please check out our review of SurveySay and find out if you can earn by conducting a survey or the site is just a scam.