Hello and Welcome to PanelBucks Review.
Do you ever provide regular opinions or surveys on the internet and love to provide your version of some subjects? You may also have such hobbies as scrolling your internet and love to talk about subjects that you love or agree with.
What if I tell you you can earn from these surveys or opinions that you provided. Today I am bringing you a popular search engine for Survey Sites called PanelBucks which is very popular nowadays on the Internet.
I will include if you should join Panel Bucks or not, how to join, how much can you earn, and many more.
So let us get started.
What is PanelBucks?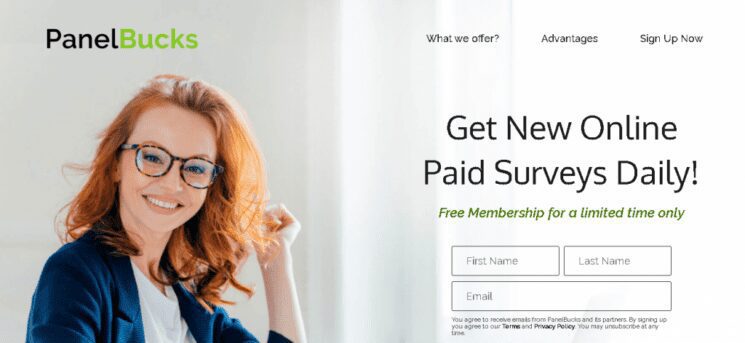 Panel Bucks is an online website that provides an opportunity to people a way of earning extra money from home with market research.
In Panelbucks, generally many advertisement companies team with them to look for an online opinion, review, or the feedback of the consumers before launching their products.
PanelBucks hires those consumers who can provide a genuine and authentic opinion for market research. However, you do not conduct surveys or work directly on PanelBucks but other membership sites.
The site acts as a search engine for other survey sites on the internet and it also helps the workers to earn money effectively.
How to Get Started?
You can get started on the site by simply registering on the site. All you need is your email address, name, a password which you will enter on the website, and now you are registered.
After registering for the website, you can get access to the site dashboard where there is a sign-up link for various other survey websites.
How Does Panel Bucks Work?
Basically, Panel Bucks works as a hub for other survey websites where you can sign up through Panel Bucks. There you can find various paid surveys that you can answer and get paid.
However, generally in all of these websites, you have to pass a performance evaluation test. The site will gaze at your demographics, interest, and your performance before providing you with proper survey questions.
You can see what the survey site is about and choose according to your interest and click on the link where you can sign up with the websites. If you are satisfied with the website, you can now register with that website.
After evaluation of your profile and performance, they will send you an invitation and survey questions which will eventually get you paid.
However, Panel Bucks is not responsible for how many survey questions you answer and how much money you earn. They also have filtration of the survey websites but some of the websites that get redirected may be broken and will not pay you.
How Much Can You Earn?
The earning on the sites that you get redirected to through Panel Bucks depends on them and not Panel Bucks themselves. Some of those sites may not pay you and some you may not get access to.
The information that is displayed on the website is not intended as a promise or even a guarantee that you'll earn money when you join the website so Panel Bucks are not responsible if you don't get a proper site to earn but they do have an excellent screening policy so you may not run in those problems.
The rate of your earnings is also not dependent on Panel Bucks. However, your earnings depend on how much you get to answer the survey and what is the rate per survey provided by those sites.
You can join multiple survey sites as you want through Panel Bucks and earn as much as you can without any limitations or hindrance.
Minimum Payout and Payment Method
There is no limitation and minimum Payout in the Panel Bucks. You can join many survey sites simultaneously and earn as much as you can.
Taking about Payment Method there are various options of withdrawing your earnings through PayPal, Payoneer, and Direct Bank deposits.
Pros and Cons of Panel Bucks
Pros
They provide various options to earn via the survey sites.
The site has a very decent filtering site for scams or broken links through its site.
You can earn decent money if you sign up with all genuine survey sites the site suggests.
It is free to sign up and you do not need to provide any personal information.
Cons
Its Signup process is very tedious because of the multiple partner offers.
You may encounter a scam site or the sites you are trying to earn from maybe not legit.
They don't hold you responsible for your earnings.
There are just too many questionable practices on the site
The site exaggerates your earnings and it may lead to unethical signup.
Conclusion: Panel Bucks Review
After the thorough Panel Bucks Review, I really think the site is not very good to waste your time on. You may find some very good survey sites from Panel Bucks. However, you can find that without just quick research as well.
You can easily find a decent survey site on your known without having to take the recommendation of Panel Bucks. Hence I urge our users to leave this site untouched and look for other earning opportunities.
But if you are looking for genuine survey sites to earn money online we have covered it for you. Check our10 best Survey Sites to Earn money in 2023 and give yourself a chance to earn some decent cash.