Hello and welcome to my honest Valued Opinions Review.
There are countless ways of earning money online. And there are millions of sites that claim they really pay for doing some work online.
You can be doing some macro works, answering surveys, chatting to get paid, or even working as a Virtual Assistant for Organizations.
But what if I tell you that you can make money from just answering easy surveys and providing clear reviews on topics that you are familiar with. Today I bring the Valued Opinion website to you.
Valued Opinion is a Gpt platform where you can earn money by completing various offers. You can choose offers as per your interest and complete them to earn money.
But you may be wondering if this site really pays and if it is not a scam. Well, you have come to the right place for your curiosity.
Today I am going to provide you with detail regarding Valued Opinion which includes
what really is Valued Opinion,
how it affects users, how can someone join,
method of their earnings,
how they redeem their earnings, payment methods,
and most importantly it is worth your time.
So, let us get started
What are Valued Opinions?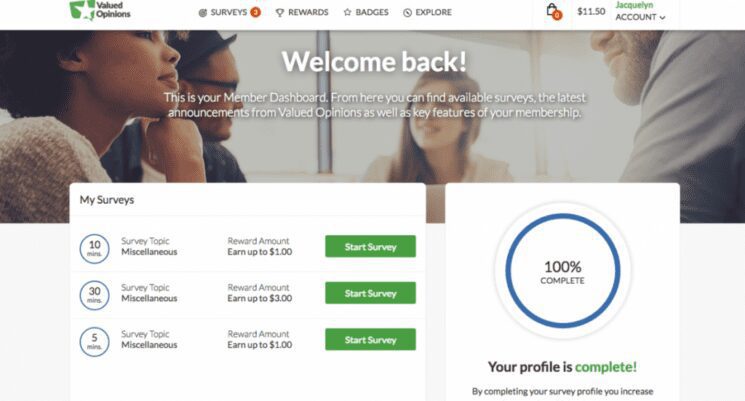 Valued Opinion is a site where you can earn money online. You simply take various surveys to earn on this website. There will be many interesting surveys for you and they pay you for your effort.
How to Get Started?
First, you have to register on Valued Opinions. You just need to visit the sign-up page to enter your basic information.
You need to fill in your name, date of birth, address, and then a couple of profile questions to create your account. As soon as you finish this process, you can start taking surveys.
Once you complete the process of creating an account you will get a confirmation email to verify your email address. You should click the link sent in the confirmation email this will register and activate your account.
The Valued Opinions survey panel is available in 20 different nations and 15 languages. Some of the countries include the USA, UK, Ireland, Australia, India, Singapore, Thailand, Indonesia, and many more.
The minimum age to join Valued Opinions varies depending on the country. USA users must be 13 or over, Australian users must be 14 or over, and UK residents must be 16 or over.
Similarly, the required age of users varies according to their country.
Another amazing survey site that claims to pay $50 per survey is Gold Opinions.
Check our Gold Opinions review and find out if the claim is legit or not.
How to Start Working on Valued Opinions?
After completing the registration process, you can start taking surveys. You can get various surveys via email. But for more variety of surveys, you can go to the 'My Surveys' section in the dashboard.
But some surveys in the dashboard are not available to you as you might not be qualified for them.
You will be receiving your survey according to your geographical location, age, and various other factors that you have answered in your profile questions. Most users receive 1-4 surveys each week.
To qualify for the survey your answer in the profile questionnaire matters. Your location, age, the demographic group are the key factors in deciding your qualification in any survey.
Since there is no point system you will get your reward in money. You will get between $1 and $5 for completing and qualifying each survey.
f your survey is not qualified or not complete then you will not receive any compensation from the website. There are various ways of making money in Valued Opinions.
They are Sweepstakes, Focus Groups, Diary Studies, Membership levels. Sweepstakes provides you the chance of entering a survey panel to win prizes.
Focus Groups provide you the opportunity of entering the survey panel and discussing certain topics. This is a fun way of learning and earning rewards.
Dairy Studies asks users to document their reactions to specific products each day for a certain period of time. This is also a great way of earning money.
Membership levels determine your payment. There are five levels. They are Bronze (beginners), Silver, Gold, Platinum, and Diamond (the highest badge).
You will earn these badges after completing certain requirements. The higher badge you will receive, the more difficult the surveys become and you will also get paid better.
Minimum Payout and Payment Method
You can redeem your money for gift cards. The minimum threshold is $10. You can only redeem it by purchasing gift cards.
You can receive gift cards from Amazon, Southwest Rapid Reward Points, Fragrance.net, Chili's, Restaurant.com, iTunes, Magazines.com, CVS Pharmacy, Visa promo codes, and Spa Week.
Electronic gift cards can be received within 24 hours but physical gift cards may take 4 to 6 weeks to be delivered.
Pros and Cons of Valued Opinions?
Pros
$5 per survey so it is an excellent pay rate
It is internationally available
Good source of side income
Free to join
Cons:
You do not get compensation for participating
Only can be redeemed through gift cards
Demographic groups, Geographical location, and age play a vital role in your qualification.
Valued Opinions Review: Legit or Scam
Valued Opinion is not a scam. It is a good site to earn some extra money. You have to take surveys to earn money. Once you are qualified enough, you will attract a lot of high-paid surveys.
Valued opinion has an average rating of 3.5 out of 5 due to complex of the site.
If you want to make extra money then you can join this website. Thus, Valued Opinion is legit and recommended for a side income source.
But if you want to know how to make money from side hustles check out our ideas of 15 ways of earning money from side hustles.