Hello and welcome to my honest PlaySpot Review.
There are millions of sites that claim they really pay for doing some work online and similarly, there are countless ways of earning money online.
Some of the ways of earning money online are playing games, doing some macro works, answering surveys, chatting to get paid, or even working as a Virtual Assistant for Organizations.
You can also make money by getting hired by crowdfunding sources like Freelancers, Upwork which hires workers on the basis of theirs skills.
But what if I tell you that you can make money from downloading the free application from Google Play Store and playing countless entertaining games and earning from it.
PlaySpot is a website that pays its customers for downloading various free applications and playing countless games and increasing levels and generating more coins.
You just have to download the application and choose as well as play games from a variety of choices. But is the application really legit or just another hoax and scam for you to waste your time.
Well, you have come to the right place if you want an answer. Today I am going to provide you with detail regarding PlaySpot which includes
what really is PlaySpot,
how does it work,
how can someone join,
how they earn, how they redeem their earnings, payment methods, and
most importantly if it is worth your time. So, let us get started
What is PlaySpot?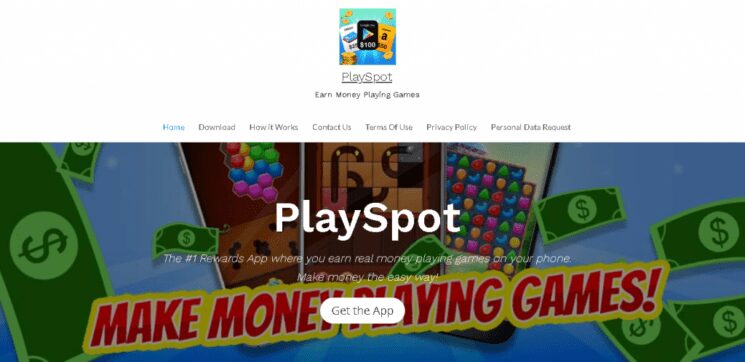 PlaySpot is an online android game or application where you can earn money by downloading other affiliate games or playing games on your android devices.
It is regarded as the number 1 app for providing rewards on android devices. The more you play or download the game the more you earn the virtual coin of the application.
The coins can later be exchanged into Paypal cash, gift cards, vouchers, etc.
How to Join PlaySpot?
To join the app the first thing you have to do is download the application. The application is only available to download for Android users.
It is also not available in some countries like the Philippines. After installing the app now you have to register with your name, email address and phone number to get verified.
After verification, you are now all set to earn money from the app.
How does the Playspot work?
The application pre-dominantly works for USA and UK residents but several countries do not have the app accessible. After installing the game now you can play your game or you can find a new interesting app.
There are many games available that are ready to be downloaded for free and you will also get paid for playing such games.
How can you Earn from Playspot?
The easy and simple way of earning from the application is to download and play plenty of available games. Particularly every game that you will play will provide you with some virtual coins.
The coins you earn depend upon how high your level is and the more coins you earn. Those coins can be converted and redeemed into Paypal cash, Amazon gift cards, Google Play gift cards, etc.
There are also other ways of earning from the app like watching videos, clicking on ads, and completing their client's offers to gain even more bonus rewards.

  How Much Can you Earn from Playspot?
The earnings that you earn depend upon the skills and efforts of how you play the game. You will receive a $5 bonus for downloading and installing the game.
You can immediately get that on your earning account of the application. After signing up you will also receive $0.20 so you will get $5.20 without doing anything.
For your first game, you will earn 2000 points if you have played for 30 minutes. Your rate of earning will start to slow down drastically after playing one game so you have to switch the game.
In the Playspot app, you can earn coins which can be later converted into cash. 1000 coins are equivalent to $1.
Minimum Payout and Payment Method
The minimum payout of the game or application is $20,000 coins or which is equivalent to $20. This threshold is really higher than other free games to download and available to play.
You can withdraw your earnings by only your valid PayPal account. However, to earn from the app, you will also have to watch the annoying ads continuously.
This may not be attractive to many of the players that are willing to play and earn the money.
Pros and Cons of PlaySpot
Pros
The application is legit and it pays
The games are very entertaining and may help to pass time easily.
You will get a $5.20 bonus for just installing and signing up for the application which is a really nice gesture.
The application is also free to download.
Various options to withdraw funds such as Paypal, Amazon gift cards, google play store gift cards.
Cons
The rate of earnings constantly decreases after some time of playing the games
A very long time will take to actually earn and redeem your earnings.
Have to continuously deal with annoying ads.
Constant and various technical errors during withdrawal of your earnings.
The minimum threshold of $20 is very large comparatively.
PlaySpot Review: Legit or Scam
The app is legit because it has paid many users but frankly, it is not worth it to spend time on this app if you seriously want to earn money. It will take a very long amount of time to actually earn a decent amount of money.
Also, there are many ads, errors, and technicality there are lots of obstacles for players to actually earn the money. But being said that the games are interesting and can play to pass the time.
So if you want to play the games just for entertaining purposes you should definitely install the game and play but if you really want to earn some serious money, this is not the app to waste your time on.
If you are seriously interested in earning some serious cash you can check our review of earning money via watching video ads.