Survey sites are common means of earning money online. There are tons of survey sites on the internet so it is difficult to choose from which to join.
As with every website, there are legit surveys sites and then there are scams as well.
Today I am bringing you a survey named Gold Opinions. The important feature of the site is it claims it provides up to $50 per survey.
Let us discuss if the site is legit or just another scam.
What is the Gold Opinions site?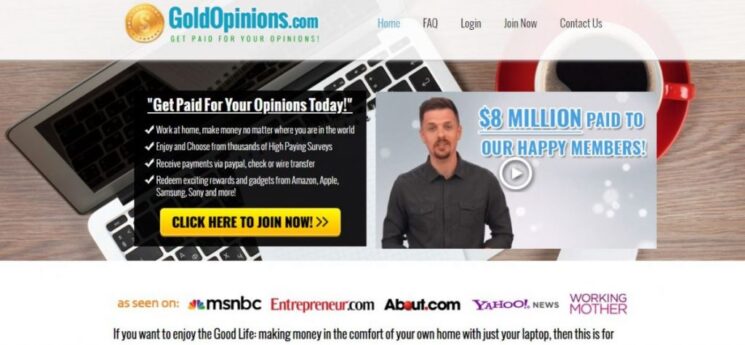 Gold Opinions is a popular website that pays its users for doing some paid surveys and providing useful feedback to the market research companies.
There is no information from when the company is in operation and who was the founder of this site.
However, the popularity of the site is high due to its extraordinary claim of paying $50 per survey which is the highest among any survey site.
It also claims of paying from $500 to $5000 per week which is insane considering any survey company.
However, when you visit the site you will realize Gold Opinions is the hub of survey sites where you can find various survey sites.
These sites are often called survey aggregators in which you will be redirected to actual paid surveys and will be paid by those survey sites.
Talking about getting paid by survey sites. We have accumulated 35 high-paying survey sites to be used in the Philippines and most of these are operated all around the world.
Check it out.
Getting Started

The biggest red flag of the site Goldopinion is that you have to pay first to even join the site,
Normally all survey sites are free and easy to join but for this site, you have to choose the membership that varies according to the membership.
According to the site, Gold Opinions do not take any commissions from the third party so users have to pay them and in return get high-paying surveys.
The monthly membership payment is $27 but you can get your first 7-day trial for just $1.
After getting your membership, you have to fill in your information and then start earning from the site.
The site claims it has paid over 8 million to its workers which is impressive is true but we will get there later.
How to Work on Gold Opinions?
According to the site, you will answer paid surveys on this site. There are no other GPT or PTC tasks available on the site.
This means you only have survey tasks to start earning but the site claims it pays you $50 per survey.
On the site, its representatives Paul Parker introduces and explains to you how you can work so much money.
However, the person is just an alias and is not Paul Parker.
They explain the basic process of the job being Selecting a Survey, Answering them, Submitting them, and getting paid.
There are many brands associated with the site according to Gold Opinions such as Samsung, Panasonic, Phillips, etc.
Just like Gold Opinions Survey, other sites value opinions and pay them in the form of a survey.
Check out one of the most interesting Survey sites Valued Opinion where human behavioral surveys are given the most preference
How Much Can You Earn from Gold Opinions?
According to the site, you will earn $50 per survey on high-paying surveys. They claim they have paid over 8 million to its workers.
Gold Opinions boldly claim you will earn $500 to $5000 per month but you might not even earn a single penny which we will be discussed further.
Various red flags on the site may prove the site is not worth joining and you won't get paid for your efforts.
Another interesting survey site that focuses on human feedback and opinions based on scenarios is LiveMinds.
There is a fundamental similarity between Gold Opinions and Live Minds survey check out LiveMinds Review.
Minimum Payout and Payment Method
According to the site Gold Opinions, there is no minimum withdrawal threshold and there are lots and lots of payout methods.
Some of the options to withdraw are Paypal Cash, Gift cards, Apple Gadgets, Starbucks Gift Cards, and many more.
There are over 21 payout options on the site which is very impressive for any survey site.
Red Flags of Gold Opinions
There are several red flags of Gold Opinions that will point out that the site may be a scam and not legit after all.
Paid Login
There are membership fees to join the site which is the biggest drawback of any site let alone survey sites.
Every online site is free to join so if you have to pay any login fee then the site is probably fake.
Extraordinary Claims
The site says it pays you $50 per survey and any workers can make $500 to $5000 per month.
These claims are ridiculous and unrealistic. However many gullible people can fall for it and pay the login fee of $27.
So it clearly indicates that there is something wrong with the site.
False Use of Companies Logos
There are tons of branded companies that the site claims is their client. However, when you cross-check about those companies they are not related whatsoever.
These companies have no links on Gold Opinions and there is not a mention of a single thing about Gold Opinions.
Gold Opinions Review: Legit or Scam
Well, there are tons of red flags on the site so you may need to be cautious before joining Gold Opinions.
There overwhelming allure of rewards may be tempting but you need to be very careful about these sites.
Now let's take a look at some User Reviews from the Quora site.
User Reviews
There are not many User Reviews on the site. In fact, there is only 1 relevant user review for Gold Opinions.
Reviews#1
According to this user you will first get lured to pay some membership but later will be scammed and not get much payment.

Hence we can say that.
Golden Opinions have tons of red flags and they make excessive unrealistic claims about their rewards.
They also do not have any user reviews which can verify their claim. After the detailed research, we have found the site is not reliable.
Hence we do not recommend any of our users to join the site.