The teleprompter is one of the most practical devices for everyone who wants to record and create video content while using a script. In the past, this device was only used for reading the news but nowadays it is used by every vlogger and video content creator. In this article, we are going to talk about the best YouTube vlogger teleprompter for home use in 2023 and we will tell you what are the things you need to pay attention to before purchasing a device that is going to help you create far better content than before.
Why do you need a teleprompter?
The first question many people have is do YouTubers use teleprompters? Many of us believe that vloggers say everything they need as if they are having a conversation with another person. This is partially true but you need to remember that some bloggers create content daily and that means that they need to be cool, collected, and focused on what they're saying, no matter what the topic is.
This can be pretty challenging since the creator has to be completely focused on the current topic and they need to be consistent with whatever sentence they are saying. In case they start thinking of something else or if there is even the slightest inconsistency, they will have to start all over again or they would have to spend additional hours editing the videos that they just produced.
Creating the same video all over again just because one sentence was not the right one it's extremely time-consuming and it would lead to the creator losing profits in the long run.
Because of this, a teleprompter for YouTube video production is used and it makes the difference between the content creator finishing their tasks much faster and having consistent videos and them spending dozens of additional hours on editing.
All of these things lead to the conclusion that a YouTube vlogger teleprompter is the device that is extremely needed for every content creator who wants to be consistent with their work and who does not want to end up making mistakes that will cost them a lot of time and ultimately money.
With this device, you will be able to create the content that you want to share with your followers and listeners and you will be able to just sit down and look at it and read all of the content that you want to share without thinking about what the next sentence should be and without worrying what would happen if you lose your train of thought.
This device will help you continue your sentence without any breaks and without any awkward silence that you would need to edit later on. You will be able to present your content no matter if you are recording on your own or even if you have a guest on your channel and you will not worry that you will forget what the next sentence was supposed to be or that you will completely get defocused and need time to recuperate and continue with the topic that is on the channel.
Which one is the best?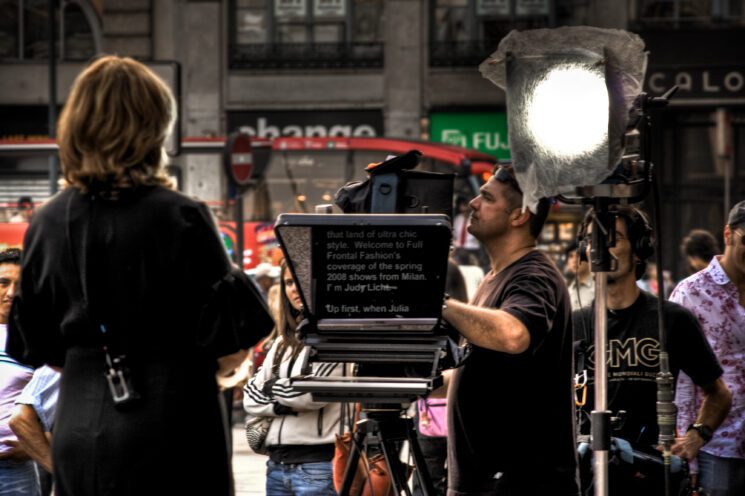 This begs the question, which one is the best YouTube vlogger teleprompter, and do you need to spend thousands of dollars to be able to get this device in your home? You should know that you don't need to spend a lot of money to be able to get this device and there are a lot of different types of inexpensive teleprompter for smart phone YouTube videos device that you can invest in.
As you can see, the Moman MT12 teleprompter for YouTube videos is a great teleprompter for YouTube videos, and it is part of the professional equipment you can invest in without having to spend four or even five figures on it.
This device is a great option for all those who are starting their channel on a budget and who want to create professional content without having to break the bank.
The best teleprompter for your needs is the one that is going to let you do your job without any drawbacks or issues and a device that will let you enjoy all the perks of technology without having to spend days and even weeks learning how to work with it.
When looking for the best teleprompter for video recording you should pay attention to the specifications of the device.
You should pay attention first and foremost to the size of the screen and you should be looking for something that will be small enough to be put behind or next to your recording device and at the same time, you should be looking for a screen size big enough for you to read all the words without experiencing any issues.
Don't forget to pay attention to the weight because you may need to move the device from one place to another and you should not be worried about straining your back when moving it.
The Moman MT12 teleprompter comes with a wireless remote so you can control the whole device from a distance without having to get up to use it. This is going to be pretty practical when you are recording and when you need to change the script without getting up all the time.
Keep in mind that these devices can be used not only for YouTube vlogging but you can also use them for other types of recording including making your own movies, starting a career in news, or anything similar that would require you to read from a script while you are recording yourself.
While looking for the best teleprompter on the market you should know what kind of budget you're working with and you should try to stick to it. Know that you don't have to spend thousands of dollars to get this device and to have a great experience while using it.
Pay attention to the features and specifications that come with the teleprompter and if needed, you should write down all the things that you would require and start searching what the market offers depending on your priorities. Always check the warranty and don't forget to check out the instructions for use before setting it up for the first time.