Earning money online is very essential in modern times. This can provide you with few extra incomes and also help you work on your own schedule.
One of the most interesting and fun ways to earn money online is by answering surveys and providing opinions.
Surveys are generally high-paying and interesting jobs on the site. Today I am bringing you an interesting new survey site known as Inspired Opinions.
In this Inspired Opinions Review, we will check out how to join the site, how to earn from the site.
Also most importantly if Inspired Opinions is Legit or Scam. So let us get started.
What is Inspired Opinions?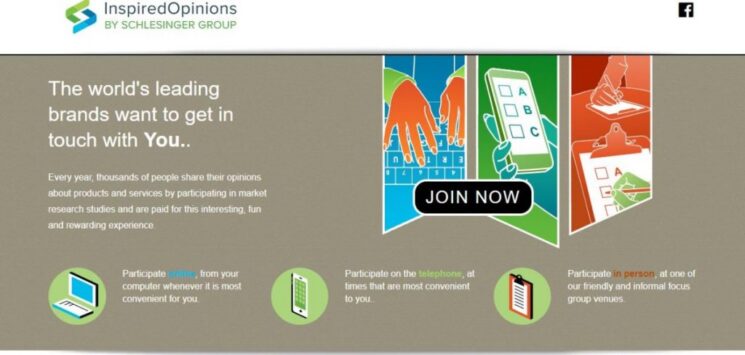 Inspired Opinions is an online network data collecting site or a survey site that pays for collecting genuine data or feedbacks.
These data are collected in the form of surveys or personnel information. Inspired Opinions are owned by Schlesinger Group who is based in the USA.
Just like any survey site you have to provide your opinion and feedback to earn from the site.
There are other ways to earn money from the site but tasks are fairly limited.
Now let's take a look at how you can join the site.
Getting Started
To join the site you have to visit the Inspired Opinions site. There you can find the Join button.
However, you will only be able to join the site if you are from the USA which is not mentioned on the site clearly.
This will confuse the workers who want to work on Inspired Opinions.
But if you can join the site then you will have to provide some personal information such as Name, Address, Email Address, and others.
Also, you have to provide your official Photo which will provide validity to your registration and membership.
Now finally you have to validate your email id by clicking the link sent by the site. After clicking the link you will be able to access your dashboard.
IF you want to earn from the survey site and get quick rewards to check our review of the Quick Pay Survey.
How To Work on Inspired Opinions?
There are few tasks that you can work on on the Inspired Opinions site to earn some money. These tasks are.
Surveys
Surveys are the main task of the Inspired Opinions site. You can easily access the surveys on your dashboard. There you will find 2 types of surveys which are Profile Surveys and Rewards Surveys.
Profile Surveys are those surveys that do not pay you but are very essential.
They determine the demographics on the site and highlight your interests and knowledge on any topics or subjects.
These can prove vital as they will help you get more survey topics and in return, your earning potential gets increased.
So despite being unpaid surveys profile surveys are equally if not more important so do not skip it when it is available.
The other survey on the site is Rewards Surveys. These are the paid surveys that will provide your earnings or rewards.
However, you have to qualify for the survey by answering some qualifying questions at first.
If you fail the qualifying test you won't be compensated so you have to move towards other surveys.
If you want another survey site to earn some money check Survey To Earn Review.
Research Tasks
Research Tasks and Activities are another way of earning the rewards on the site. You have to participate in these activities and most of them are research.
They can be online research, location-based research, or in-person research.
According to the earners, these are high-earning surveys but are very limited so when you receive the new invite from the site regarding research activities.
Referrals
Another way of earning from Inspired Opinions is by referring the site to your friends or relatives.
However, they do not provide any information on what rewards you will earn so you will find out exactly when your referral joins the site from the referral links.
You can also check new and interesting survey sites such as Signature Survey Review and find out if the site is legit or scam.
How Much Can You Earn from Inspired Opinions?
The earning of the site depends on how many opportunities you get to complete a survey.
As you can see there may be limited survey opportunities to earn but you have to fill your profile surveys complete to gain more survey opportunities.
Your earnings will also depend on how much you know about the survey site and if you don't qualify for the surveys.
Also, if you want to earn more then react and accept all the survey invites immediately.
Since the number of the person answering the surveys is limited then the surveys are used on a first come first serve basis.
So please immediately answer the survey invites and complete them immediately to start earning.
Minimum Payout and Payout Method
There is no minimum payout for the site so you will immediately receive the exact reward that you earn.
But the drawback of the site is you will only receive the amount in the form of gift cards. You won't get paid in the form of cash or any other means other than gift cards.
The site will provide you with gift cards from 6 weeks to 8 weeks after your earnings and you will be paid via postal mail at your address.
Pros and Cons of Inspired Opinions
Pros
There is no minimum withdrawal amount.
The rewards are relatively very high.
Cons
You won't receive rewards in the form of cash.
Payment may take up to 8 weeks to receive.
The payments are limited and based on earning potential.
Inspired Opinion Review: Legit or Scam
Inspired Opinion is the popular survey site on the internet where you can earn up to $100 per survey according to the site.
However, there are plenty of positives and negatives to take into account.
You can earn very high from the survey and also there is no minimum withdrawal amount but you will only receive the rewards via giftcards.
Also, their SSL certificate is valid as well so there is a chance of legitimacy.
Hence the bottom line is the site is legitimate and it pays its users but not in cash and it may take up to 1 month to receive the payments.
But we do recommend giving it a try and start earning some gift cards.