Hello and welcome to my honest PrizeGrab Review.
There are countless ways of earning money online. And there are millions of sites that claim they really pay for doing some work online.
You can be doing some macro works, answering surveys, chatting to get paid, or even working as a Virtual Assistant for Organizations. You can make money.
But what if I tell you that you can make money from downloading applications and submitting and entering for sweepstakes. Today I bring the PrizeGrab website to you.
PrizeGrab is a website that pays its customers randomly from its very large pool of prizes if you submit entries in the sweepstakes of the website.
You just have to log in to the site and start to submit the entries. But you may be wondering if this site really pays and if it is not a scam.
Well, you have come to the right place for your curiosity. Today I am going to provide you with detail regarding PrizeGrab which includes
what really is PrizeGrab,
how does it work,
how can someone join,
how they earn, how they redeem their earnings, payment methods, and
most importantly if it is worth your time. So, let us get started
What is PrizeGrab?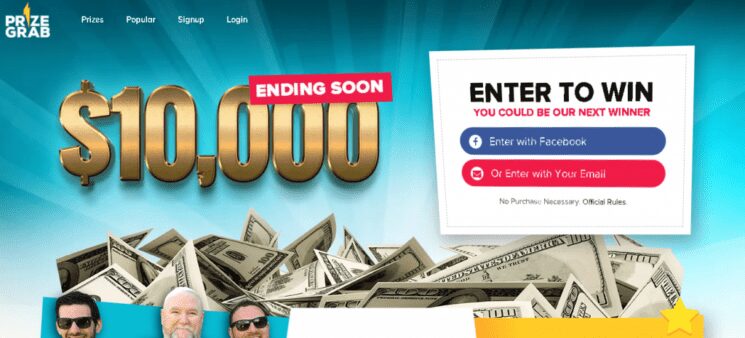 PrizeGrab is a popular online platform that allows its users to win a variety of prizes by entering sweepstakes. The website is completely free to use and the residents of the USA can earn freely.
You will earn daily cash prices, gift cards, and other rewards daily and that is why the site has become one of the most popular rewards awarding sites in the USA.
How Can you Get Started?
To get started on the PrizeGrab website you have to first register on the site. You can either sign up with Facebook or with your Email account.
You have to register to the website by providing your full name, address, zip code, and phone number. After that, you have to verify your email and phone number to get started.
Once you are verified you are all set to earn some money.
Who can play PrizeGrab?
As with every game or site, not everyone is eligible to play PrizeGrab. You have to be above 18 years or older to be eligible to play PrizeGrab.
Other than that you also have to be legal residents of the USA, Puerto Rico, Guam, and other USA territories and you must have a valid email id and phone number to earn from Prize Grab.
You also cant play PrizeGrab if you are a member of PrizeGrab company or if your close family member is one.
How can you earn from PrizeGrab?
There are various ways of earning prizes, cash, or gift cards on the website. There are also various strategies to win prizes on the website although the prize winners are selected randomly.
You will also receive each day paid sweepstakes opportunities in which you can win several prizes. Let us discuss the strategies that you can earn from PrizeGrab.
You have to enter daily to win the chance of earning more prizes. But be sure to submit the entry for the prize you actually want to win.
Each entry has a limited maximum number of entries so you have to take every chance to win the prizes. Enter the maximum number of entries every time you are trying to submit to claim the prize.
You can maximize your earnings by using a desktop, laptop, and mobile devices to earn while you are sitting doing nothing.
You can also increase your earnings by going on an entry streak which basically means you can submit 10 or more entries per day and continue to enter up to 10 entries per day for several days.
You also have an increased chance of winning by following all of their social media platforms.
However, the odds of winning prizes from the site is completely based on luck. There are 2 million participants on the site but only about 7000 people have actually come out as a winner.
But you can have a second chance at winning if the winners don't claim their prizes.
What are the prizes that you can win on PrizeGab?
There are a variety of prizes that you can win from sweepstakes of the website. They are
Cash up to $5000
Cookware set
Cheesegate factory card worth $50
Other gift cards worth up to $100
Appliances like Lawnmower and Iron etc.
Minimum Payout and Payment Method
The price range is distributed from $10 gift cards to $25,000 cash. There is no clarity on what minimum payout is it is because they may not even have it.
The payment methods are basically gift cards, physical prizes, and if you want your prizes on cash terms then they will send you a cheque for the actual cash you won.
Pros and Cons of PrizeGrab
Pros
There is a chance to win prizes.
Very entertaining and fun application.
An amazing user-friendly interface.
Very addicting and helps to pass time.
Cons
Can be affected by spam.
There are continuous and annoying ads.
Not good enough to use as primary income.
Some technical error may result in not getting your prizes
PrizeGrab Review: Scam or Legit
PrizeGrab is legit and 100% free to play a game. They are ranked very high among the rewarding website. A very trustworthy rating site Trustpilot has rated the site 4.5 out of 5 stars.
You won't have to pay any fees but maybe have to pay federal or custom duty if you win the prizes. However, the only way of winning the prizes is if you get selected at random from millions of other players playing the same game.
So I recommend our users to play the application and enter to win the prizes but do not get directly depend on your means of income. The application cannot be considered very reliable for constant and reliable earnings.
But if you want to earn money reliably and continuously why don't you check our review of 15 side hustle ways of earning money and earn money online regularly and on your own.