Welcome to my genuine Diondata Solutions Review.
Earning money online is gathering a lot of attention because many people are turning from their regular main job and want to earn by doing something smart and less stressful.
There are various methods of earning money online such as reviewing products, providing surveys, watching ads and videos, and working as a virtual employee.
But all these jobs are not real and genuine. Many jobs scam you for your money and time.
Today I am bringing you a very old and popular data entry job site called Diondata Solutions. I will be giving you details regarding the site, how to join, how much you can earn, and if they really pay money or just scam you.
So let us get started.
What are Diondata Solutions?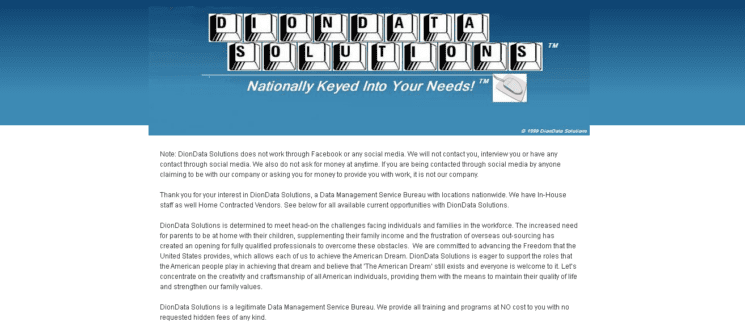 Diondata Solutions is an online platform that hires many workers from all around the world for typing and data entry jobs. However, to get hired, you must have a typing speed of 60 WPM.
The company was founded in 1999 for basic data entry purposes and encourages typers who can type fast. The fact that it has been in operations for this long proves it does have some credibility and legitimacy in the company.
Diondata Solutions is a US-based website and only hires typers from the United States. They also provide free training and after completion of training, you will be paid very nicely.
How to Get Started?
You have to download an application for windows and start filling their forms regarding your personal profile. After that, you must send your application via email as they do not engage in phone conversations.
Now that you have sent your application there is nothing you can do other than wait because they get various applications in a day so they will contact you after some weeks or may never.
However, if you never hear from them, keep sending a new application, there are various cases where they hire people after multiple applications but do not engage in a telephone call.
But before hiring, you have to sign a non-disclosure agreement which means you cannot reveal anything about the Company to anyone.
How to Work on DionData Solutins?
Diondata Solutions is an online data management company that offers various services for clients who need data management solutions. For this purpose, the site hires typers or data entry operators with fast typing skills.
Before the site hires, you need to pass an evaluation test of your typing speed and accuracy. You will also need to pass the free training program.
After passing the training and evaluation, you will start receiving documents to edit and type according to their rules. They will pay based on project completion and not based on an hourly rate.
The site will provide you with several types of handwritten data or in the form of audio or video format. You have to type it in the computer system.
The data you will be typing can be in the form of medical claims, catalogs, surveys, inventories, warranty cards, product registration cards, subscription fulfillment, and mailing lists.
How Can You be Paid?
As we have mentioned the workers who are hired have to sign a non-disclosure agreement so there is not much known how much you can be paid and what are methods you will receive your payments.
However, we do know that you will be paid for the entire project and not on an hourly, minute, or monthly rate. This proves that they pay workers very nicely and satisfactorily as well.
Since the site hires only US-based citizens, you will be responsible for your tax maintenance for your salary but the company also assists you to manage the documents.
Minimum Payout and Payment Method
We have already mentioned earlier that workers have to sign nondisclosure documents before getting hired so it is impossible to know how much is minimum payout and means of payment by the company.
But since the site pays based on the completed project we can assume there is no minimum payout.
Regarding payment methods, there are various options available such as Paypal, cheque, direct deposit, etc and the company is popular enough to implement some of them or even all of them.
Pros and Cons of Diondata Solutions
Pros
The site is legit and they pay their staff.
It is easy to apply and is free too.
The turnover rate of the site is low which shows the workers are happy and satisfied.
Cons
There are very little information and clarity regarding the site which can be useful but equally harmful for the site's credibility.
They only hire US resident citizens which limits the opportunity for people all over the world.
Conclusion: DionData Solutions Review
As the honest and detailed DionData Solutions Review:
I can safely say that the site is legit and if you are a US citizen you should definitely try this site and quickly.
There is a lack of clarity and not much information available on the site. However, they are in operations for a very long time which easily vouches for their credibility.
However, the only drawback of Diondata Solution is you can only join them if you are from the US.  So you need to look elsewhere if you are from outside of the USA.