What is UpVoice?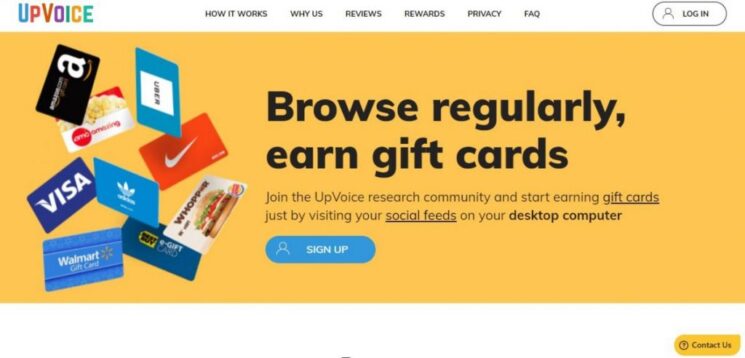 UpVoice is an online platform that pays its user to do simple online tasks that they do normally in everyday life. In other words, the tasks include web browsing, watching videos as well as answering surveys, and providing opinions as well.
According to the site, you can earn up to $75 per year. It is fairly a decent amount but does the site really pays it, or is it just another scam.
Not only that many people are attracted to earning money online websites and apps nowadays to earn extra income.
However, nowadays these apps or sites are actually replacing actual jobs and motivating people to earn more money.
Some of the sites like Upvoice that you can earn by doing simple tasks like web browsing or doing paid surveys. The site is similar to Zoombucks in which you will earn by surfing websites, watching videos, and doing paid surveys as well.
How to Join UpVoice?
You can only join UpVoice if you are a citizen of the UK and USA only. This is very discourgaing from users from all around the world.
However, they have the vision of expanding all around the world. But if you do live in UK and USA, you should register to the site.
You can also log in from the Yahoo account of the Microsoft account that you may have from purchasing your Microsoft office as well.
But finally, you have to click the verification link available on your Gmail to access the dashboard. You will obtain various tasks on your dashboard that you can complete in order to earn money.

How to Work on UpVoice?
The users can work on UpVoice in various ways but the easiest way is to install the Google Chrome extension of UpVoice. After installing the extension there is no need of signing up for the channel.
Now let us take a look at what works you can do on the UpVoice site so let us take a look at it.
Browsing
The user in the site can earn money or points by browsing the site of the clients of UpVoice. You don't have to do any extra stuff after installing their chrome extension.
Once you surf the site the Upvoice chrome extension will guide you to various other sites. When you surf those sites for some time you will earn some decent points or money.
These sites you surf are Facebook, YouTube, Twitter, Instagram which are basically the sites you surf every day. To earn the amount that you are supposed to earn the Chrome Extension must be always active while surfing these sites.
Surveys
You can also earn from the surveys that the site provides. These surveys are not that hard but can take some effort and time to earn some extra money.
These surveys task provides more to the user than just from browsing as well. So we recommend you to take surveys as well and also continue to surf the browser as well.
You can also earn from survey sites and then love cryptocurrency then you can join the site Bizcoin Surveys.
How Much Can You Earn?
The disappointing part of the site is that you will not earn more money from this site. You can only earn to use this site as a passive means of income.
On the site, you can get up to tasks to get 10 tokens for the day. Each token is worth $1 so which means you can earn up to $10. This may sound good but the reality is far from it.
The maximum amount you can make from this site in a day cannot be pinpointed exactly. Many of the workers have reported they earn from $2 to $5 per day.
However, the site does mention their user will earn $75 per year which may not be fair information in their regard as well.
Limitation on this site is also compounded by the lack of the application for their mobile device. They have a plan but that plan is quite far from being fruitful as of now.
You can also earn up to $500 a week by following this 5 easy guidance that we have shared for you.
How Does UpVoice Pay?
At first, Upvoice only had the option to pay its users in the form of Amazon gift cards however now they can pay from various sources like Paypal, Adidas, Prepaid Visa, American Eagle, and many more as well.
The site pays out a threshold is $10 for gift cards or for Paypal cash, however, it will take a very long time and patience to earn that amount on this site.
Pros and Cons of UpVoice
Pros
You can earn some passive income very easily.
The payout threshold is low.
Many options for withdrawing your money.
Cons
The site is not available globally,
You won't earn enough money to replace an active source of income.
Chances of hacking your personal data increases from Chrome Extension.
Very poor customer support as well.
Conclusion: UpVoice Review
After the detailed Upvoice Review, we can confirm that the site is not a scam but you can do much better than UpVoice.
The site is not available globally and the amount you earn depends on the availability of the task. However, if you live in the UK and the USA you can join the site and start earning some passive income but don't leave your job for it.