If you are looking for a network to make money by chatting then you may have come across this site called Texting Factory.
It is basically a get-paid-to-chat website that claims you can earn an average of $300 weekly.
But does it fulfill its claim like advertised?
In this review, I am going to share everything about Texting Factory and its full review so you can find out if it's worth your time or not.
What is Texting Factory?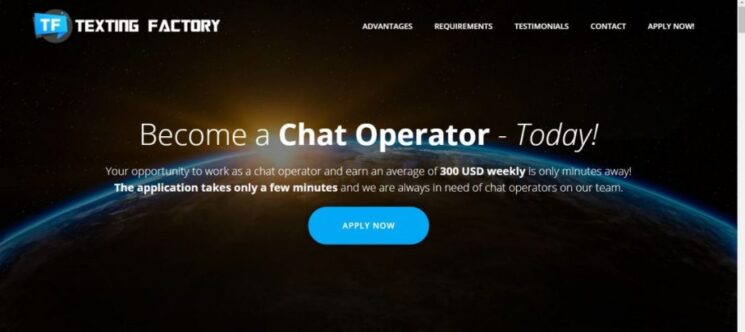 Texting Factory is a website where people can make money online by working as text chat operators. This website was established in 2009 and is part of Web Tech Interactive Media Ltd. The company is based in Samoa.
You can chat with other customers in Texting Factory about casual stuff like their everyday life and small talks about things like work, culture, weather, and relationships or adult and erotic stuff.
You can also check another Get-Paid-To chat site called Flirtbucks.
How to Join?
Visit Become a chat operator and Work From Home! – TextingFactory to get started. Then click apply now option to create an account. You are asked to enter your details like first name, last name, and email address.
You must be 18 years old to join this platform. Before submitting the application, you are required to write about your motivation to apply for this job.
After submitting the registration form, you will receive an email with a conformational link from Texting Factory to confirm your email address within 48 hours.
Click the link you received to confirm your email address and answer the questions they sent you. Most of the questions are of adult nature. You are required to answer those questions to get qualified.
There are certain requirements that you need to fulfill to join this website. The minimum age restriction is at least 18 years old. To be a chat operator your English must be fluent.
You must have a pc and a stable internet connection. The best part is that you do not require any experience to join Texting Factory.
If you wanna make money doing surveys then check out my MetroOpinion Review.
How Does Texting Factory Work?
Texting Factory is an online platform that enables people to earn money by engaging in conversation with various people online.
You will work as a chat operator on this platform and you will get paid to type messages and chat with strangers. As a text chat operator, you will be answering casual or adult text messages on an invented text network.
You have to be able to talk to customers about all kinds of topics as different customers have different needs. So the site will assign you different roles, depending on what your customer wants.
Some of the clients just want to talk to someone about casual stuff like their everyday life and small talks about things like work, culture, weather, and relationships.
Your identity will not be known by customers due to anonymous chat only and you will be assumed to be the person the customer is texting to.
But before starting chatting you are offered 2 to 3 hours of training so you can become familiar with the system. You can contact Texting Factory at any time if you need help.
Remember that the site will pay you for the amount of training time. You can only earn after your training is completed. You can then log into your account and start making money immediately.
How Do you earn?
You only earn by answering casual or adult text messages on a fantasy-based text network. Your earnings depend on how much time and effort you put into chatting with customers.
According to Texting Factory, an average operator earns around 300–400 USD a week normally. And if their claims are to be believed,  You can earn a lot more if you are willing to go the extra mile.
On the site, You can also earn bonuses when you write a lot of messages and you can also earn extra allowances on weekends and 'red days'. You can be anywhere around the world to earn money from this website.
As a freelancer, you can work any time. You can work as a full-time or a part-timer on this website. You do not know about any referral system for now. We will update you as soon as we know this information.
Can you Earn $300 Weekly working on Texting Factory?
Texting factory claims that an average chat operator earns $300 to $400 weekly and they even claims the earning to even higher if you are willing to work harder.
But in my opinion, earning 300 to 400 USD per week just by chatting is not possible and even if it is possible, I think you have to send lots of messages which requires a lot of time and effort.
According to this TrustPilot review, the user got a message from her couch saying you need to send 770 messages per week to earn $30.47 which means you can earn $4.35 per day by sending over 110 messages.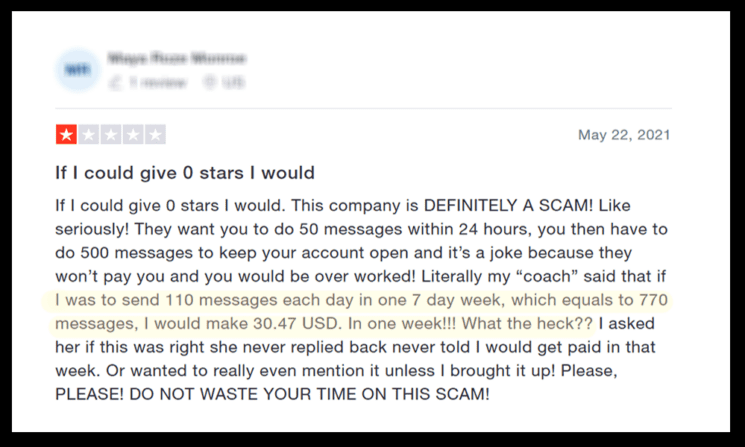 So, you need to send at least 10,000 messages per week to earn $300 on the Texting factory which is insane.
Practically, I think it is not possible to earn $300 on a Texting factory.
💡If you want to make extra income, I recommend you to join SurveyJunkie which pays up to $50 per survey.
How Does the Site Pay?
Texting Factory pays through Bitsafe only. The minimum payout threshold is about 50 USD to 65 USD. You can request your payment at any time. So, you must have a valid Bit safe wallet account to get your earning.
The site pays you weekly.
Pros and Cons of Texting Factory
Pros:
It is free to join
Texting Factory is easy to join
It is available in all countries across the world
Your identity will be anonymous
You can work at your own suitable time
Cons:
The minimum payout threshold is high
The texting factory does not pay you through PayPal.
It has a low rating from customers.
It mainly supports adult and erotic chats.
Texting Factory Review
After doing deep research, I've found that Texting Factory is not a scam but there are some red flags about this site which I will explain below.
Texting Factory has received a poor rating of 2.3 out of 5 on Trustpilot And most of the reviews shows users' frustration about this site.
According to the reviews, some users had received payment from Texting Review for the first few weeks, then they stopped getting paid afterward.
Moreover, many users complained about the site's support system as they were unable to get any response back.
And on top of that, some users also claimed that once they submit their ID and passport details they got their account disabled.
With so many poor reviews, I suggest you be cautious while submitting your personal information on the site.
Here are some of the user reviews:
Trustpilot Review #1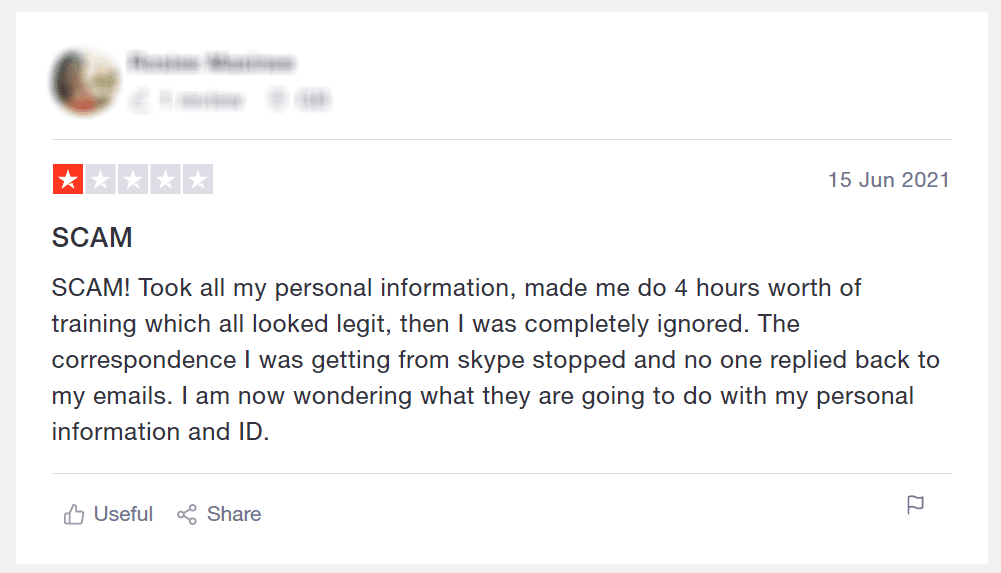 Trustpilot Review #2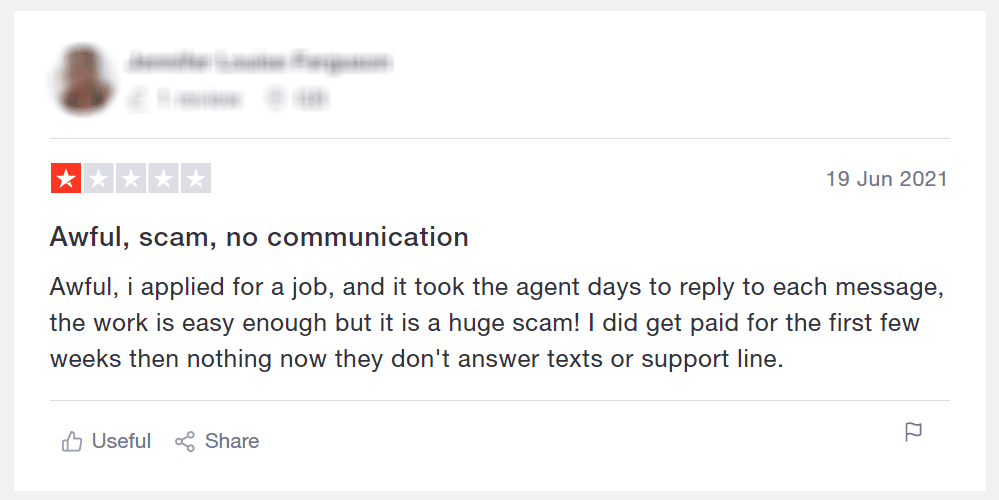 Trustpilot Review #3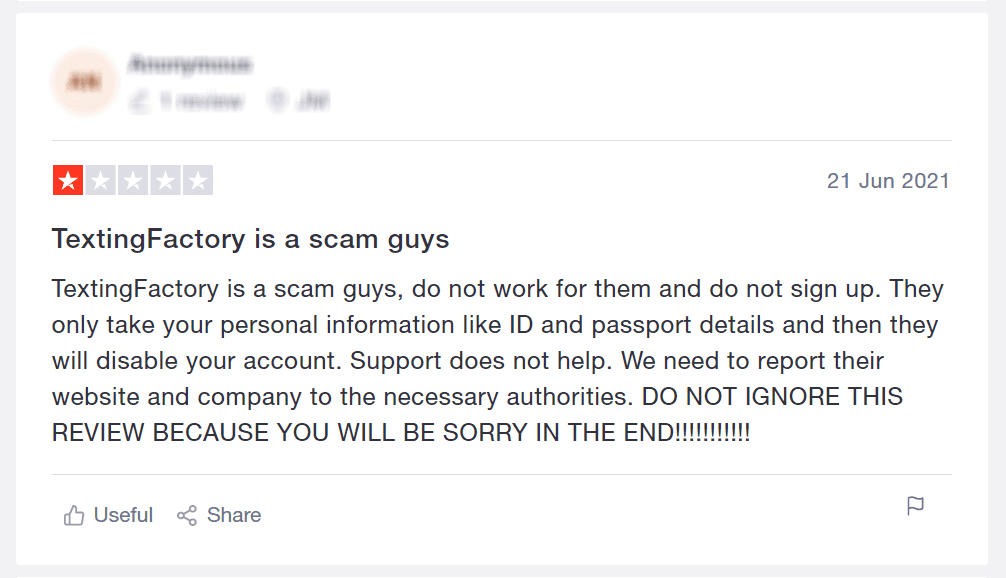 Reddit Review: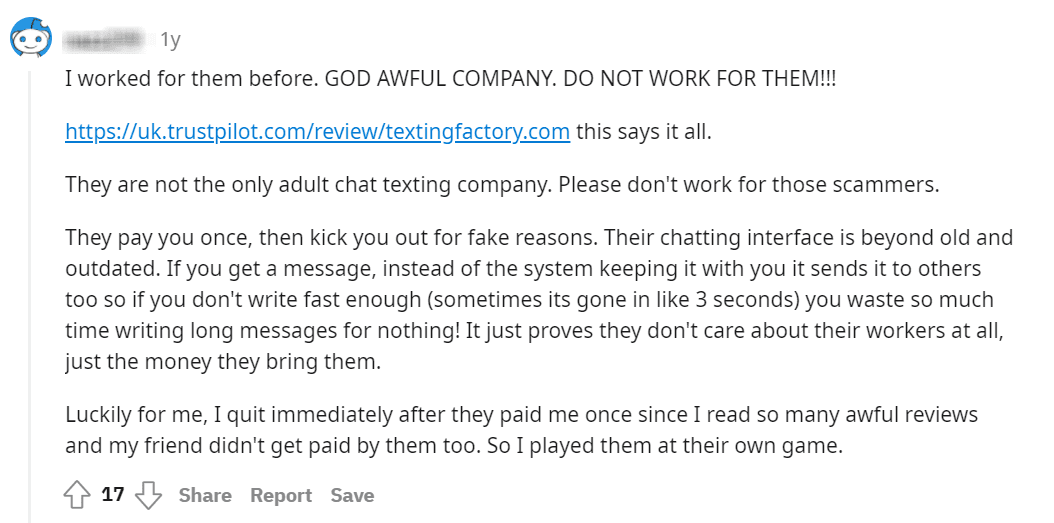 There are some positive reviews as well but I don't think a few positive reviews can balance the legitimacy meter of this network as there are tons of poor ratings about this network.
And this website also supports adult or erotic chat, and some users might not be comfortable with that. So, you have to make your own judgment to join the site or not.
If you are looking for a legit site please check our review of SweatCoins and find out if the site is legit or a scam.