You are probably here wondering if MetroOpinion is legit or not… Right?
Well, In this post, I am going to review this popular surveys site and give you an honest opinion on whether I recommend you to join this site or not.
And most importantly:
How much can you really earn from this site?
In this MetroOpinion review, I'm going to reveal the real truth of this popular survey site and tell you exactly if it's worth your time or not.
So, here we go:
Is MetroOpinion Legit?
MetroOpinion is legit and safe to use survey site and you can expect a timely payout if you have met the minimum cashout threshold. Users can cash out via PayPal, vouches, and donate to charity. Though the company claims you can earn up to 5 Euros per survey, only select top tier countries will get paid 5 euro for fewer surveys, and users from the 2nd and 3rd tier receive very low-paying surveys.
Now, that we are clear about its Legitimacy, there are few more things that you must know about this company.
Later in this post, I will reveal how much can you exactly earn with MetroOpinion along with my full review.
So, keep on reading.
What is MetroOpinion?

MetroOpinion is an online platform where you can earn money online by doing surveys. Users can earn 1 euro to 5 euro or more per survey completion on this site.
You probably have this question in your mind:
What does MetroOpinion do with my opinion?
Basically, they collect your opinions and provide them to their partners. The main aim of Metroopinion is to compare various opinions for an understanding of the bigger picture.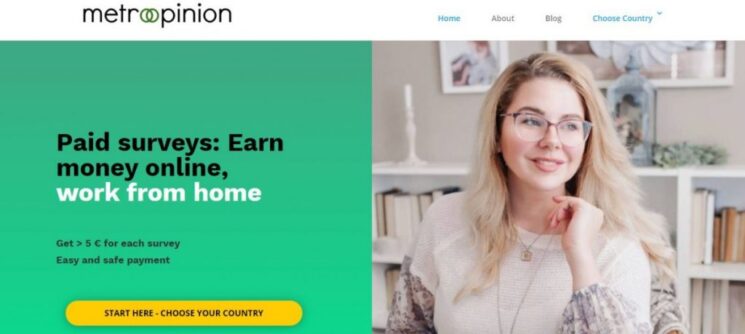 Now that you are aware of the company and how it operates.
It's the right time to get started with this site and that takes us to the next section:
How to Join MetroOpinion?

MetroOpinion is free to join and you can get started as easily as in 3 steps.
Heads up:
If a survey site asks you to pay your hard-earned cash, then they are probably a scam.
Luckily, MetroOpinion is absolutely free to join.
So, let's learn how to join it:
First, you have to register an account on MetroOpinion. Visit MetroOpinion.com and Click choose a country option.
Bummer: 
This is not available in all countries (I've included a list of available counties below).
Then, fill up the details in the registration form. You are required to fill up your gender, password, date of birth, zip code, and email address.
Then click the register option.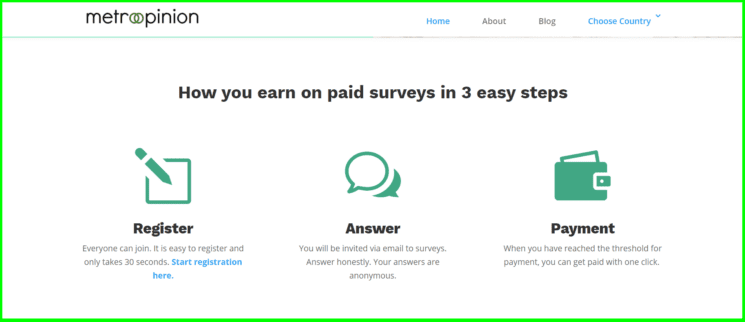 After submitting the registration form, you will receive an email from MetroOpinion with a conformational link to confirm your email address.
All you have to do is click the confirmation link and then your shiny new account is just a login away.
Is MetroOpinion available in my country?
MetroOpinion is only available to select countries. To check if your country is eligible to join MetroOpinion, take a look at the list of countries where MetroOpinion is available:
EUROPE
Belgium – Dutch
Belgium – French
Czech Republic
Denmark
Finland
France
Germany
Italy
Netherlands
Norway
Serbia
Spain
Sweden
United Kingdom
OCEANIA
AFRICA
ASIA
India
Indonesia
Malaysia
Philippines
Singapore
NORTH AMERICA
SOUTH AMERICA
Argentina
Brazil
Chile
Colombia
Ecuador
Peru
Uruguay
💡 Don't forget to check my OgAds Review and how I earned $4,000 on OgAds.
 How Does it Work?
After completing the registration process, you have to fill up your profile with information like age, gender, date of birth, location, and so on.
You may ask:
Why should I add all my details to the profile?
Well, MetroOpinion curates a list of surveys for you according to the topics you are interested in, your background, and demographics.
So, if you fill in all the details on your profile, MetroOpinion will find relevant and high-paying surveys for you.
But, this is not as easy as it sounds!
Once you set up your account, you will have to receive an invitation from MetroOpinion to take the survey.
If you are qualified, you will receive an email from MetroOpinon with an invitation link which will redirect you to all the details such as:
The survey you are qualified for.
Time required to complete the survey
How much you can earn by doing the survey.
The survey may include about products and services and you have to give your honest insight about it.
You may not receive surveys every day. Each survey you receive is also based on your profile and the result of previous surveys. So once the companies fit your profile, you will receive the surveys.
So, this is why I recommend you to join multiple survey sites. If one survey site runs out of surveys, then you can quickly log in to another to keep the cash flow coming.
Luckily for you, I've curated a list of the high-paying survey sites which you can check and join.
Also keep in mind that MetroOpinion surveys are based on the first come first served principle. So be quick in surveys or you will find 'Quota Full' in the survey.
There are other survey sites that also improve your earnings significantly if you are quick on the survey. Check out Live minds Review and find out how much you can extra money can you make.
How much MetroOpinion Pays Per Survey?

I know most of you are like:
Come on! Give me an answer real quick.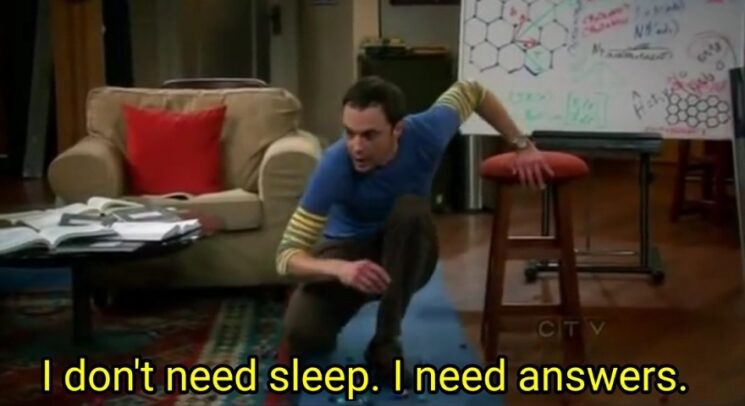 But it's not an easy answer…
So, how much can you really earn on MetroOpinion?
MetroOpinion pays you points for taking surveys and you can earn somewhere between $1 to $5 worth of points per survey. But the pay rate depends upon the survey itself. The long and complex surveys pay you more than simple and short surveys.
They also pay you for participating. So do not worry, even if your survey is rejected you will receive some amount.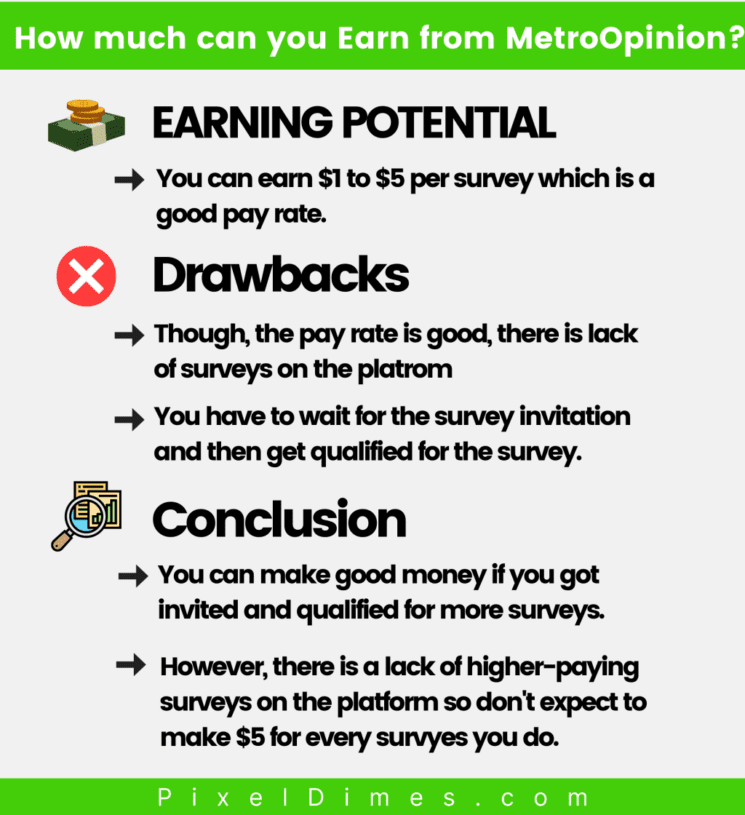 But be careful, your amount will also likely be reduced.
Your amount will be reduced if you answer without reading the description, question, or study properly and also if there is no consistency in your answer.
If you want to earn money by playing games on your phone, then check out my review of Rewarded Play.
How Does the Company Pay?

As I mentioned earlier, you will be paid in points initially in paid surveys which can be redeemed in euros or dollars or any currency of your country.
The value of points is dependent upon various countries.
To redeem, you should log in to the MetroOpinion website and visit the member area.
Then click on my earned points. The payment threshold is also dependent on the country.
Each country has a different payout threshold. So, click the update button if you have reached the payout threshold and then your money will be transferred into your PayPal account.
They will charge you 2% for transferring your money.
Then login into your PayPal account and accept the payment. If you do not accept within 30 days, the money will be returned to your MetroOpinion account.
Moreover, you can also redeem your earnings via Vouchers or donate the earnings for good cause.
 Pros and Cons of  MetroOpinion

 Pros
It is easy to join
MetroOpinion is free to join
You are paid through PayPal
Pay rate depends upon the type of survey
 Cons:
You may not receive surveys you are interested in as surveys in MetroOpinion may be based on your demographic information like your age, gender, date of birth, and your location.
It is not available worldwide and only some countries
You have very limited earning opportunities in MetroOpinion
A certain amount will be deducted while receiving payments.
Conclusion: MetroOpinion Review

After a detailed analysis of MetroOpinion, I've found this survey site to be legitimate and safe to use. You can expect a timely payout as long as you've met the minimum payout threshold. Although, the company claims you can earn up to 5 euros per survey which may not apply to users from all countries.
Moreover, this site is not available in all countries and if you are from Asian countries, you will receive fewer surveys with low payout. So, ultimately your earning will be lower.
Overall, MetroOpinion is legit but it can be used as a secondary site for coffee money only as it provides very limited earning options.
If you are interested to make money online, then I've written plenty of awesome guides for you that you can binge read and apply to earn money online.