What is Review Side?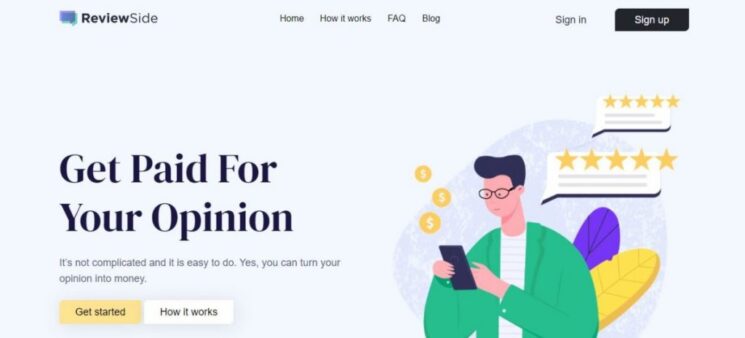 Review Side is a website where you can earn money by giving your opinion. You can earn money by writing the best reviews.
Just like other survey sites, the Review side is an online marketplace where a company meets with a surveyor and receives feedback for their unreleased product, app, or website for a small service fee.
This feedbacks will help in eliminating some errors or polish some drawbacks before the product of the company is officially released.
This website is just like the Survey Village site where workers are paid for providing their feedback and opinions.
However, this feedbacks must be genuine and not over the top or without any research and knowledge of the said topics.
How to Join Review Side?
First, you have to register an account on the Review Side. Visit Get paid for your opinion | Review Side. Click the sign-up option and then fill up the details in the registration form.
On the site, you must fill up your name, city, country, and email address. Then click continue and visit your email and click the confirmation link to activate your account.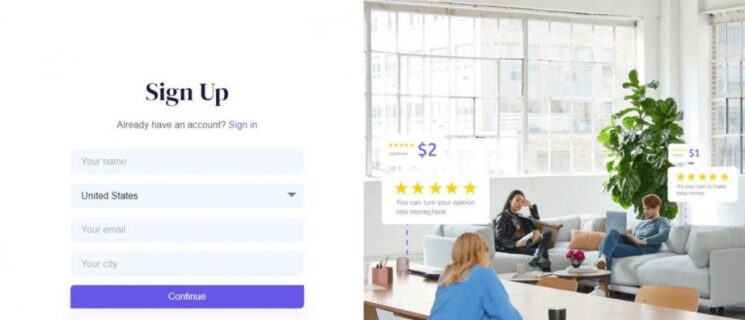 We have also accumulated the very best of survey sites to earn money by providing feedback, which you can check below
10 Best Survey Sites That Pays $5000 Monthly in 2023
How To Work on Review Side?
After completing the registration process, you should visit the logbook. In the logbook, you can find various tasks from different companies that are in association with the Review Side.
You will also find the platform where you have to drop your reviews and the amount you will earn for each review.
Choose the task you find interesting and then click it. You will find certain instructions like the time limit of review and if you are satisfied with the given time then click on the Let's write a review button.
It is not certain your request will be accepted. So, your request may be accepted within the minute. However, it may take more than a week to be accepted or it may not be accepted at all.
The review cannot be written immediately. They will give a certain date when you must do the review. After submitting the review, the site must accept the review to pay you.
Hence, the site won't pay you, if your tasks are not authentic and according to instructions.
Just like this website, you can also work on these other websites and earn a relatively good amount of income by providing feedback or opinion.
How To Earn From Reviewside?
The pay rate of each review will be shown in the review you choose to write about. They will be paid in US Dollars and most of the review has a pay rate of 1 USD only.
Minimum Payout and Payment Method
You will be paid through Pay Pal. But according to the website, the payout threshold is between 4 to 10 reviews. The payout threshold is not clearly mentioned so it is not sure that this website pays its users at all
Pros and Cons of Review Side
There are only Cons for this site as it is a scam and does not pay any of its users.
Conclusion: Review Side Review
After the detailed Review side Review, we can conclude that the site is a scam, and also this website does not have any reviews from customers and authentic sources so it cannot be blindly believed as well.
You will be paid to write reviews for the product and company you have not tested or been to. Your review will be based on the blog they have written so the review may not be accurate at all.
The customers reading your review may think that the product or company is good and spend their money but may it may not be worth it at all.
There are some users who claimed to be on their website that claims it is really straightforward to earn on the Review Side but the users are fake and their photos are taken from google.
I recommend not to join this website as it is a scam. You might also be legally penalized by review platforms like Trust Pilot, Google Review, etc. for giving fake reviews.