Survey sites are the bread and butter of earning money online tasks.
They are entertaining, variety, and pays higher than other GPT or PTC tasks as well. There are tons of survey sites on the internet.
This is why it is my duty to bring you the most legit, high-paying, and entertaining survey site out there.
Today we are focusing on a popular survey site called Surveyeah. We will find out if the popularity is valid and if the site really pays or not.
Let's get into it.
What is Surveyeah?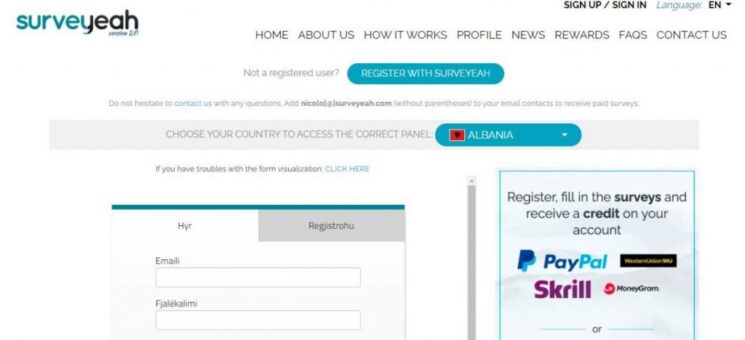 Surveyeah is another popular survey site first established in Italy. This site acts as a hub for market researchers and surveys to provide feedback on unreleased products.
You can also do panels for many unreleased products or websites on this site. Almost all people from any country can join the site.
The site has predetermined names of the list of countries but you can choose the international option if you can't find your name.
According to many reviews, the name Surveyyeah indicates the joy people will get while completing these paid surveys.
Surveyeah is among the 35 high-paying survey sites in the Philippines. Check out the full length by
Getting Started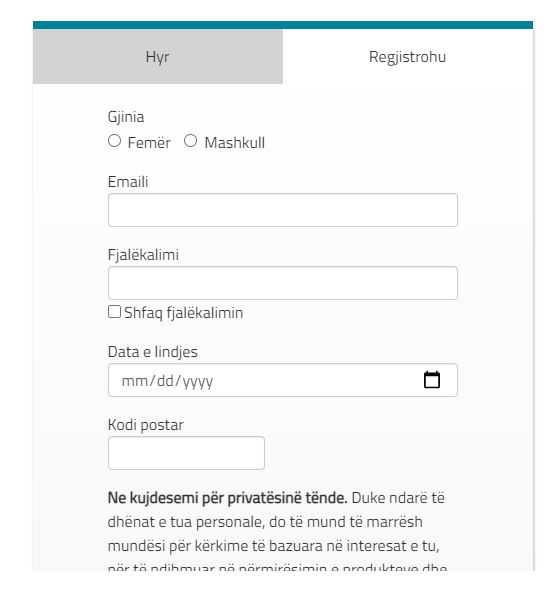 The basic policy of the site Surveyeah is its strict compliance with privacy policies. This indicates your information will not be shared with third-party data.
You have to visit the site and register your personal information. There are some terms and conditions you have to agree to.
After that, it is important to verify your email or phone number. This will help you to gain access to the site.
If you are interested in one of the most entertaining survey websites that are also high paying. Check our review of Vocalyz and find out why this site is so in demand
How to Work on Surveyeah?
The work starts while fulfilling your information on the site. At first, it may feel like a tedious job. However, this detailed information will help you to find lots of surveys.
All this information is based on your consent and demographics. The major work or what you have to do is a complete survey and start earning.
The survey is worth from 50 cents to $2 per survey but the major problem is the availability of one.
You have to complete the survey as per instructions and wait for the actual site to verify before you will receive payment on your account.
The drawback of Surveyeah is that there are no other ways of earning money apart from answering paid surveys and providing opinions.
There arent any PTC jobs and GPT tasks as well as any review task to earn extra income so the earning potential of the site is limited.
How Much Can you Earn from Surveyyeah?
You can only earn money via Paid Surveys on the site. There are not any other options such as offers, research, and product review, etc.
So to earn some significant money from the site, you have to fill in complete detail on your demographics.
This will result in getting you lots of surveys and will immediately increase the chance of your earnings.
Each survey will pay you from $0.50 to $2 so if you can complete at least 5 surveys per day you can easily earn up to $10 per day.
Also, Surveyeah does not have any mobile app but you can run it via your mobile browser which makes completing the survey a bit more complicated.
You can even earn tons of extra income by reading our 10 Best Survey sites that pay in 2023. Do not Miss out
 Minimum Payout and Payment Method
There are two ways of withdrawing your payment and both have their own minimum payout threshold.
If you want to withdraw from Paypal then you will need at least $10 on your Surveyeah account.
Similarly, you will need to earn at least $20 to withdraw as gift cards.
Pros and Cons of Surveyeah?
Pros
The payout is extremely fast.
Available Globally and easy to join.
The private data are kept extremely safe.
Very easy to complete tasks and earn.
Cons
Very limited earning opportunity.
Lack of high-paying surveys.
There is no referral program.
The payout Method is also limited
Surveyeah Review: Legit or Scam
Surveyeah is a popular and legit survey site but it does seem there may be limitations in earning potential on the site.
More than 200 users in Trustpilot have given the site only 2 out of 5 incredibly low stars.
Now let's take a look at some of the User Reviews from the Trustpilot site.
User Reviews
Now let us take a look at some negative reviews of the Surveyeah site.
Review#4
According to this user, Surveyeah was very good at first but the tasks became less and less, and then the site started to cut her earnings without any explanation which is why she is extremely unhappy.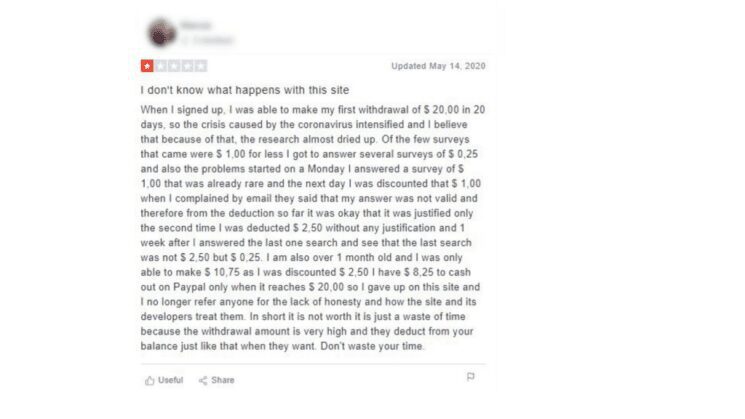 More than 60% of the reviews are unsatisfactory and unpleasant workers hence we can confirm that the site is not worth it.
Review#5
According to this user, this is the worst site he has seen. He never got to participate in the survey and he earned nothing.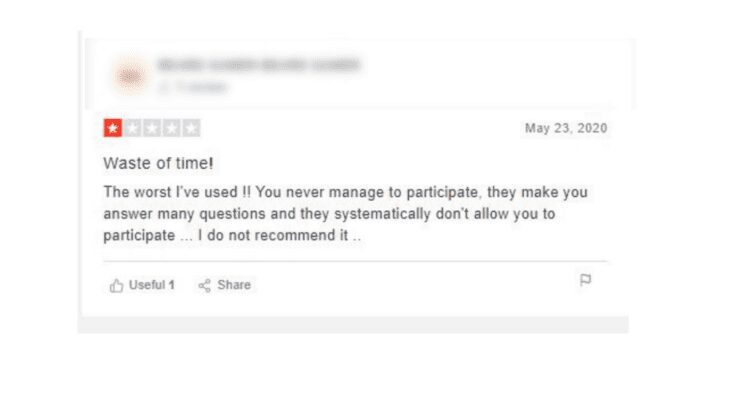 Review#6
This user only got 2 surveys in 2 years so he is not happy with the site.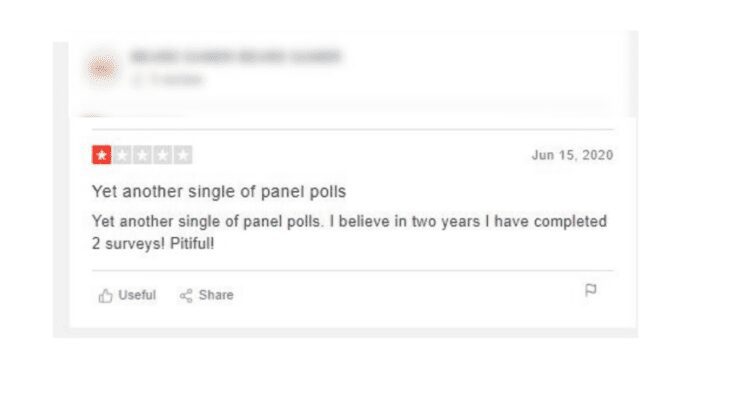 So the bottom line is 
The site Surveyeah is unreliable and it does not pay as it used to. Hence there are tons of other survey sites to join.