What is Vocalyz?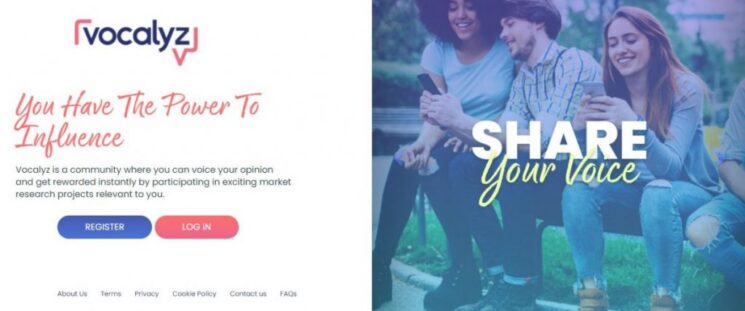 Vocalyz is a survey site basically that rewards people for participating in their market research activities.
There are various activities here to earn money for yourself. You can play games as the app offers a lot of games to play for you to earn money. You can also get daily wheels to spin-off and earn various prizes.
In this Vocalyz review, we will update you about how to join the site, earn from them, and how to withdraw your earnings.
How to join Vocalyz?
Vocalyz is only available for the United States and United Kingdom's residents. So, this site can't be used if you live somewhere else. You also have to be at least 15 years old or more to join their panel.
To sign up as a member you just have to fill out their sign-up form. If you try to sign-up and don't live in the US or UK, the registration will be failed and you cannot use VPN either because they will know or eventually ban your account.
And if you successfully registered, you will receive an email to confirm your membership. You just need to click on the confirmation link to complete the registration process. You can finally log in to the site and can earn it right away.
If you are looking for an interesting survey site with some GPT tasks check our Mindspay Review.
Where can you use it?
Vocalyz doesn't have a mobile app but you can access the site from a mobile device using a web browser on your mobile. In short, you can start on both your mobile phone and computer.
Their site is mobile-friendly. So you can navigate from their site with relative ease. This can be very efficient as you can answer the surveys efficiently even when you are not in front of your computer or laptop. You will be able to earn more easily.
How much do you earn?
Whenever you successfully complete every survey, you earn around 20 to 370 points per survey but there are more surveys that will reward you with around 20 to 50 points. So whenever you do the calculations, you don't really earn a lot for most surveys. But they do have a way to earn as you can earn by increasing your membership level.
To level up, or just to complete level 1 you have to complete your profile. Each time your accounts level up you gain 100 points.
From level 2 to 5, it's a max level. It's a little bit more complicated as you have to complete the survey for 4 consecutive days to increase your level. After reaching the max level 5, you can receive the perk of earning an additional 10% for each survey you manage to complete.
It does sound easy but there will be times when your streak will be broken and you get down on one level up you have to restart your streak to level up again.
Maintaining the max level is a little bit hard as you have to maintain your streak. But besides that, this is a decent system as you get 100 points every time the levels of your account up. It just takes some of your time, passion, and commitment.
How do you get paid?
When you earn a certain number of points for answering various surveys and playing games you can convert the points you've earned to various rewards then. You can also convert your points to cash via PayPal.
The least minimum amount you can withdraw is $5 which can be worth 510 points. You can also convert your points to amazon gift cards and the minimum amount will be $10 (worth 1000 points).
Besides that, you also get the option to donate your points to EcoMatcher, which is a non-government organization that pledges to plant trees in Uganda. So, if you want you can exchange your points for 1 tree which will cost 500 points.
Pros and Cons of Vocalyz
Pros:
It offers a low payout threshold.
It offers payment via PayPal.
Their site is mobile-friendly.
Cons:
It offers limited earning opportunities.
It gives low rewards.
Conclusion: Vocalyz Review
Vocalyz is not really a bad survey site but it also doesn't stand out, in my opinion. It has really a low payout threshold and it offers a convenient payment method. But most of the surveys don't pay much well.
Thank you for checking out Vocalyz Review, If you are looking to earn online by doing surveys and providing opinions you check our review of Metro Opinion.