GPT sites are a very interesting way of earning money online. On these GPT sites, there are tons of earning opportunities such as doing some random tasks, playing games, and watching videos.
Today I am bringing you another GPT site called Reward XP which actually pays you for playing games and doing other microtasks.
We will be learning how you can join Reward Xp, earn from it and how to withdraw from the site.
What is Reward XP?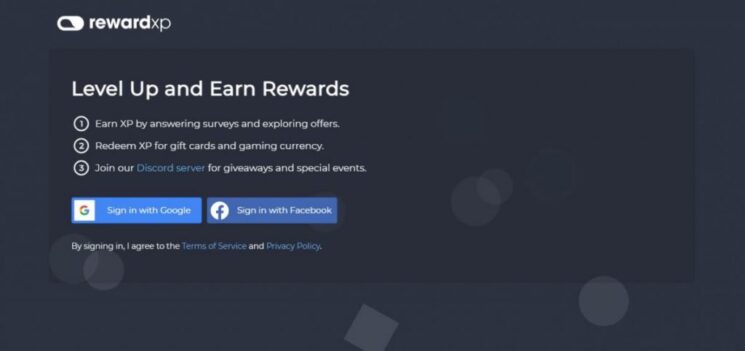 Reward XP is popular Get Paid To site that pays its user for doing some easy random tasks. Such tasks include playing games, watching videos, signing up for emails, etc.
However, mostly the site focuses on playing games so if you are a gamer then this site is for you.
Other than playing games there are also tons of other tasks so even if you are not a gamer then you can earn reasonably from the site.
You have to follow instructions to complete the tasks and once you complete them you will be rewarded.
Getting Started
Reward XP is an online platform available for everyone globally. Wherever you live you can join the site but you have to be over 18 years old.
However, the availability of your task may be varied according to the location.
You can sign up on the site from your email or Facebook or Google account. However, you must provide your information such as email id regardless.
Once you sign up you will be regarded as a member of the site. On this site, you don't have to pay any amount to be a member or gain membership.
One of the most amazing GPT sites which are similar to Reward XP is Uniqpaid. Check out Uniqpaid Review here.
How Do You Work on Reward XP?
There are tons of tasks available on the Reward XP site. However, mostly they pay you if you play the game or win in the gaming tournament.
Let's take a look at some tasks that are available on the site.
Play Games
This is one of the easy and high-paying ways of earning money on the site. This GPT site is predominantly based on gaming.
You can access the dashboard after logging in to the site and you can find all types of games that you can play and start earning.
You can play these games on your mobile and your PC after joining the site.
To gain the reward, all you have to do is install the games and play but you must reach certain levels to gain the reward.
Once you reach the level your payment will be provided on your reward account of the site.
If you want another GPT site to earn money by playing games then check our Rewardia Review.
Paid Offers
All GPT sites have paid offers that you have to complete to earn some rewards. They will each have some specific instructions to follow.
You must complete the offers exactly the instructions says to earn some money.
On the site, there is an offer tab that you have to click to find out how many offers are available for you to complete.
Some offers are redirected to the third-party sites but you will be paid by the Reward XP site.
Surveys
Surveys are another way of earning money online on the Rewards XP site. There is a survey tab on the Earn money dashboard where you can find surveys on your site.
However, these are all third-party surveys as Reward XP do not have their own surveys but act as a survey router.
On all third-party surveys, you have to answer qualifying questions before answering surveys and started earning your rewards which will be provided on your dashboard.
The highest reward you will earn from these surveys is $1 but they are high paying and rare.
How Much Can You Earn from Reward XP?
This depends on how many tasks you can complete and how many tasks are available for you.
There are tons of tasks available but the rewards are extremely low for each task. You will earn some decent earnings by doing some third-party surveys.
These surveys pay from $0.2 to $0.5 whereas some pay $1 per survey. However, the games are based on checkpoints and levels.
The games provide rewards very decently if you can play them according to instructions and reach the levels as well.
Sometimes these games can reward you up to $2 per completing some hard levels which are quite good considering playing a game.
Hence you can earn up to $5 to $10 per day if you are involved in the site professionally.
Now you can earn up to $25 per day if you can join the Lite GPT site. Check their review here.
Minimum Payout and Payment Method
There are several amounts of Payment Methods available on the site. Some of them are Paypal, Roblox, Bitcoin, Steam, and Amazon Gift Cards, etc.
The minimum payout for each of the methods is $5 which is equivalent to 50,000 points which the site provides initially and later you can convert it into cash.
Each payment method requires different points to unlock the earnings and withdraw them.
If you are looking for an extraordinary site to earn by playing and testing games such as RewardXP then check our review of PlayTestCloud.
Pros and Cons of Reward XP
Pros
Globally available.
Large options to withdraw your payment.
Only $5 is the minimum threshold to withdraw your amount.
Excellent customer support.
Cons
Low Rewards from tasks.
Lack of clarity regarding different aspects of the sites.
Reward XP Review: Legit or Scam
Reward XP is an interesting GPT site that predominantly focuses on games and gamers. You can earn a decent side income from playing games.
Along with that they also have paid surveys and paid offers to earn extra as well.
Over 80 users from the Trustpilot site have rated RewardXP 4.7 out of 5 stars which prove they are really impressed by the site.
Now take a detailed look at some User Reviews from the Trustpilot site.
User Reviews
Let's take a look at some positive reviews
Review 1
This user is really impressed with the site. He reckons the site pays via Paypal and the minimum withdraw is $5 which is really low as well.
Review2
This user believes Reward XP is the best surveys site out there. He was really impressed that how quickly he got his earnings.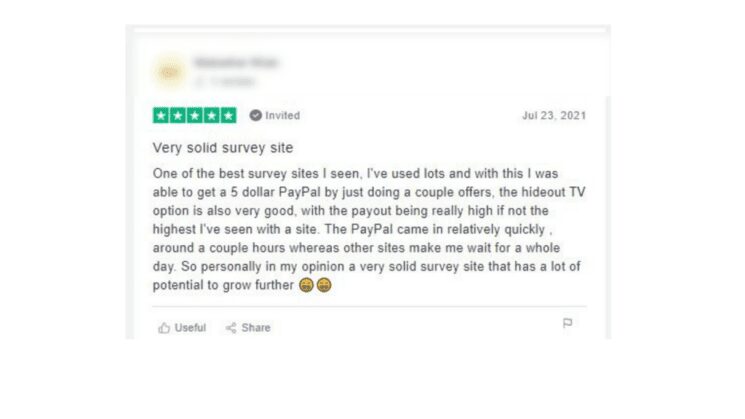 Review3
This user believes Reward XP is one of the excellent GPT sites. He was also impressed the site paid him with gift cards fairly quickly.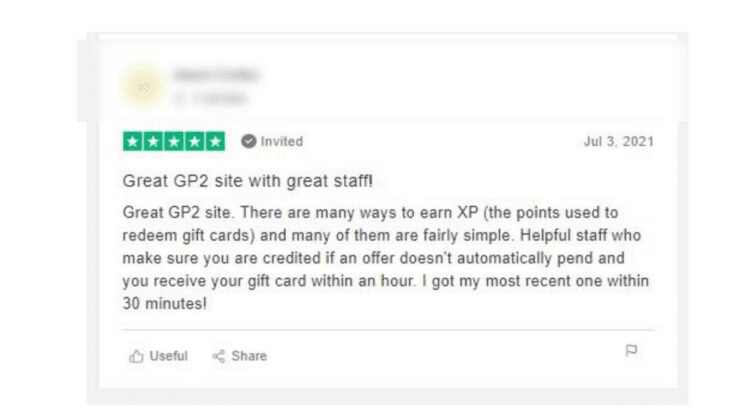 Now let's take a look at some negative reviews.
Extraordinarily we can only find one negative review of this site which is highly impressive and commendable to the site RewardsXP.
Review4
This user is not happy that he got only $5 dollar for using the site for over 5 hours but other users contradict his claim as they got over $25 for just 2 hours of work.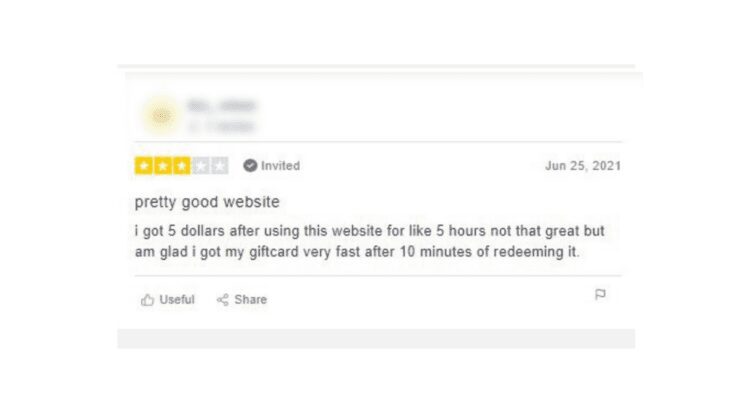 Hence the reviews and ratings claim
RewardXP is a very impressive and high-paying GPT site and also has one of the high-paying survey sites on the internet.
Hence we highly recommend users to join the site and start earning.