There are countless ways to make money online in this modern world. People are always ready to make something extra.
But how do you choose what to believe and what not to believe in this time of scam and cheat?
Don't worry, we will be providing a detailed analysis of every make money online scheme of the internet.
But most importantly we will provide a heads up on if the site is legit or a scam.
Today I am bringing you another popular GPT site known as Clickperks. Let's get into the detail and find out whether it is legit or just another scam.
What is Clickperks?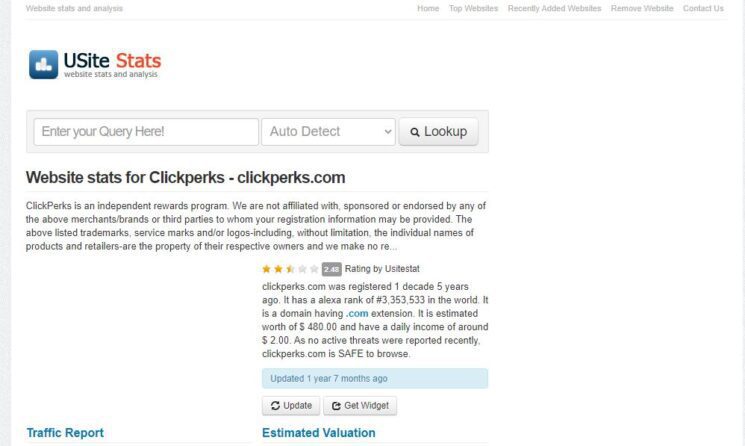 Clickperks is another Get Paid To a site where essentially you have to complete some tasks to get paid.
There are so many tasks available to complete and earn some of them are watching videos, completing paid offers, paid surveys, etc.
Clickperks are first established by React2Media, located in New York City,  a marketing research company that provides surveys and offers for their clients.
Now let's take a look at how you can start working on Clickperks.
Getting Started
First of all, visit the site Clickperks and register on the site. You have to click the sign-up button and then provide your information.
You have to fill in your email address, contact numbers, address, password, and date of birth.
The site also provides you with points when you complete your account. You will receive 3 points to be exact.
How to Work on Clickperks?
Once you sign up for the site, you can now access your dashboard and start working. As in all GPT sites, there are tons of tasks available to complete and earn some money.
Let's take a look at some tasks that you can do on the site Clickperks.
#1 Offers
There are various offers available on Clickperks which you can complete and earn some rewards.
There is an earn section on your dashboard in which you will find several offers and their accumulated award.
These offers include replying to the email and also signing up for the website. Not only that but some offers are also playing games and reaching the level to complete these offers.
But there are not many offers in respect to other GPT sites but you will immediately be paid when you complete these offers.
#2 Watching Videos
You can also earn rewards by watching some paid videos on the site. However, most of these videos are third-party videos.
They redirect you to other sites of their clients where you watch their videos and start earning.
Clickperks don't offer you any rewards but other websites actually pay you on their behalf.
However sometimes the videos may not be suitable for your age and sometimes the link of the videos may be broken.
Also, the rewards from these videos are extremely low and not worth compared to other activities
#3 Paid Surveys
Clcikperks acts as a survey hub rather than providing their own surveys so you will be redirected to various other survey sites instead of providing their own.
However, the irritating part is you have to fill with your profile on every survey site before answering the surveys.
But these paid surveys are very high paying and are decent to earn some extra income compared to other tasks on the site.
#4 Cashbacks
Another task to earn some money in Clickperks is by buying a product online and then getting in cashback.
There are tons of online retail sites like Starbucks, Walmart, Target, and Amazon where you can buy the products via Clickperks, and each time you buy you will receive the points.
There are also exclusive coupons, awesome deals, and heavy discounts which along with your cashback make it worthwhile.
If you like Cashbacks we have also listed the best cashback apps in 2023.
Check out the 10 best Cashback Apps in 2023 and earn some decent cash while online shopping.
How Much Can You Earn from Clickperks?
The earnings on the site are completely dependent on how much can you work.
It is also dependent on the Availability of high-paying tasks such as surveys which are generally based on location and also survey site.
You will award points for every task you complete and 10 points are equivalent to $1 on the site,
Each survey may provide you up to $5 per survey whereas watching videos is comparatively less with only 10 cents to 50 cents.
There are tons of tasks available every day and also survey alerts are also helpful for increasing and accumulation of those key points needed to withdraw those earnings.
Along with all these tasks, you may not know you will get paid to listen to music as well.
Check our listings of get Paid to Listen to Music and find out how you can earn some income by just listening to your favorite songs.
Minimum Payout and Payment Method
The minimum payout for the site Clcikperks is $50 which is significantly higher than most of the GPT sites.
Unfortunately, the site only provides your rewards on gift cards as well which means Paypal cash is not available.
However, if you like gift cards then tons of gift cards from various retailers such as Amazon, Steam Starbucks, etc are available for you.
Pros and Cons of Clickperks
Pros
The customer support is excellent
There is a large variety of tasks available.
The gift cards also have different options.
Cons
Only limited to US, UK, and Canadian citizens.
Very low rewards to earn.
The site does not pay via Paypal.
Clickperks Review: Legit or scam
Clickperks is an interesting GPT site and is legit as well. However, you will be only paid via gift cards and not in cash which can be a big drawback.
There are several tasks and the minimum payout is also low. You will be extremely busy and some of the works are really fun to do.
However, we have to address this that the site is not a get-rich scheme. You won't earn a large amount of money to pay your mortgage or completely pay your college fee.
You will earn some decent side income by engaging in the site continuously and focusing on high-paying jobs.
Hence we recommend this site to anyone who likes the GPT site and also loves gift cards but does not quit your job totally to work on the site.
Accumulate other online sites to earn some money and make some decent side income.