Testing new websites, apps, or games for the company before the release of the product is a new and nice way of earning something extra.
Today I am bringing a new site named Play Test Cloud. Play Test Cloud is a website that pays you for testing unreleased games or applications.
However is it legit or just another scam.
Today we will find out, In this Play Test Cloud Review, if the site is legit or scam, and provide in detail guide on how to join the site, who can work on it, how to work on the site, how does it pay and how to withdraw your earnings as well.
What is Play Test Cloud?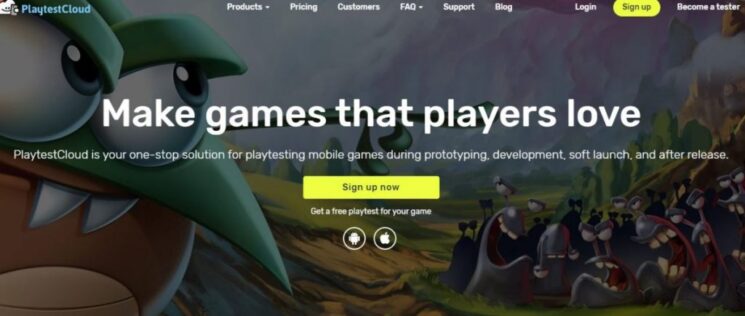 Play Test Cloud is the website that claims you can earn money online. It is an online platform that pays you for testing and giving feedback on video games and apps.
The site works like a connection bridge between the company and testers.
The companies want their unreleased games to be tested to rectify any bugs or errors and this job will be conducted by the testers.
In return Play, Test Cloud pays them at the accumulated rate the testers will know beforehand.
Key Introduction of PlaytestCloud
Website Name – PlaytestCloud
Founder – Marvin Killing, Christian Ress
Date of Establishment – 1 October 2012
Location – Berlin, Germany
Pay Rate – $10 per hour
Payout Method – Paypal
Minimum Threshold – $0.01

How to Join Play Test Cloud?
Yes, it is easy and simple to join. You will require to visit Become a tester – PlaytestCloud to sign up.
However, you have to be over 18 years old to be eligible to withdraw your earnings from the site.
The site does not have any restrictions on the country but the survey limitation based on location are still there. If you are from UK, USA, and Canada chances are you will receive more opportunities to test games.
After signing up to the site. fill up your full name, type of game you want to play, gaming platform, the country you live in, gender, date of birth, and email address.
But be aware that you may need Android 5 or higher and IOS 5s or newer version of the device to run the game for the test.
You also must have a headset, microphone, and high-speed internet to complete the tasks.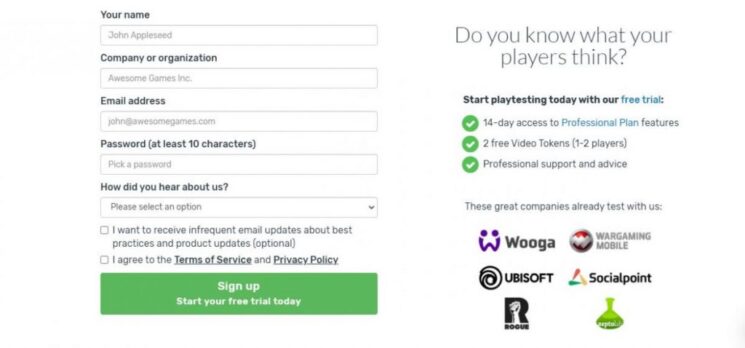 How to Work on Play Test Cloud?
Play Test Cloud pays you for testing and giving feedback on video games and apps. After activating the account on the website, you can play games and give feedback.
You will receive an email where you have to take playtests. You have to use their recording device, play for at least 5 minutes and comment out loudly and clearly.
But first, you have to be qualified to be permanently hired for the paid testing part of the site. You will be sent a qualifying test on how you will conduct a test and how you can explain the testing.
Normally these tests are maximum of 5 minutes long which will be completed quickly.
So sound confident and have fun while testing the new games and eventually you will be qualified for testing games.
Once you are qualified the site will send you various invites to test these games which you have to respond to quickly.
If you want to earn from some Survey sites then check our Quick Survey Review.
How to Earn from Play Test Cloud?
You will be paid 9 USD for a 15 minute playtest and survey. Sometimes you are also required to take qualification tests and they are unpaid.
You will receive games according to the platform you have selected. So whatever platform you have Android, iOS, desktop, or any other, register all the platforms.
The more platform you have registered, the more games and apps you get to play and give feedback.
The playtest you receive will be based on the type of game you like to play which is filled while signing up and your previous playtests. If you are qualified then you will be sent an invitation email.
You have to respond or accept it as fast as possible because they have a limited quota and once it is filled you cannot take part in the game.
You can join this website as it is available in all countries but the Play Test cloud gives priority to the residence of the United States of America, the United Kingdom, and Canada.
Accessible Devices
It supports Android phones or Tablets with Android 5 Lollipop or higher. But it does not support Amazon Fire Tablets. If you have iOS then you are required to have iOS 12 or iOS 13.
Some of the devices that support playtest are iPhone 5s, iPhone 6 series, iPhone 7 series, iPhone 8 series, iPhone X series, iPhone 11 series, iPad Pro of any model, iPad Air of any model, iPad mini of 4th generation, and newer, iPad from 2017 to 2019 and iPod Touch 6G.
One of the most important features to be qualified is that you have to think out loud that is comment what is going through your mind while playing the game.
The more honest you will be while playing and commenting, the more chances will be there to receive more playtests.
Not only is thinking out loud but also giving honest opinions about the app in the survey is important. You will have to take a survey after playing the game.
Note: You cannot speak about the game that you play to anyone due to the non-disclosure agreement that you need to sign before every playtest.
This agreement prohibits you from sharing anything about the game with anyone.
How Do You Get Paid?
You will be paid through PayPal only in Play Test Cloud. There is no minimum payout threshold on this website. So, you can redeem your payment after each test.
You will receive your payment within few days after the site reviews your test.
Is PlaytestCloud Safe?
First of all the SSL certificate of the site is valid and issued by Cloudfare Inc ECC. Also, we can find the owner of the domain who is Marvin Killing.
The site also has a clear privacy policy which is primarily focused on the data regarding game testers.
According to the site they are clear on sharing the data which you have to be in consent for. However, they are abundantly clear they do not sell data.
PlaytestCloud also provides a clear review of what data they keep from the members. They are Name, Address, Email ID, Favorite games, IP Address, and Browser cookies.
Hence the bottom line is they are fairly clear and provide authentic clarification on every little query on the site.
They are also very professional in customer support however response time of 12 hours can be improved on the site.
FAQs of PlaytestCloud
What do Players get for Testing?
According to the site, the players will get rewards for their testing. They can earn from $6 to $8 per playtest. The reward is based on the longevity of the game or the levels required to complete the testing.
How does the Player record their test?
Players do not have to worry about this according to the site. They have special software in the application that works as a wrapper that helps to record the game.
Players just have to record the game they are playing and start commenting out loud and rests is done by the software.
What types of games do the Players test?
According to the site, Players have plenty of a list of games to play and test. They can be unreleased IOS and Android games, games available on both IOS and Android and also mobile games that run in the browser.
Pros and Cons of Play Test Cloud?
Pros:
Play Test Cloud is free and easy to join
Pays through PayPal only which is the best money transfer network
There is no minimum payout threshold
You can let your child test the game and give their opinion
 Cons:
You will not be qualified in every game
The site pays you through bitcoins and gift cards.
You might not get any playtests because your country of residence as Play Test Cloud gives priority to the residence of the United States of America, the United Kingdom, and Canada.
Conclusion: Play Test Cloud Review
After the detailed Play Test Cloud Review we can conclude that Play Test Cloud is not a scam where you can earn money for testing and giving feedback on video games and apps.
It is worth taking part in as it will be fun to play new games and give feedback and opinion about the game.
If you like gaming then this is definitely for you as you can enjoy it and even earn some extra cash.
Do not worry as you do not have to be an expert to join this website.
Game developers like to get opinions and feedback from all types of players including amateurs and experts. Play Test Cloud is legit and you can use it as a secondary income source.
If you are interested in earning some shares by doing basic tasks check our review of SavvyShares.