Hello and welcome to my honest Clk.Sh Review.
There are countless ways of earning money online. And there are millions of sites that claim they really pay for doing some work online.
You can be doing some macro works, answering surveys, chatting to get paid, or even working as a Virtual Assistant for Organizations.
But what if I tell you that you can make money from shortening viral URLs and sharing on your blogs and social media. Today I bring the Clk.Sh website to you.
Clk.Sh is a website that pays its publishers for shortening URLs from their site and promoting their advertisers.
You have to share short URLs on your blogs or social media and if any visitors click on the short links you will be paid. But you may be wondering if this site really pays and if it is not a scam.
Well, you have come to the right place as I am going to provide you with all the details regarding Clk.Sh which includes
what really is Clk.Sh,
how does it work,
joining and working on the site,
how they earn,
method of redeeming their earnings, payment methods, and
most importantly if it is worth your time.
So, let us get started
What is Clk.sh?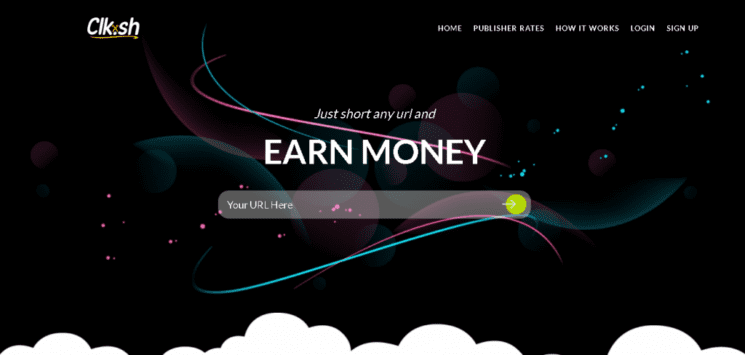 Clk.sh is an online network that provides publishers a chance to earn money by shortening the links. The network is beneficial for advertisers as well since it provides opportunities to promote their products or applications.
Such a website provides various options for publishers to earn money such as shortening URLs, mass shrinks, banner tabs, etc.
How to Get Started?
Just like any other network all you have to do to get started is sign up for the network. After going to the site you will option of registering to the site.
You have to enter your name, Email address, and Password. After confirming the password, you have to verify your email address by clicking on the link sent by the website.
Now that you have verified your email, you are all set to start and earn from the site.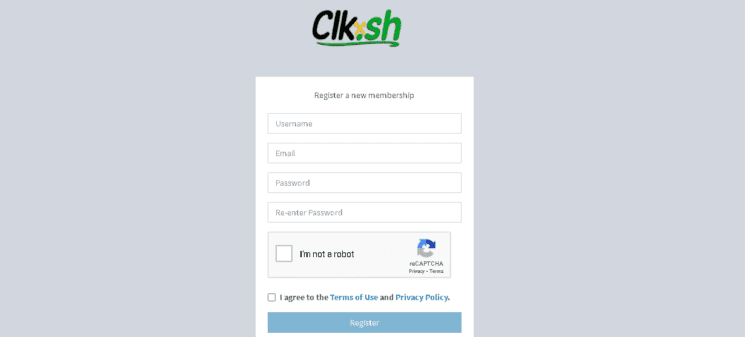 Tools Used in Clk.sh
There are various tools that the site provides for publishers to earn money easily and efficiently. Some of the tools are Quick Link, Mass Shrinker, Full Page Script, Developers API, Bookmarklet.
These tools are for you to earn money quickly and easily. Quick Link and Mass Shrink helps to shorten the links that you want to share quickly which in return will help you to promote the sites quickly.
Your earning depends upon how quickly you shorten the links and how many visitors click the link.
How Does it Work
The working mechanism on this site is really easy. You have to shorten the link of the URL that you want to share. After shortening the link, you will get a different link that you have to promote or share on your social media.
After you have shared the shortened link if your visitor clicks on the link they will be redirected to a different site or an ads page. They have to stay on the page or watch the ads for 10 seconds to be count as a visitor.
Once they stayed on that page for 10 seconds they will be redirected again towards the intended destination. You will get paid once the visitor watches the ad or stay on the ad page for 10 seconds.
How Much Can You Earn From Clk.Sh?
You can earn from the site when your visitor clicks on the shortened links and watches the ad. However, there are some rules to be followed before you get your earnings. These rules are:
The unique visits are valid for 24 hours.
T

h

e visitor must watch the ad for at least 10 seconds.
You can't earn anything if the visitor disables the cookies and JavaScript.
Now that you have learned how you can earn from the site, let us look at how much you can earn from the site. The site earnings depend upon CPM which means Cost Per 1000 impressions basis.
CPM of the site depends upon their locations. In Clk.sh you can earn from $3 to $20 per CPM. Ireland and Greenland have the highest CPM on the site.
Minimum Payout and Payment Method
The minimum payout of the site is $5 which means you must have at least $5 in your site wallet to redeem your earnings.
You can redeem your earnings from various methods such as PayPal, Skrill, Payeer, Webmoney Z, and bank transfer however to redeem from bank transfer the minimum payout threshold is $10.
Can You get Ban?
Yes, you can get ban from the network without even explaining if you use multiple accounts, click on your own ads, or use proxy or VPN to click your ad.
So please do not do these things and keep earning from the network.
Pros and Cons of Clk.Sh
Pros
The site is legit and you will be paid.
A very easy and supportive site and interface.
The site has one of the highest CPM rates among other URL shorteners.
The only minimum payout is $5 which is very considerate.
You can choose from various payment methods to redeem your earnings.
Cons
The site does not allow multiple accounts.
You might get ban without explanation.
The earnings from the site are not enough to make an active source of income.
Earnings on this site depend on the number of visitors and their location which may not be advantageous to everyone.
Conclusion: Clk.Sh Review
Clk.sh is a legit site that pays its users for shortening the URLs from the website. All you have is genuine traffic and you can earn some passive cash from the site.
But keep in mind you can use this site as side means of income but to use this as only an active source of income is not recommended since the earning potentiality is not very much from this site.
The site has some excellent qualities such as high CPM, less minimum threshold, and various options of withdrawing your earnings from. But it can also ban you for no reason which wastes your time.