What is Viggle?
Viggle is a mobile TV app that earns rewards points for watching TV. It was established in 2012 by Function(X). This company is owned by Robert Silverman (69 years old). Function (X) got to take over and now it is renamed Viggle.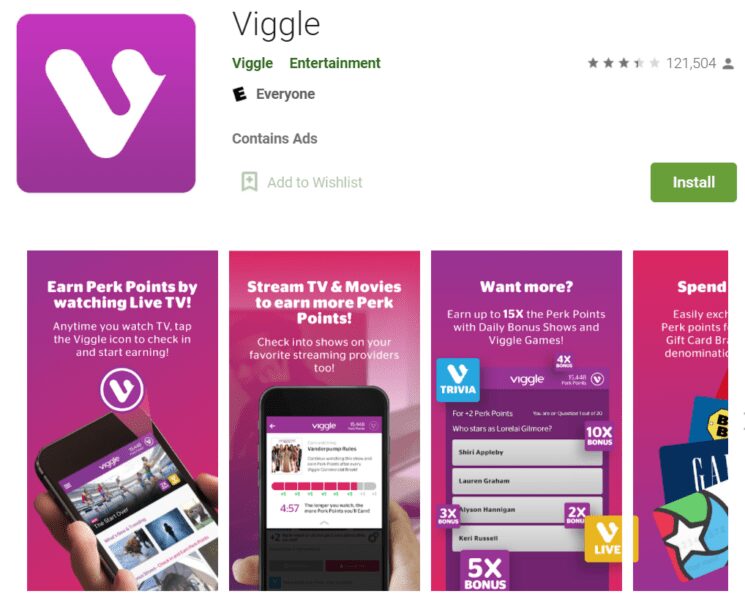 Viggle is really popular app with over 9 million downloads. Robert Silverman created this app to encourage watching TV via your mobile phone.
How to Join Viggle?
Viggle can be found in the play store and IOS AppStore. You can download the app for free. After downloading, you have to sign up for a free account and then you can start watching TV or listening to music and earning Viggle Points.
How to operate Viggle?
You have to check in the app which involves watching TV to earn reward points. The reward points are called Viggle Points. Customers will earn reward points after opening a show they want to watch or if they listen to the album they want to hear.
How do you exactly earn in Viggle?
As stated earlier, after downloading the app, the viewers can watch and earn Viggle points. These viggle points can be converted into Perk points. Perk points are the most rewardable points at the moment. Perk points are needed to convert into cash during the time of redemption of points.
If you are interested to make money by listening to music, then check out how you can make money with Playlist Push.
Can you earn more in Viggle?
Yes, there is also a reward called bonus points. Bonus points are separated by x4, x6, and x10 according to the shows you watch. There are other featured promoted shows where you can watch and earn bonus points.
There are also many quests, trivia, etc. that can be played to earn even more bonus points and it can be redeemed as perk points during redemption of cash. These will help to engage in the show and help to watch shows more carefully and efficiently.
How much can you earn in Viggle?
Every hour you will earn Viggle points after watching Tv or stream from Hulu or Netflix.
To obtain gift cards Viggle points need to be converted to Perk Points.
1000 perk points will be equal to every 2000 Viggle points. You have to earn at least 1 perk point.
Every month 60,000 Viggle points will be eligible to earn if you have earned at least 1 perk point. It is necessary to have a Perk account to redeem gift vouchers.
There is a chance to earn a bonus of 20,000 Viggle points if you have earned at least 1000 perk points.
You can transfer any amount as long as you have earned 1 perk point and your Viggle account is active.
You cannot be inactive for more than 90 days in your Viggle account otherwise you will lose all your points.
You must be engaged with commercial breaks as well as your video in order to obtain perk points.
It is necessary to create a Perk Account to obtain Viggle points. You can follow the instructions after logging in to Viggle to create your Perk account.
How does Viggle pay you?
You can trade different items such as headphones, Bluetooth, and even laptops available on the Perk store with the points that you earned. You can also redeem your perk points with gift cards. You can select from the number of gift cards available.
What art its Pros and Cons?
Pros
The app is legit and it pays without any doubt.
It is easier to download and start earning.
There are various rewards points to choose from.
Cons
It is not available worldwide.
Unnecessary and tedious tasks to earn points.
It wastes a precious amount of time. To earn regularly in this app you have to be really committed to the app.
You have to follow too many procedures to earn money.
You have to be regularly active to earn money.
Conclusion
It is really necessary to keep in mind that this app is legit and it pays through different means. But it is not meant to be a general source of income. You can always mix your entertainment choices with passive income and this app is perfect for that but it is not recommended to waste your entire day on this app. This app is also not recommended for children and persons with weak eyesight.
Check out our review of the ProTypers website, a captcha typing website that pays you according to your typing skill.