Idle-Empire is a Get-Paid-To site that claims to offer its members different earning opportunities but does it really pay as it claimed?
Well, many people choose Get-Paid-to (GPT) sites to make money online as anyone can join GPT sites for free and get started working on the site in no time.
Though some legit GPT sites pay, many fake sites lure in newbie users to sign up for the site and ban them or refuse to pay once they reach the minimum payout.
In this case, the fake GPT sites are the only people making money by selling your personal data or by making you complete offers.
So, it's important to do complete research before joining any site.
And I must give you applause for doing research on Idle-empire which will help you to decide whether it's worth joining the site or not.
In this review, I am going to share complete details about Idle-Empire like what is Idle-Empire, whether it's legit or not, and if it's worth your time or not.
What is Idle-Empire?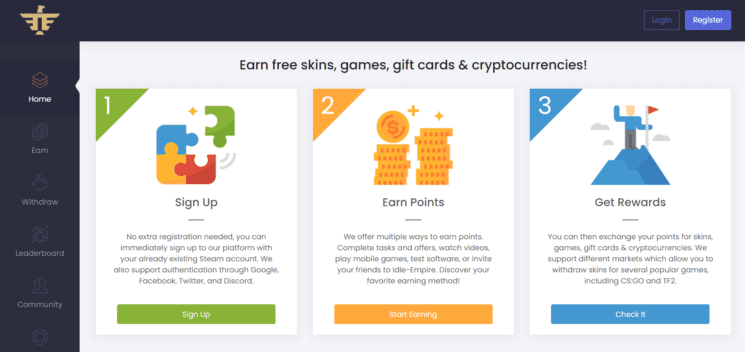 Idle-Empire is a Get-Paid-To site that allows its users to earn money by doing surveys, watching videos, referring members, and doing paid offers.
Users get points for completing tasks on the site which can be exchanged for skins of popular games like Counter-Strike: Global Offensive.
Initially, users could only earn premium skins for CS: Go but Idle-Empire has expanded its platform on users' demand and now they have added more rewards such as cash, gift cards, and cryptocurrency.
According to Idle-Empire, they have accumulated over 50k members working on the platform.
How to earn money on Idle-Empire?
Idle-Empire provides flexible ways to earn points just like any other GPT site.
I've listed out all the ways you can earn money using Idle-Empire below. Make sure to read them thoroughly to get the most out of this platform.
Earn Points as a Joining Bonus.
Idle-Empire offers free points of 500 if you joined the platform using an invitation link.
So, I recommend you to join Idle-Empire using an Invitation link like the one below.
Join Idle-Empire & Earn 500 Points Instantly
Earn points by doing Promotions
Idle-Empire allows users to earn a good amount of points doing different promotional tasks.
I've listed out what you need to do and how many points you can earn for each task below:
Verify your email address: You can earn 100 points to verify your email. You can redeem this point only once.
Connect social identities: Connect your social media accounts like Facebook, Twitter, Steam, and so on to earn 50 points each. If you connect 4 accounts, you can earn 4 * 50 = 200 points.
Follow Idle-Empire on Social Media: Currently, Idle-Empire offers free 100 points each for becoming a member of their Steam group, following them on Twitter, and Joining their Discord server. To summarize, you can earn 300 points for following them or becoming a part of their online communities.
Complete Daily tasks: Earn 50 points for including Idle-empire.com in your stream name, Earn 50 Points for using Idle-Empire avatar as your steam profile avatar, Earn 20 to 1,000 points by using !daily command on their Discord Server. You can also win daily giveaways on their discord server and subreddit.
Invite Friends: Earn 10 points each for inviting your friends to the steam group. And you can earn 30 points each for inviting your friends to their Discord server.
Create Content: Users can earn 5,000 points for creating a YouTube video about Idle-Empire. Earn 2,000 points by creating a forum post about the company. Also, you can earn 10,000 points by creating a blog post about them.
Earn Money Doing Paid Offers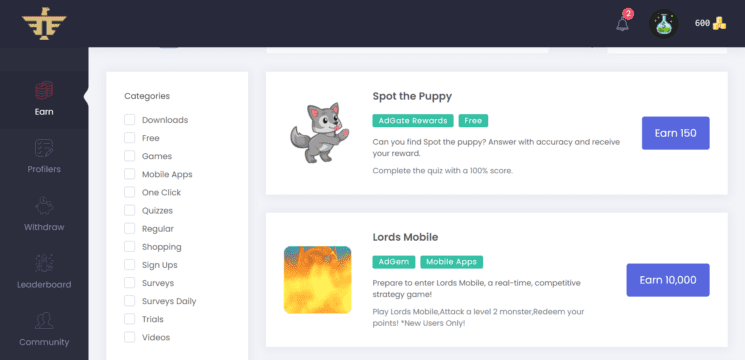 Idle-Empire provides a curated list of offers based on your demographics and account information which includes playing quizzes, doing surveys, installing free apps, doing app subscriptions, and so on.
You can earn anywhere between 75 points to up to 1,00,000 points for completing these paid offers.
Bear in mind, lower points offers are easy to complete and often require less time. However, higher-paying offers require extra effort, time, and money in some cases.
The image below shows an offer that you can complete to earn 100,000 points and to complete the offer you have to download the app and make a purchase to redeem the points.

Earn Money Doing Paid Surveys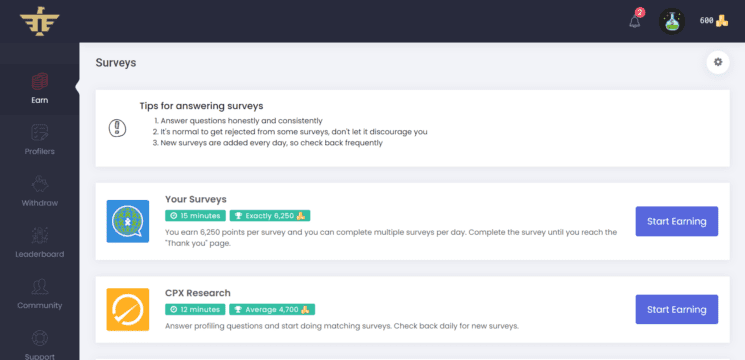 Idle-Empire also offers paid surveys that you can complete to earn points. You will earn points according to the complexity and time required to complete the survey.
Moreover, if you are from Asian countries then you might not be able to get higher-paying surveys. Whereas people from first world countries will get higher-paying surveys.
To get started, you have to submit your basic information like Name, Location, Gender, Date of Birth, and so on. Then you can start completing surveys and make money.
If you want to get more surveys, then you have to fill in details by going to the 'Profilers' tab on the left sidebar.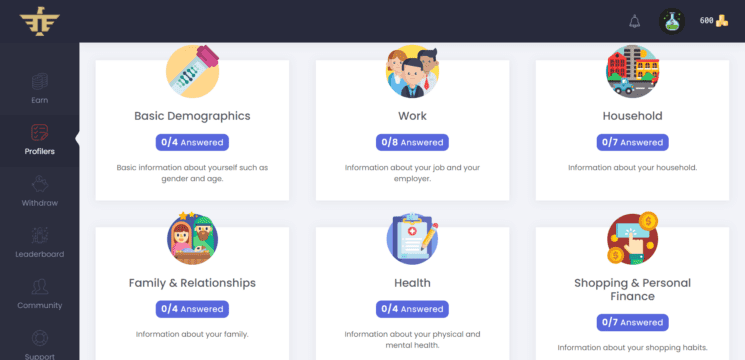 As you can see in the above image, you have to fill in your details into different categories like demographics, work, household, and so on.
Each category has 4 to 8 questions that you need to answer which will help you to get more surveys.
Earn Money Watching Videos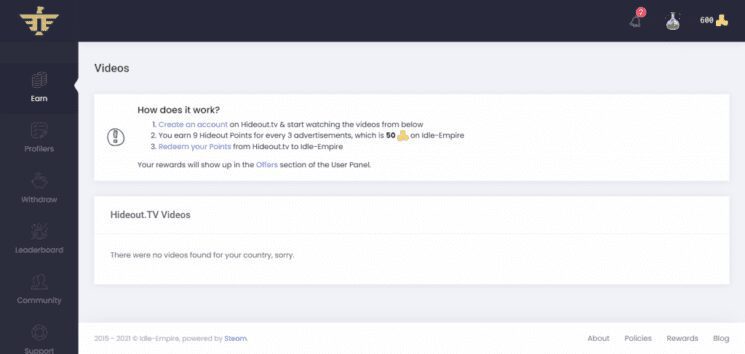 Another way to earn money on Idle-Empire is by watching videos which are provided by Hideout.tv. You will earn Hideout points for watching videos that contain 3 ads.
For every video you watch, you will earn 9 Hideout points which is equal to 50 Idle-Empire points.
To learn more about earning money by watching videos, you can check out my Hideout.tv Review.
Earn Money Referring Users
You can also earn 50 points for referring new people to join Idle-Empire. On top of that, you will be earning a 20% lifetime commission from the surveys and offers completed by your referral.
Your referral members will earn 500 points for using your link to sign up.
How much money you can make?
This GPT site provides several ways to earn money as I've mentioned before which is great. However, you cannot still make a good amount of money with it.
The reason is:
The value of points is very low as to earn $1, users have to get 10,000 points. And there are not enough high-paying surveys and offers for people living outside of 1st world countries.
So, don't expect a huge payout.
But having said that if you keep working on the site for a few days then you can reach the cash out threshold and withdraw the earnings easily.
Payment method: How to Get Paid?
Idle-Empire provides several flexible ways to withdraw your earnings. The payment options are PayPal, Bitcoin, Ethereum, Litecoin, Giftcards, and more.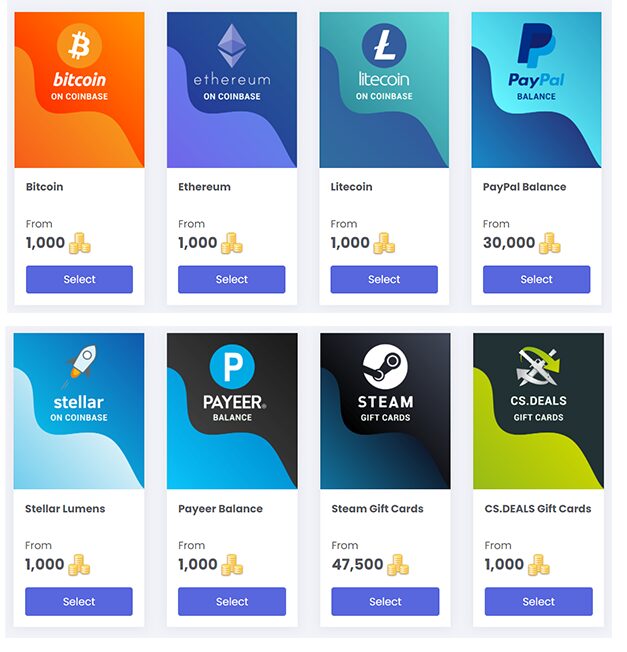 Users need to earn at least 30,000 points which is equivalent to $3 to withdraw earnings to their PayPal account.
However, if you want to redeem gift cards & in-game items then you can redeem 1000 points or $0.1 as well.
Idle-Empire Pros & Cons
In this section, I've listed out some of the pros and cons of Idle-Empire
Pros
The site is modern and responsive whích provides a very good user experience for the users.
It provides tons of ways to earn points such as referring users, watching videos, taking surveys, promotional offers, and more.
The payout threshold is as low as $0.1
Tons of payment options available for users to withdraw their earnings.
Proper FAQs and documentation are available for new users with great information.
A dedicated forum is available for users to discuss and help each other.
Cons
The value of points is very low. Users have to earn 10,000 points to earn a dollar.
Good surveys, offers, or videos not available for people living in 3rd world countries.
Final Verdict: Idle-Empire Review
After doing a complete analysis of Idle-Empire, I can say this site is legit and pays its users on time. The company offers a lot of creative ways to earn points on the site which can be converted into cash, cryptocurrency, or gift crafts.
I've found this site ahead of some GPT sites out there in terms of better UI design, proper help documentation, and flexible ways to earn points.
Having said that, I would only recommend this site to people who have nothing productive to do in their free time and only to those who wanna earn few bucks for coffee and stuff.
Though it's a legit site, it provides a few high-paying offers and surveys and you have to do tons of tasks on the site to reach even 10,000 points or $1.
I would invest those precious time in something else productive and higher-paying. But it's recommended for people who work here and there on GPT sites to earn like $20 – $30 bucks monthly.