Hello and welcome to my honest Bookscouter Review.
As we continue to discuss on our website, there are many ways of earning money online. You can choose how you want to earn money whether it be working as a Virtual Employee, Answering Surveys, Providing Opinions, or Testing Products.
The possibilities are endless and today I have bought you a unique way of earning some cash from the Internet. You must have some old unused books in your closet or your study room.
But you may not know what to do and may even have tried to sell it but you could not find the buyer. This is why I have brought you a site called BookScouter.
Bookscouter is a website that acts as a hub between buyer and seller of an old book. Today I will be providing you all the detailed information regarding the site along with how you can sell and withdraw your sales money from the site.
You may also wonder if the site really sells your book or just scam you.
So to know all that let us get started.
What is BookScouter?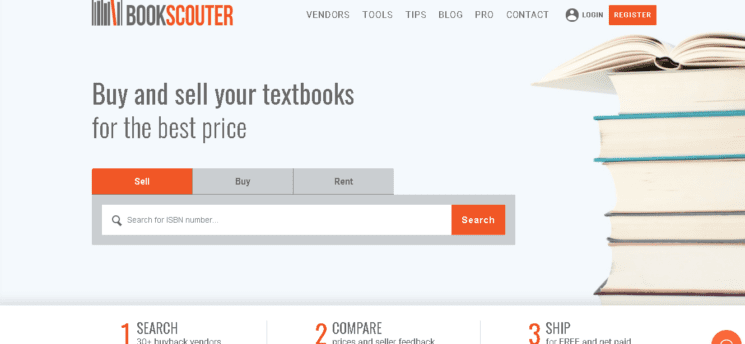 Book Scouter is an online platform where you can sell used textbooks and earn yourself a passive income gradually.
But you actually won't sell the books directly on the website instead the site provides you with a list of buyers when you enter the ISBN of the book you want to sell.
The site's role is to acts as an agent and scouts around for the best possible prices available on used books. You can find the highest prices they will pay for your used books by searching a list of buyers through this website and earn yourself a nice profit.
How to Get Started?
This process is extremely easy and simple. All you have to do is go to the website and register by providing some of your detailed profiles. After that verify your email id by clicking the link sent by the site.
You will see the dashboard after verifying the email address and now you can start to sell your textbook.
How Does the Site Work?
After signing up for the site now you can enter the ISBN of the books that you want to sell. This website sends those numbers to other book vendors who regularly sells used books.
Then you will get to see the list of books the vendors are willing to buy along with their offered price. Some vendors offer more and some less due to used books condition so don't sell the books immediately and scout frequently.
If you agree with the price vendor is offering, you can now sell the books to that vendor. The vendor themselves will provide you free shipping tools or pay for your shipping of books which becomes more considerate.
You can also print out the shipping label from the BookScouter site themselves.
How to Earn from BookScouter?
To get paid, the vendor needs to examine your shipment to verify the conditions of your books so you must ship the book to the vendor first.
You are paid through PayPal for your books which normally takes up to 3 days after the shipment has been verified by the vendor. It is quicker to have your money sent to your PayPal account because if you choose an option as a cheque, you will receive your payments after 2 weeks.
However, scheduling for your payments depends on vendors themselves but don't worry they will pay you before 2 weeks of verification.
Minimum Payout and Payment Method
There is no minimum payout as your earnings will immediately be sent to your PayPal after verifying the books you shipped.
There are two ways of paying you which is PayPal that takes up to 3 days and paycheque which takes up to 14 days so PayPal is a recommended option.
Pros and Cons of BookScouter
Pros
The site will save time and you can immediately find a buyer.
You can find the best deals easily.
The provides free shipping which is very considerate.
No scamming possibility for both buyer and seller.
Great Source for Passive income.
Cons
Payment will only be received after the vendor checks your product. An advance option could have been better for sellers.
Very limited payout options in PayPal.
Have to wait for 15 days if you want to receive your payment via Cheque.
Sometimes sellers are at disadvantage meant due to vendors only wanting to buy for less than the market price.
Conclusion: BookScouter Review
After a detailed BookScouter Review, I have concluded that the site BookScouter is completely legal and is a very professional and effective way of making some online money by selling your unnecessary used books.
You do not have to search for vendors because lists are provided by the site themselves and the site also has a scam protection technique for both buyers and sellers which is very considerate on their part.
However, to receive the payments quickly, you must have a verified and connected PayPal account. Other than that you can request your payments via cheque.
However, it will take up to 15 days to receive the payments in your hand.
Hence I recommend this site if any of our users want to earn money by selling your extra books. In this way, you can make a simple passive income. But don't let this be your only source of income as well.
If you want some more opportunities to earn money online, check out our list of 27 part-time night jobs to make you extra cash.