Hello and welcome to my honest SurveyWorld Review.
During this pandemic day, today 9 to 5 work is boring and also not safe for your health. Hence earning money online has become a very popular trend for youths as well as regular people alike.
One of the popular earn money online job is that of answering surveys but like other online sites you have to be careful of the site's legitimacy. Today I bring to you a popular survey site called Survey World.
Survey World is an online platform where you can earn money from home. You have to take and complete surveys online to earn money.
But you may be wondering if this site really pays and you are right to be curious regarding these sites as there are many fraud sites.
Well, you have come to the right place.
Today I am going to provide you with detail regarding Survey World which includes what really is Survey World, how can someone join,  earn, and how they can redeem their hard earned earnings, payment methods, and
most importantly it is worth your time.
What is Survey World?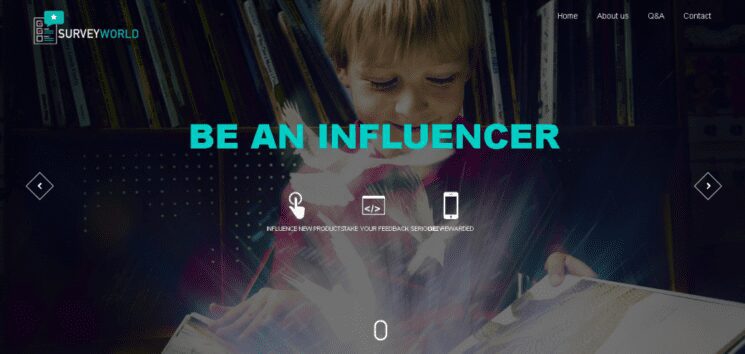 Survey World is not an actual survey panel but is partnered with other survey websites like Valued Opinion, Opinion World, Opinion Outpost, and many more.
It is currently cooperating with more than 200 survey panels and operating in more than50 countries. So, you are redirected to another website to take surveys and earn cash, gift vouchers.
How to Get Started?
The sign-up process in Survey World is not easy as other sites. It is complicated. The websites do not have a signup form. You have to register yourself through a Facebook account.
You will have to contact their support team by visiting the Survey World Facebook page. Then they will send you a link and you will be able to sign up. You have to then answer three random questionnaires.
After answering those you will be presented with the register option and once you click that you will be redirected to another survey panel and be able to join.
But Survey World must be available in your countries otherwise you cannot be able to join.
Just like the name suggest if you are interested in Quick Paying Survey check our review of the Quick Pay Survey and find out if it is worth joining or not.
How Does it Work?
Survey World is an independent comparison community of research companies. It is not one of the research companies.
Survey World does not send any products to test, surveys to complete, and does not manage the rewards. They inform you of other research companies that are currently looking for participants.
So, you will not actually be able to take any surveys on SurveyWorld but just get links to actual survey sites. After being redirected to a third-party site you can take surveys or earn through watching ads or complete offers.
How Does the company pay?
You will not get paid in Survey World. As you will not take any surveys on this site, it does not pay. You will be paid through a third-party survey panel that Survey World referred to you.
The third-party provides you with a survey so it is actually who pays you. You can also complete offers, watch videos or ads and refer your friends to earn cash in the referred third-party app.
The pay rates vary according to the website. The payment options also depend on those third-party websites. Most of them may pay you through PayPal and some of them might pay through Bitcoins as well.
Pros and Cons of Survey World
Pros:
Redirects you to legit websites
It is transparent as Survey World discloses its true intention
It is a rather popular and high number of followers
Survey World is free to join
Your qualifications are not needed.
Cons:
Complicated to join as you cannot find sign up option on the website
Survey World acts as an unnecessary middle man between you and other websites
You cannot earn on this website itself
Wastes your time as you can visit the third-party website directly and sign up easily
Conclusion: SurveyWorld Review
After doing a thorough SurveyWorld Review we can conclude that Survey World is different than other survey sites. It does not provide any survey on their site but refers you to other legit survey platforms. Thus, it is not a scam.
You will be able to take various surveys, complete offers and watch videos or ads on a third-party website, and be paid by them. The pay rates of each website differ.
Survey World is partnered with other survey websites like Valued Opinion, Opinion World, Opinion Outpost, and other 200 platforms. It is available in more than 50 countries.
If you are looking for side income then you can join this website as it is legit but if you are looking for earning $100 per month then this site is not for you.
But if you want to earn up to $5000 per month check our list of 15  of the side hustle ideas to earn money.