Hello and welcome to my honest Green Panthera Review.
In the modern world earning money online has never been more attractive and possible due to countless opportunities and schemes on the Internet.
But with every good, bad is also lingering around. Some of the sites are too good to be true and will scam you of your money or wastes time completely. So it is highly essential to do research before committing yourself.
One of the popular ways of earning money in an online job is answering a survey and Today I am bringing you a highly popular survey site called GreenPanthera.
Green Panthera is a survey website. It is an online survey platform where you can earn money from home by taking various surveys.
You can also complete various offers and if you are interested then you can do shopping also. This site also pays for completing offers and gives cashback at certain online marketplace.
But you may be wondering if Green Panthera really pays and if it is not a scam. Well, you have come to the right place for your curiosity.
Today I am going to provide you with detail regarding Green Panthera which includes
what really is Green Panthera,  how can you join, how you earn, how to redeem the earnings, payment methods, and most important pros and cons of the site, and are there better alternatives.
So, let us get started
What is Green Panthera?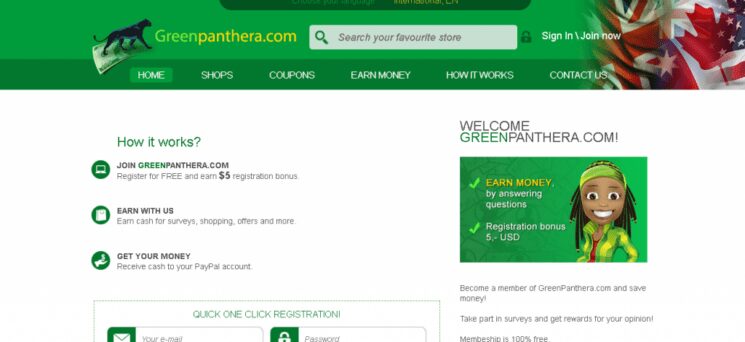 Green Panthera is an online survey platform where the site pays for providing a genuine opinion, feedback, or reviews of the product, apps, or websites.
In Green Panthera, you can earn money by providing surveys, doing offers, receiving cash back by shopping online, and winning coupons as well. The site is really easy and simple to work on.
How to Join?
The registration process is simple and easy. You have to fill up your email and password to register your account. Then you will get a conformational email with a link to verify your email address.
Once you verify, you will have to fill up your account with your name, PayPal account, date of birth, work status, and more. name, PayPal account, date of birth, work status, and more.
Filling out this information is not mandatory to expect the date of birth. If you are not comfortable filling in some information then you do not have to answer those questions. But you must be at least 13 years old to join this website and need to have a PayPal account.
How Does it Work?
Green Panthera is an online platform that pays you to take surveys. Not only paid surveys it also gives an opportunity to earn through paid offers and online shopping.
You will receive several paid surveys in a day. You will receive an email regarding available surveys and earning potential.
There are various offers in Green Panthera. You can receive rewards for downloading a certain app or game, registering for a website, and other various offers.
Online shopping is another feature of Green Panthera to earn cashback. You can shop in one of the online shops and receive cash backs.
How Does the company pay?
Green Panthera pays you for taking surveys, completing offers, and doing online shopping. For completing surveys, you will get $0.75 to $1. Each survey may take 5 to 20 minutes to complete.
You can also earn by completing offers. The reward after the completion of the offer varies as per the offer. So, check the pay rate before making any offers.
You can also do online shopping through Green Panthera and earn cashback. You will be given discounts and cashback for shopping through this website.
You can do shopping in Timex, Perfume, AVEDA, and many more companies. The cashback rate also differs from company to company. You also get $5 as a signing up bonus.
Minimum Payout and Payment Method
The payout threshold of Green Panthera is $30. You must have a PayPal account so you can withdraw your money. You will be paid within 2 weeks when you ask payout to your PayPal account.
Pros and Cons of Green Panthera
Pros:
Green Panthera is available to anyone across the world.
It is easy and free to join.
It gives you various options of earnings like taking surveys, completing offers
It pays through a convenient method that is through PayPal
You will earn a $5 bonus for signing up.
Cons:
The payout threshold is comparatively high i.e., $30
The earning potential is low compared to other websites.
Green Panthera does not have a referral option.
It only pays through PayPal which is less considerate.
Conclusion: Green Panthera Review
After a conclusive Green Panthera review, I have decided that the site is not a scam. You can earn by taking surveys, completing offers, and gaining cash back through online shopping. Anyone can join this platform as it is available worldwide.
You do not have to keep logging in continuously to check surveys. Once the surveys are available you will be informed.
Thus, this site is legit and you can join this platform to earn side income. But if you are thinking of getting a full-time job in Green Panthera, it is not for you. This site pays low in comparison to other websites. It will take a lot of time to reach four figures.
If you want to increase your extra income you can check our review of GrabPoints where you can earn simply by doing very minimal and easy tasks.